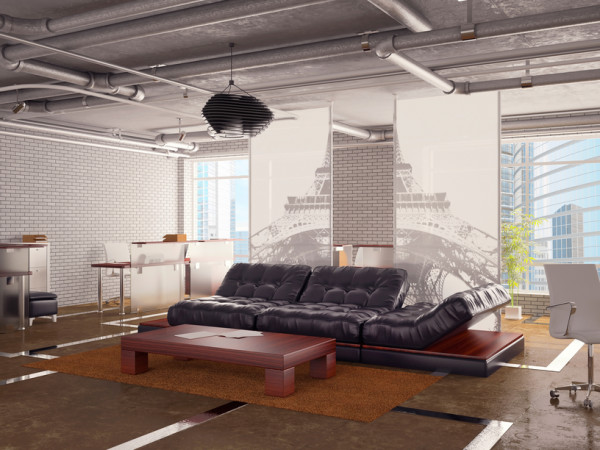 When you live in an older house or apartment, you often work with exposed pipes and radiators. Don't let them be an eyesore in your décor, make them part of your living environment by incorporating them into various solutions. Before you invest in covering, painting or repurposing your pipes, make sure they are in good working order. There is nothing more frustrating than a leaking pipe, so you can get rid of that burden quickly by seeking a professional opinion on a wide range of plumbing issues before you do anything else.
#1. Integrate Pipes Into The Interior Design
The best way to work with exposed pipes is to integrate them into the design. With a bit of planning, you can turn them into an asset in any room. The easiest way is if you are designing a room and replacing the exposed pipes at the same time. You can then turn the pipes into accessories for the room and use them as either bookshelves or towel racks depending on the room and your needs. With creative architectural skills, big pipes can even become railings for stairs or mezzanine.
#2. Painting Exposed Pipes
If you must contend with what is already there, consider painting your pipes. There are many ways to use this strategy. You can conceal the pipes by using the same colour as the walls. This makes them blend with your décor, camouflaging them in plain sight. You can make them a focal point by painting them a bright colour that comes back in a few other items in the room. You can paint them in metallic colours, giving an industrial chic look to your room. Finally, you can paint them the same colour as other trim in the room, matching the chair railing or crown molding. Whatever colour you choose, painting your pipes is an inexpensive way of acknowledging them and integrating them into the room.
#3. Place A Skirt Around Them
If you absolutely need to hide the pipes from your sight, consider placing a skirt around the bathroom sink or in front of the kitchen sink. This gives you the advantage of also hiding other things like the toilet brush or cleaning products. All you need is some fabric of your choice and a little talent in hemming. Take your time selecting your fabric; you want something that will match the room and create the desired effect without attracting too much attention. To secure the skirt, use a curtain rod or industrial strength Velcro.
#4. Cover Your Pipes
An interesting approach to integrating pipes is to cover them in all various kinds of products. For a nautical look, wrap some rope around the pipes, this serves a double purpose: decorate and insulate. Other products can also be used for wrapping your pipes. Tapes of various colours and design can create an interesting art piece if coordinated carefully. Pool noodles would nicely wrap around regular plumbing pipes adding colours and texture to the room. A most original wrapping strategy would be to knit a pipe cover with coloured yarn that slides over the pipes, hugging them snuggly.
#5. Use Artificial Foliage To Disguise Pipes
The final suggestion is by far my favourite. Transform your exposed pipes into beautiful vines. This can be done by wrapping artificial foliage around the pipes or wrapping green and brown material over the pipes. Whatever method you choose, it brings nature inside your house. This not only takes the focus away from the exposed pipes, but it also generates an air of fresh air and happiness.