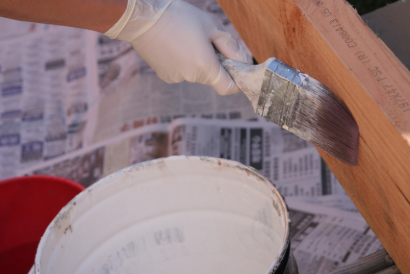 Maybe you're selling soon. Or you're feeling creative. Perhaps you made some home improvement mistakes in the past that have cost you money and aggravation, and you want to make better choices. Cheer up. When there's a problem, there's opportunity and this article will show you a handful of renovation projects that are not worth your time and money and will offer advice on the projects that are worth it. Let's take a look:
1. Overdoing the Decor
There are certain projects homeowners spent money and time on that can actually hurt the value of their home. We can all agree that decor gives a home personality. But, while you may love the colour red so much you want to splash it throughout your home, the truth is that when it comes to decor, what looks good to you may not to buyers. In this case, it's best to neutralise the personality of your home. So instead of going dramatic, bold colourconsider a neutral color scheme. Presenting your home as a blank slate for its next owners will inspire them to decorate the house using their own taste.
And think about how much you will spend on accents to decorate your home. Curtains, drapes throw pillows, and area rugs cost money. Keeping it neutral now, will save you on replacing these items if you want to put your home up for sale later. A neutral colr scheme is also more flexible allowing you to change things up. So if you get tired of your drapes, you can find a different neutral colour that will easily blend in with the rest of the house.
2. Install Carpeting
It's tricky to guess what buyers are thinking when it comes to well…everything. In the case of flooring for instance, should you install carpeting or hardwood floors?
Here's a tip: If you already have wooden floors, leave them. If buyers want to install carpeting, they can always do that. Leaving it up to buyers frees you of the task, (yes!) but there's a reason you want to leave the hardwood floors. It gives buyers the choice to decide what colour carpet they want, and they may actually like the hardwood floors too. And if you already have carpeting, consider taking it out, and installing wooden or laminate floors instead which are more appealing to buyers.
3. Making Rooms Bigger
Who doesn't like bigger rooms? Although you may think buyers are looking for larger rooms, it's probably best to leave this up to them because they may like their current size. Not to mention that knocking down walls can be expensive and time-consuming.
4. Buying Lavish Lighting Fixtures
Walking into a lightsore can be magical. It's tempting to want a beautiful, sparkling light fixture to give your home that elegance you're looking for. But, let's admit that chandeliers and unique light fixtures can be costly and there aren't as necessary as you think.
5. Upgraded Home Maintenance
Home maintenance is necessary no matter what but when it comes to resale, a plumbing or HVAC upgrade is not going to boost the price of your home.
Home Renovation Projects That Are Worth The Investment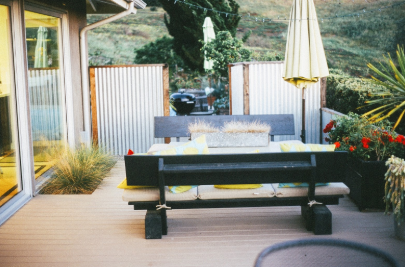 You now know which home renovations are not worth the time and money, so what renovation projects are? Let's take a look.
Deck
According to an article in U.S. News, homeowners who add a wooden deck, which costs an average of $9,539 nationwide, can gain 87.4 per cent of the cost after the sale. It makes sense considering that a deck is a space where family and friends gather to celebrate special moments like birthdays, holidays, or to simply grill out in the summer under the sun. Additionally, they're easy to keep clean with a yearly power wash. You want buyers to envision these good times when stepping into the rear of your home. And a beautiful wooden deck makes that perfect emotional appeal.  
In his book Descartes Error, Antonio Damasio, professor of neuroscience at the University of Southern California, argues that emotion is a necessary ingredient tforvirtually all decisions. Use this nugget of wisdom when renovating your deck or any space in your home.
Kitchen
Upgrading your kitchen whether you're doing a huge renovation, a simple makeover, or something in between is totally worth the investment. It not only adds to the value of your home, but it also creates a picture for buyers of how they can enjoy one of the most significant spaces in a home. Upgrading a kitchen can involve a complete gut rehab, a partial renovation or a refresh only involving new paint and cabinets. It's up to you to decide the extent of your kitchen renovation, but there's no doubt that a kitchen will boost the value.
Fresh Coat of (Blue) Paint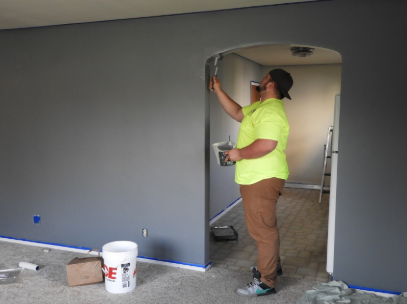 According to a Zillow analysis, homes with blue bathrooms (powder blue or periwinkle) sold for $5,400 more than expected. In contrast, homes with white, off-white, or eggshell bathrooms sold for $4,035 less than similar homes.
Earlier we mentioned that it's safe to keep things neutral in your home. And because blue is a neutral colour, this works out perfectly. You can also just use blue for your kitchen and bathroom based on the Zillow analysis, or you can also try a shade of blue throughout your home while combining it with other neutral colours to create a colour scheme for the decor for the rest of your home.  
Winterizing
While no one will notice this, winterizing your home is worth taking the time and spending the money on. In some cases, even hiring a professional to help will be the best option depending on your level of comfortability. Winterizing involves protecting your home against the cold that can potentially damage areas and systems in your home such as your AC unit, gutters, downspout, roof, doors, windows, fireplace, heating system, lawn, outdoor gear and more. Winterizing your home will save you on money, time and aggravation in the future.
Conclusion
Home renovations can not only help increase the property of your home. They can also prevent future problems if you don't properly maintain it. Knowing what home renovation projects not to spend money and time on, will help you focus on those projects that are worth it.