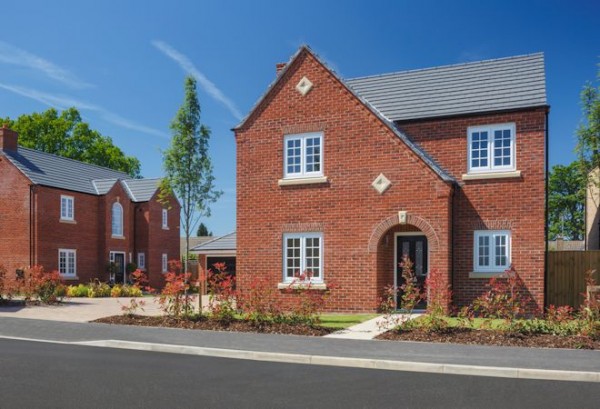 If you're thinking about making your first steps onto the property ladder, or moving on to your next property, you may not have thought about buying a new build home…. But have you missed a trick by overlooking this type of housing? We think you probably have.
So here are our top 5 important reasons why you should consider buying a newly built home!
Your Home Will Be Green, Clean and Eco-Friendly
Developers are beginning to construct new build homes to help the outside whilst you stay cosy on the inside. With rising concerns about climate change and preserving local wildlife, developers are forced to conduct an environmental study of any possible construction site to evaluate any impact on surrounding nature and wildlife. Barratt Homes promise to plant 20 shrubs or trees for each home they build as well as recycling 95% of their site waste when the construction is completed. Also with the introduction of tougher regulations, new build homes are 60% more energy efficient than period homes. Features such as solar panels and insulation are essential to ensure that energy is sustainable and that warm air is kept inside, meaning a much lower energy bill for the happy homeowner!
Your Home Will Be Stylish and Affordable
With new build homes come new, up to date features. Being able to observe the structural problems of period homes, developers have been able to cover all angles to create luxurious yet practical abodes. Millwood's latest developments across the South Eastern region of the country boast fabulous contemporary designs. Their new 32 showrooms built in Southfleet in Kent consist of a range of terraced, semi-detached and detached homes. Each property draws upon local inspiration from the environment as well as access to open fields, providing an idyllic setting for new homeowners. With prices starting at £395,000, these new build homes combine contemporary living and affordability.
Your Home Will Be Well Connected With Great Transport Links
When looking for a new home, it's important that we stay connected with friends and family. Many new build homes are designed to accommodate and eradicate the hassles that are put upon commuters by developing sites close to easy transport links. Developers Taylor Wimpey have designed gorgeous properties in the heart of Chelmsford. The Waterfront development consists of a range of 1 to 3 bedroom apartments designed to offer modern living in a desirable and practical location. They are situated only a few minutes from Chelmsford train station, as well as offering easy access to the A12 and M25, making the daily commute to London much more accessible. With the upcoming extension of Crossrail possibly taking place in neighbouring areas such as Shenfield and Brentwood, this thriving Essex city might be a sensible choice for those who can't afford the prices of the capital.
Your Home Will Be Accessible and Barrier-Free
The demand for accessible properties has risen dramatically over the past few years. Since 9.4 million people in the UK identify themselves as disabled, it is a shock that there is little choice for accessible housing in today's property market. In order to assist this sizeable minority within the population, many new build homes are beginning to meet the needs of those that require disabled access. The House Shop provides buyers with the option to buy or sell accessible homes, including single level rooms, widening doors for wheelchair access, lowered kitchen surfaces and installing fully wheelchair accessible bathrooms – to name but a few of the features found in our listed homes.
The Government Will Help You Buy Your New Home!
No seriously, you heard us right first time! The government have now introduced multiple incentives to help you get on the property ladder with a new-build purchase. Help to Buy schemes allow first time buyers the chance to purchase a property worth up to £600,000 with the government offering a 20% equity loan in accordance to the properties cost. Similarly, the Rent to Buy scheme allows homeowners to rent their property prior to purchasing it at a subsidised cost, usually 80% of the market value. Easing the transition from renting to buying can be a real help for young homeowners by finally getting them on to the property ladder.
Now we know that us Brits are a nation obsessed with period properties – the character, the fireplaces, the bay windows – but as we've shown with the reasons above, buying a new home has some serious advantages! Especially for home hunters who may be struggling to buy on the open market, new build properties offer a viable and affordable alternative to period homes, and the high quality of the fixtures and fittings, coupled with the significant savings on energy bills, should convince more and more people to explore their options when it comes to buying new homes.
Find New Homes For Sale and To Rent from Some of The UK's Best Builders and Property Developers