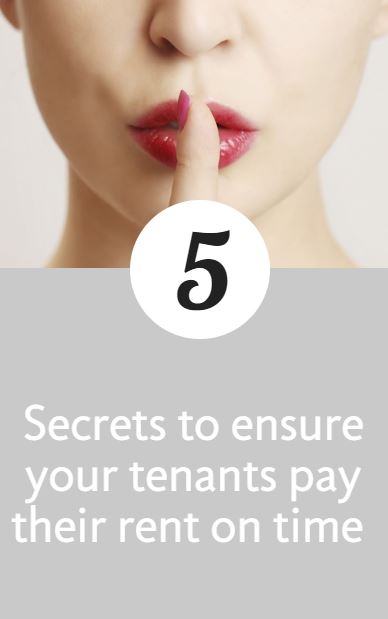 Correct me if I'm wrong… but rent is the main reason you became a landlord. The monthly income of your rental yield makes all the stress of property ownership worthwhile. But it is rather annoying that almost half of that stress comes from the rent collection itself.
It is something that landlords have little control over, essentially relying on their tenants to be good sports and hold up their end of the deal. But what if your tenant doesn't pay on time? What if they are unreliable? What if you have bills to pay and need that rental income?
These are all part of the stressful time that comes around once a month, forcing landlords into difficult and awkward situations.
Many landlords may want to storm over there and bang the door down insisting that they receive the payment there and then. Others may take a legal course of action and look to evict the tenant, getting rid of the problem once and for all. But these seem a little drastic, unprofessional, unproductive and can potentially waste a lot of time, effort and money. Which, at the end of the day, no one wants.
Instead here are a few tips for helping you to ensure that your tenants pay their rent every month on time.
Top Tenants = Top Yield.
Let's start at the source…
Late or missed rental payments may be a one-off, but for some tenants, this could be part of their track record. So, it is important to begin at the source and make sure that you get good tenants to start with. This is one of the best ways to make sure that your tenants will pay their rent on time.
When searching for tenants it is important to screen them to ensure that they are suitable for your property and will be beneficial to your portfolio.
 UK landlords lose over £5.4 billion in rent arrears and property damage each year. As a result, tenant referencing is a crucial part of letting out your property. You wouldn't let a stranger into your house without asking them a few questions first? So why would you let one live in a property that you have brought with your own hard-earned money? Carrying out a full screening for prospective tenants is the best way to make an informed decision when choosing tenants.
There is plenty of help out there if you wish to do this process alone, but we strongly advise that you enlist the help of a professional as there are various factors that need to be taken into consideration and a pro will have the knowledge and resources to make sure that you are renting to the ideal tenant.
TheHouseShop offers two tenant referencing packages, a basic or full reference.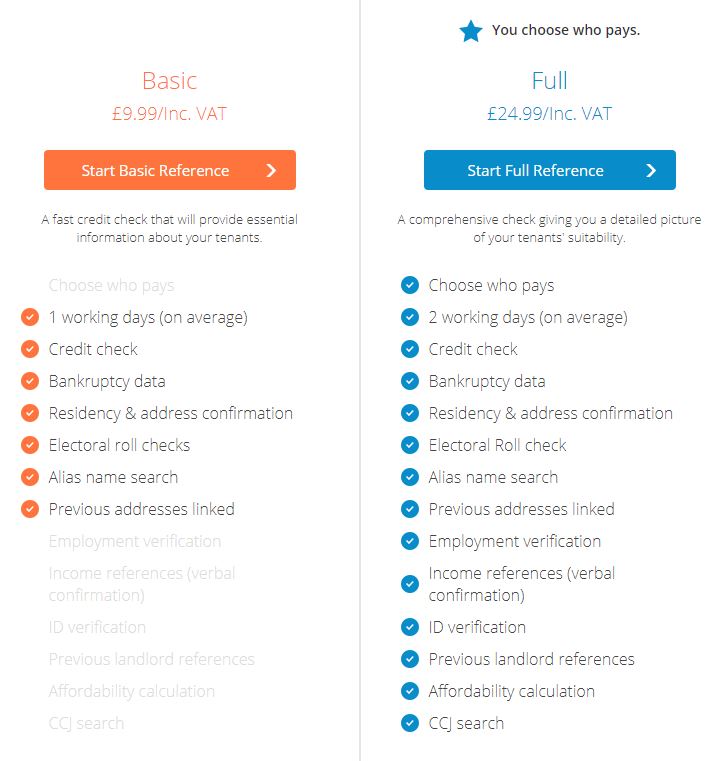 This allows you to choose how much you pay and what you get out of it. Their tenant screening and due diligence processes are the most advanced in the industry and the whole process is super simple!
Enter your tenant's details

We notify your tenants

We run a detailed reference check

You receive the results!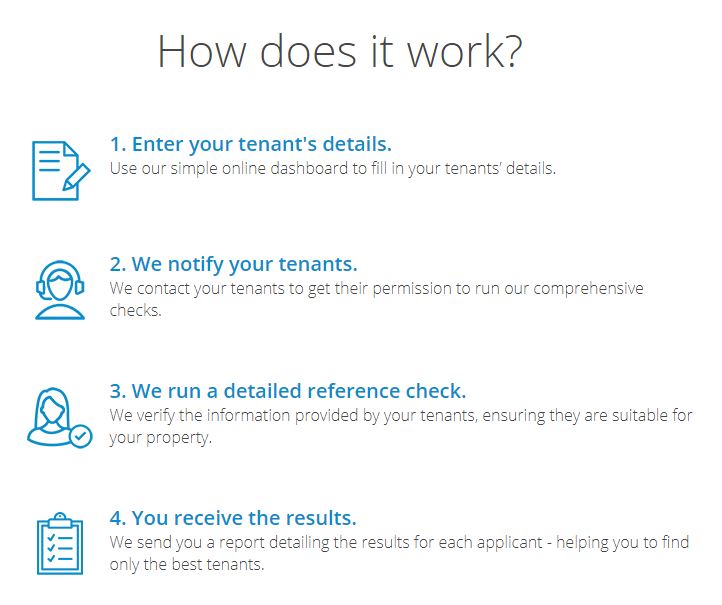 It really is that easy!
By carrying out thorough and detailed reference checks you can feel confident that you are getting the best tenants for your property.
Checking their current employment, credit history and previous tenancies builds an image of a reliable or unreliable tenant, giving you a good idea whether or not they are likely to pay their rent on time and consistently.
So, what are you waiting for?
Start your tenant referencing now!
Communication
As with any form of relationship, communication is key! – This is also true in every aspect of being a landlord.
Make sure that there is a very clear statement in your tenancy agreement illuminating the agreed upon rental amount, the date set for the payment and the consequences if the previous have not been met. It is very important that you have a clear, concise and accurate tenancy agreement in place before you start looking for any tenants, the signing of this document will clarify all specifications of the tenancy and will mean that both you and your tenants are on the same page.
TOP TIP – Make your tenants sign their initials at the bottom of every page, this means that they would have read every single page of the agreement before signing and accepting.
A tenancy agreement should include the following in regards to rent:
Exact amount due each and every month

How payments can be made and where

The date that rental payments should be made and if there are any grace periods

What happens if the date is missed or rent is not paid
If you are uncertain about your current tenancy agreement or if you don't have one, then TheHouseShop have thankfully created a FREE tenancy agreement service! Just fill in the blanks and they do the rest! You can have a legally binding tenancy contract in minutes!
Get Your FREE Tenancy Agreement Now!
If there is a late payment, then make sure that you get in touch with the tenants, ask them a few simple questions:
Why is this month's rent late?

When do you expect to make payment?

What will be the payment method?

Where will you be submitting your payment?

How much will you be paying?

What is your current source of income and therefore how are you affording this payment?
Life is busy and not so easy, so if you have a good tenant who has one late rental payment don't worry about giving them a 'just this once' lenient offer. This may just a blip or a financially difficult month for them. Giving them some wiggle room will help to strengthen your relationship with your tenant.
Just be careful that you don't become too generous, so that they begin to take advantage. Make sure that your generosity is within reason and that rules are set down clearly for next time (if there is a next time).
Charge late fees
Charging a late fee will potentially motivate tenants to pay their rent on time, to avoid paying more than the usual monthly payments.
Something as simple as mentioning late fees may motivate tenants into paying on time. Sending a message two days after rent was due to remind them they have yet to pay may give them the nudge they need to organise their finances and send the money over!
But if this isn't enough to push them into gear then charging late fees may be the answer.
IMPORTANT: LATE FEES MUST BE INCLUDED IN THE TENANCY AGREEMENT. FAILURE TO DO SO WILL MEAN THAT YOU CANNOT PENALISE FOR LATE PAYMENTS DOING SO WITHOUT WRITTEN CONSENT IS ILLEGAL.
If you need some help with the legal side of things, why not give TheHouseShop's landlord advice helpline a call? Their service is completely FREE and will give you specialist advice by qualified lawyers covering anything from tenant disputes to arrear and debt recovery.
Landlords, give them a call on 0800 368 7554
Reward your good tenants
Building a strong relationship with your tenants is crucial as a landlord. A good relationship will mean that your tenants will respect both yourself and your property, leading to long leases and a happy tenancy.
So why not build this relationship by offering rewards to your tenants for paying their rent on time!
Some landlords choose to give their tenants a yearly 'bonus' for consistently paying on time. Something as simple as an Amazon voucher or £20 off one month's rent will be a lovely gesture and hopefully strengthen your relationship.
A well-timed reward could motivate a tenant to not only pay their rent on time, but also to renew their lease, thus leaving you with a stable and confident long-term tenant.
If all of the above seems a little too stressful to you, or maybe you are unsure how to go about it, then don't worry, there is always the option of enlisting the help of a rent collection service.
There are lots of different varieties of rent collection schemes out there, so it is a good idea to get your reading glasses on and do a bit of research!
While we are on the topic of rewarding tenants… TheHouseShop's rent collection scheme not only handles rent collection for you but also incentivises on time payments by rewarding tenants with an improved credit score!
Let me introduce RentScore…
Their basic package includes standard rent collection, taking away the stress of chasing tenants, all you have to do is sit back and reap the benefits of your Buy-to-Let.
RentScore is as easy as 1, 2, 3.
Call us or apply online in minutes

TheHouseShop set-up RentScore with your tenants

You receive your rent!
Late payments will negatively impact a tenant's credit score, meaning that future mortgage applications may be rejected. As a tenant, there are not many large, regular payments that can be made which ultimately affect your credit score. Property owners benefit from the fact that each and every mortgage payment, if paid on time, impacts their credit score positively, increasing their result with every payment.
Making tenant's rental payments count towards their credit score is well overdue if you ask us.
By signing up to RentScore you get to reward your reliable tenants and ensure that you receive your rent on time!
Still not sold?
Then why not check out RentScore Plus…
With all the benefits of RentScore, this package has the added benefit of rent protection insurance, which means that your rent is paid every month, even if your tenant can't or won't pay.
This is the ultimate way to ensure that you get your rental income each and every month.
RentScore Plus goes above and beyond, covering evictions, legal expenses, post eviction rent coverage and more!
From as little as £19.99 a month you can be confident that you will be getting your rental income consistently every month.
Want to find out more?
Give us a call on 0800 04808910