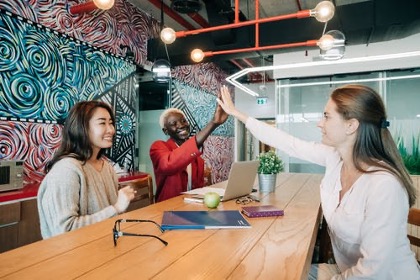 Winter is coming soon, and if you're like most people, you're never prepared enough. Even if you get the comfiest clothes and buy plenty of lotion and chapstick, these months can be brutal.
Many people struggle to get out of their warm beds in the morning. When the days become shorter, people find it harder to be productive and enjoy themselves in the workspace. After all, it becomes way more tempting to stay home than venture outside in the freezing temperatures, doesn't it?
However, work waits for no one, and you'll have to power through regardless of any blizzards to come. If your employees could also use a little encouragement this winter, we have some tips for you. Here are five ways you can encourage productivity in a season that's notorious for lowering morale.
1. Maintain a Clean Office 
One of the easiest ways to make the workplace comfortable is to have a clean and interactive space. Think about it — if the first thing an employee sees is a dirty office, they'll feel like turning around and walking right back out the door. 
How do you ensure the office is clean at all times? Should you have them clean the office themselves?
Of course not! Instead, hire someone to clean it for you. Cleaning services cater to the needs of all employees by making sure everything is sparkling and germ-free.
You can also make sure there's plenty of tissues and hand sanitiser in every corner to make employees feel safer about coming to work. If you feel like really boosting morale, consider leaving hand-warmers at workstations to give your employees some extra comfort.
2. Add Some Winter Decorations 
A nice holly wreath on the door is welcoming for employees. You can also decorate the inside of the office by hanging some snowflakes from the ceilings or white garland around the space. If you have an employee that's exceptionally artistic or crafty, ask them to help.
Want to score some brownie points? Have some hot chocolate pods next to the coffee machine, which is a nice alternative to caffeine.
3. Install Adjustable Lighting
With gloomy days ahead, it might be a good idea to think about your lighting. Many studies have shown that being exposed to sunlight improves your mood and increases productivity. Installing adjustable lighting might be feasible as it can be brightened during the winter months and dimmed during the summer.
You can also get natural lighting by opening up the blinds on windows, which will brighten up the room while lowering electric bills. Everyone will get a nice view of the autumn foliage and the falling snow when winter rolls around. 
4. Communicate
Be mindful of how you interact with the employees, especially on stressful days. People tend to be more emotional and sensitive during the winter months. If something upsets you at the office, it's better to wait for your emotion to cool before sharing your feelings with employees. In the winter months, they might take your frustration harder than you would expect.
However, this isn't just about managing tone – it's also about encouraging your employees when they've done a great job.
Keep in mind that people also take solace in their work. So, allowing employees to be a part of the decision-making process will help build an environment in which they feel valued. Showing that their opinions and feedback matter and are being heard can go a long way.
5. Team Building
Making connections with coworkers is an important component of any successful workplace. Even though the day-to-day operations of your business take precedence, allocating time for team-building activities is critical for maintaining high morale and guaranteeing long-term success.
Don't forget that character development workshops and team-building exercises should be extended to the upper levels of management as well – this will help refresh a senior employee's skills 
Make the Right Changes That Benefit Everyone
Winters can be harsh and take a toll on an entire team's mood and productivity. Following these few tips to ensure that your workplace is clean, bright, and inclusive would make it a much better place to work. We guarantee your employees will be more excited to come into the office and feel valued when you try these five tips.
Ref THSI-2485 / ZD22161