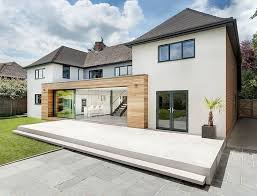 Whether you're building a house from scratch or simply refurbishing, you want to create a cosy and comfortable environment.
But it should also offer sanctuary from the slings and arrows of a hectic life.
So here are five top tips for an ambient home built for rest and recuperation.
Let there be light
Danish hygge philosophy places home design at the heart of a happy life.
Danes love having friends round to chat by candlelight and the hearth is a hotspot for socialising.
But hygge also extends to etiquette — contentious subjects are avoided so that conversation centres on humour, health and family.
And the Happiness Research Institute is dedicated to their national obsession with contentment.
Breathing space
Heating is crucial in cold climates but builders should still spare a thought for ventilation and air conditioning because air flow has a real impact on ambience.
Well-designed duct systems are crucial whether you want a natural fire or responsive A/C, so choose a trusted provider — durasteel ductwork is one such example.
And if you want some real luxury, install underfloor heating in your bathroom to maintain toasty toes as you skip to the shower on chilly winter mornings.
Colour me happy
Maintaining a minimalist look with ample uncluttered space always calms the senses but colour also has a proven effect on mood.
White walls punctuated by the odd piece of perfectly placed pop art can produce a chilled-out artsy vibe, and natural green hues are a cool choice for a calm kitchen.
But if you need to vent some anger at home, install your own rage room. And paint the walls red.
Dear green places
If you have a compact urban property you might yearn for the soothing effects of green grass and blue skies.
An indoor lawn fitted under a sleek skylight lets you bring the outdoors indoors without the risk of rain ruining your blissed-out mood. Just agree a lawnmower rota to avoid potential arguments.
But maybe growing your own greens in a micro-garden is an eco-friendly compromise that lets you impress new neighbours with a freshly prepared cress sandwich. Or if you're more of an introvert, any type of plant will prettify your property and purify the air.
Sounds perfect
Living close to a busy road or railway line is a headache so double-glazing will dampen the racket while keeping you warm.
And if a serene soundtrack floats your boat, simply ask Google Home to 'play ambient noise for an hour'. Then close your eyes and drift into the mystic lying next to a babbling brook or sheltering safely from a thrilling thunderstorm.
Follow these five ambient tips to bring happiness home, where it belongs.
What unique features make your home a hotbed of happiness? Share your stories in the comments section below.