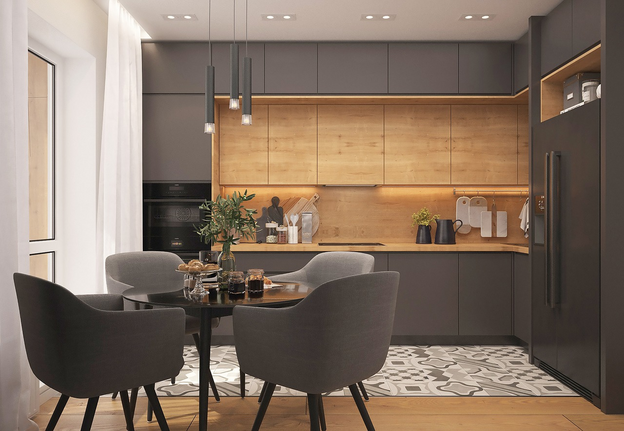 Do you want to update your kitchen design but need help knowing where to start? It can be challenging to determine the best way to approach such a big job, so it's important to focus on what will give you the most significant impact for the least effort. Fortunately, there are plenty of ways that you can spruce up your kitchen without needing a complete remodel. From revamping cupboard doors and adding stylish accessories to investing in new electronics or lighting solutions, here are five ideas for quickly improving the look and feel of your kitchen space.
5 Easy Steps To Improve Your Kitchen's Design
Your kitchen should be functional and aesthetically pleasing, and it doesn't have to cost an arm and a leg to create the perfect space. Here are some of our favourite ways to quickly update your kitchen design without breaking the bank:
Replace Your Cupboard Doors
Replacing the cupboard doors in your kitchen is an easy and cost-effective way to give it a makeover without undertaking a complete renovation. Shaker-style doors, with their clean lines and timeless design, can add a touch of classic elegance to your kitchen's new look. Not only will changing the colour and style of the cupboard doors create a unique atmosphere, but they can also be used to add character to any space. An often overlooked feature, strategically replacing doors will draw attention away from dated appliances and counters while adding style and visual appeal. This simple update can completely transform the look of a kitchen, ensuring it's ready for stylish entertaining.
Add Decorative Accessories
Making the most out of your kitchen design can be simple when you add decorative accessories. Utilising unique and personal items is crucial to curating a space that suits your lifestyle and personality. Themes or patterns are an easy way to tie it all together, whether you opt for a vintage look with mason jar jars or prefer modern handle pulls.
Colour pops in utensils, counters, and decor can help make it "pop". Seeking inspiration from interior design magazines is a great way to develop ideas, but remember small details like placemats and artwork. By selecting new features and decor, you can soon have a kitchen that you love!
Change the Tiles
Changing the tiles is an excellent design intervention for improving a kitchen's look and feel. Changing the tiles can introduce new colours, textures, and styles that will completely transform the room's overall atmosphere. Additionally, changing the tiles can be a cost-effective change that won't break the bank while still making a big impact. Investing in high-quality tiles that are both durable and attractive is key to achieving a well-designed kitchen upgrade.
Depending on budget and personal preference, you may want to consider eco-friendly materials or even opt for decorative accent tiles in specific areas for added visual flair. Most tiles for the kitchen are relatively easy to install and can provide an impressive transformation.
Invest in New Kitchen Electronics
The kitchen is the heart of a home, so it makes sense to invest in new kitchen electronics when giving it a makeover. Having the right gadgets can set off a great design – think bright frying pans that alert you when food has reached its optimum temperature or touchless faucets with affordable LED lights for your kitchen and bathrooms. Some can change colour depending on the room or the water temperature.
Of course, cutting-edge tech can be expensive and seem daunting to research. Still, simple upgrades like efficient vent hoods and induction countertops will boost your kitchen's style and performance without overwhelming your budget. Investing in these improvements now will likely increase the value of your home if you decide to sell; making an effort to upgrade your kitchen could have long-term returns.
Update the Lighting
Updating the lighting in your kitchen can make all the difference in design. It creates ambience, and good lighting lets you see what you're working with properly and enhances a room's overall atmosphere. The type of lighting you choose depends on your needs and wants. Remember that task lighting is essential for any room; dimmers will always be an excellent addition.
Recessed or drop lights are perfect for the overhead areas and help to disperse light better. Pendant lights can quickly provide accent illumination over counters, while pot lights help establish a consistent light throughout the kitchen. For an easy and affordable upgrade, switch your outdated fixtures for something more modern and stylish!
Wrapping Up
By upgrading your kitchen, you can enjoy a tasteful design that fits your home and lifestyle and increase the value of your property. You can soon develop a beautiful yet functional kitchen space with the right additions, accessories, electronics, and lighting changes.
ref: 3173.27541 | 3253.

28295