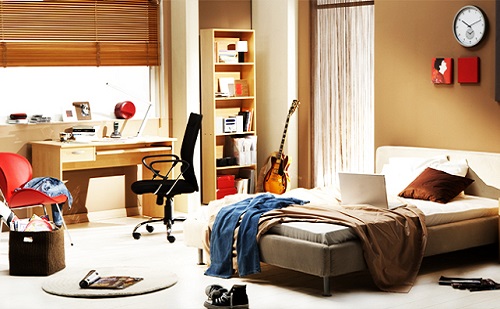 As a student living in a dorm, you will have limited space. You may only have a single room, that has multiple functions – study area, lounge, and bedroom, for example. Also, you may only have a shared bathroom.
In short, you will not have the luxury of spreading your belongings out across various rooms. Also, you will most likely not have a huge amount of spare funds to spend on dorm decorations and furniture. As a result, you must think outside the box!

It is possible to rearrange your dorm on a budget – you just must think carefully and look at alternative measures. We understand this and have created 6 tips for cheap dorm décor and college dorm ideas for your benefit!

Remove any unnecessary clutter
Before you start moving or rearranging, the best thing to do is to have a thoroughly tidy and de-cluttering. Over time, we inevitably collect useless objects and rubbish. These items serve no purpose other than to take up valuable space in your dorm.

Now is the perfect time to get rid of and remove all unwanted items. Be thorough and be ruthless! Look at each object and consider carefully if you need it. If not, throw it away. You may be surprised at how much extra space you can create just by a simple decluttering session.
Use under-bed storage units
The issue with a dormitory is the lack of space. You may not have space for a large wardrobe or even a clothes rail. Also, you may not even have space for any clothes storage at all. This can become a real issue.

When rearranging your dorm, look at your bed. Does it have space underneath it? If so, you can purchase cheap low-lying storage units that are designed to fit underneath beds. You can pick these items up for next to nothing from home supply stores.

If your bed is quite low, there is another option. You can purchase special legs that raise your bed off the ground by a few inches – these are also relatively cheap. By raising your bed off the ground, you can create a large storage area for clothes and other items.


Create a designated study space
Every dorm should have a designated study space. This could be a desk or a comfortable area where you can use your laptop for work. Either way, it should be clearly defined and separate from the other areas of your dorm.

By separating your study area, you can give yourself focus – this is the area you come for writing papers and completing your assignments. In your study area, you should also consider removing all distractions. Keep the decorations minimal, and ensure you have everything you need to work effectively.

Utilise wall space for storage
One area that we often underutilize is our walls. In most instances, we want to keep our walls clear with maybe the odd photo or canvas for decoration. You may not have this luxury in a dorm, however.
Consider mounting shelves to your walls or hangers that have multiple storage compartments. Do not cover every inch of available wall space as this can make your dorm look oppressive.

However, think carefully about your wall space and how you could use it for storage. By using wall space, you can keep your floor clean and still have enough space to move and not feel cramped.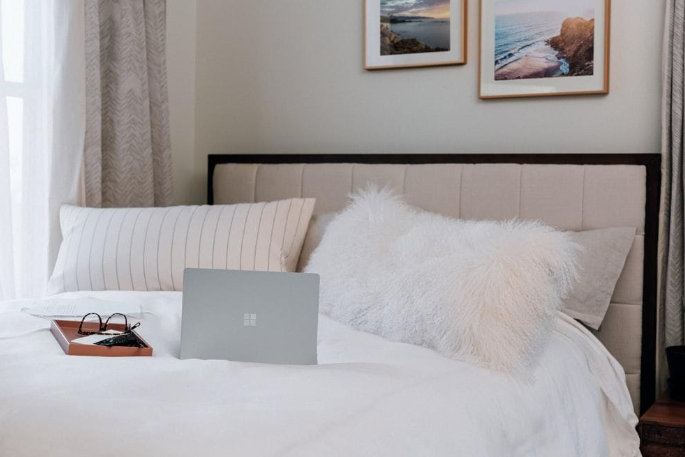 Use furniture that has a dual purpose
You can purchase cheap furniture that has a dual purpose. For example, you can find chairs and sofas that have storage units in their bottoms. Or, you could have a sofa bed – in the daytime it can be a comfortable sofa to relax on, whilst at night it is your place of rest!

Don't look at furniture as one-use objects – consider how you could use them for multiple purposes. This can help make your dorm area space-conscious, and more effective.

Draw up a floor plan before moving anything
When it comes to rearranging, you want to use as little energy as possible. Oftentimes, people simply jump right in and start moving and rearranging without any forethought. Whilst this is not necessarily a bad thing, it can lead to unnecessary effort and strain.

For example, you could move your bed, only to find that it does not fit properly in its new location! Extra strain and stress could be avoided by creating a floor plan and taking measurements first (much like using free essay samples can help when planning your assignments!).

Draw a rough top-down plan that contains your furniture in its ideal location. You can then measure the items and the available space to make sure everything fits OK. This can save so much time and effort in the long run!

We hope you now have inspiration for your dorm. Your head should be bursting with ideas, and hopefully, you can transform your limited dorm space into a useful, space-saving living area for a minimum cost!