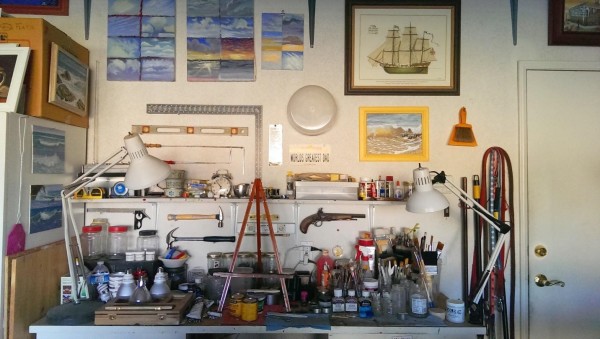 Nowadays, garage conversion is a hot topic among homeowners. While some people claim that it is too expensive, others argue that its benefits outweigh the potential costs. After all, what is stopping you from turning your garage into a guest room you can later rent by using sites like Airbnb? Turning a garage into a hobby room or a home office space are both excellent ideas as well.
Nevertheless, you could do so much more with your garage space. For instance, you can use it to create a home gym, build an indoor garden, or repurpose it as a utility room where you can place washing machines and drying racks.
If you want to make your garage into something more than just a storage room for your brooms, read on! Below, we explore the best garage transformation ideas in great detail, explaining what you need to do to make your garage conversion a success.
Create an Artist's Studio or Office Space in Your Garage
Whether it's art or writing that inspires you, turning your garage into an office space is yet another great idea! Grab some creativity-boosting posters or personalised wall decals like those available at Trending Custom , and get ready to unveil your hidden artistic talent. Of course, depending on what type of work you intend on doing there, some changes might be necessary.
For instance, if drawing is your thing and you plan to use markers or charcoal paper, your garage might not provide enough ventilation for those fumes. Also, if noise bothers you while working, some sound insulation should likely be installed. Otherwise, it's time to start decorating. Pick colours and furniture according to your needs and tastes – after all, this is your private getaway!
Rent It Out to a Local Business
If you're not planning on using your garage much, you should consider renting it out to a local business. You'll be able to charge a reasonable price for your garage, and there are plenty of companies that would be willing to pay for the use of your garage – where you can, for example, check how profitable are coffee shops. Alternatively, a courier or a delivery service could place their vans in your garage since they need an enclosed space where they can safely park their vehicles while they're not driving them. Another example is a business that needs to store extra inventory in the evening, such as a retailer.
Build a Home Gym
If you're a fitness fanatic, one of the best things you can do with your garage is turn it into a home gym. You can start small by installing a pull-up bar and a few exercise machines, or you can go all out and build a complete gym with everything you need to get yourself in shape. If you decide to go for the latter option, make sure to add a machine that allows you to do squats and bench presses, as well as some heavy bags for boxing workouts.
To set up an approachable home gym, you need to consider the space you want to devote to this room. If you can only afford to make use of the storage space in your garage, then it's probably better if you don't opt for a complete home gym. Instead, choose equipment that allows you to do both cardio and strength training.
For example, treadmills are excellent cardio equipment, while weights are more suited for strength training. If you have enough space in your garage, try adding a combination of both these types of equipment.
Turn Your Garage Into an Indoor Garden
This idea is particularly appealing to beginner gardeners because taking care of an indoor garden usually requires less maintenance than outdoor gardening. However, it still allows them to grow their favourite plants even if they live in an urban area without access to green spaces.
To set up an indoor garden in your garage, first choose what type of plants you want to grow: herbs, vegetables, fruits, or flowers. Then, find out how much sunlight they require and pick the right spot inside the garage where they will thrive. In addition, make sure that the temperature inside this room is stable and that there are no damp areas that could promote mould growth.
Convert Your Garage Into a Utility Room
This solution is perfect if you're looking to create more space inside your house and still access your car when needed. To turn your garage into a utility room, install shelving units along one wall where you can store tools like hammers and power tools and other supplies like paint cans or cleaning materials.
A sink would also be helpful to wash paint brushes or clean any messes without having to go back inside the house. Finally, install a workbench with a few power outlets, so you can use power tools while working there. This way, you can also turn your garage into a woodworking or carpentry room – it all depends on what you want to do!
Create a Guest Room
If you're expecting guests to stay overnight, then turning your garage into a guest room will certainly come in handy! If you want to make the most out of this new room, add one or two twin beds, a small sofa and maybe a tiny bathroom with a shower and a toilet, if possible. Alternatively, you can go the DIY route and create furniture yourself – it's not as practical as buying furniture from a store, but it can be a lot of fun.
There is no limit to what you can do with a garage conversion. If this is a temporary solution, you can always convert it back into a garage later if you no longer need it. But if you need that extra room for your guests for a more extended period, feel free to go crazy about it!
Turn Your Garage Into an Entertainment Room for Kids
If you have kids who love playing with trains, cars, or dolls, then turning your garage into an entertainment room where they can play with them is another great idea! Of course, you should make sure that enough light is coming in through the windows and doors so that they can see everything. Also, adding a small bed would be helpful to take a nap after spending some time in their playroom.
Conclusion
In the end, there are plenty of ways to turn your garage into a room that you can use for various purposes. Whether it's a home gym, office space or a guest room, you should always consider your needs when choosing what to do with this space. After all, if you don't like working in your office or staying in your guest room, then chances are that you will not make the most out of this new living space!
While it may seem like a costly project, converting your garage into something useful is not as difficult as you might think. If you keep in mind the tips we mentioned above, you'll be able to find the perfect solution for your home without breaking the bank!
Ref : THSI-2632 / ZD. 23423