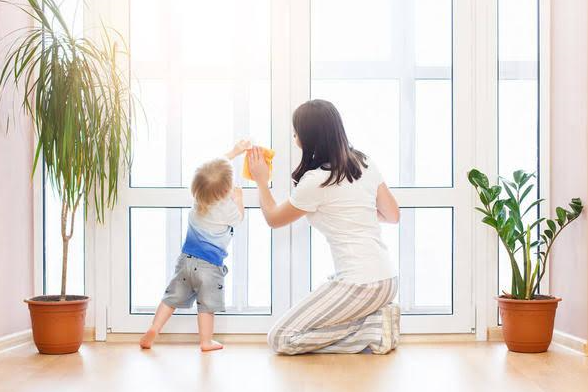 The arrival of a new baby into a home is a time of immense joy for the parents as well as the family. Babies provide happiness and joy to most people and they have to be taken care of carefully, especially in the first few months of their lives. Bringing a baby into the home is a joyous event but a lot of preparation precedes bringing a baby into a home. It is important to completely change the interior of the home, especially the nursery or the bedroom that is made into a nursery in the home. It is very important to make the home more baby-friendly which makes the home comforting, educational as well as safe for a baby. The following are some of the ways to make homes more baby-friendly:
Making Homes Baby-Friendly
Furniture in the Nursery
To make a home more baby-friendly, it is important to buy good quality baby furniture. This includes cot beds, cribs, and rocking chairs. It also includes other aspects of the nursery as babies require a lot of stuff. The nursery needs to have proper drawers, cabinets, and cupboards that cannot be opened by toddlers and babies which are safe for the nursery. Nurseries also need dressers, changing units, and safe lighting and lamps. All furniture has to be safe and in the case of cabinets and cupboards, it has to be fixed to the wall to make it safe.
Baby Proofing the House
It is important to make home décor comfortable and cosy with stuff like Christmas quilts but it is also important to make the home safe for babies and toddlers. Latching cupboards and cabinets, placing barriers in rooms and at the top of the stairs and the bottom, and smoke and gas leak detectors are also necessary. It also includes safety plugs for outlets, latching doors and windows, securing furniture and appliances to the walls, and placing toxic substances away from the reach of the baby or toddler.
Bedding and Linen
An essential aspect of making homes baby-friendly is bedding and linen. Different types of quilts especially Christmas quilts help the baby stay warm during the festive season. Special mattresses, sheets, blankets, snuggle nests, bolsters, neck pillows and special curtains for the nursery are very important.
Nursery Décor
Nursery décor is a major aspect of making the home more baby-friendly. Children are great learners and the décor of the nursery should be cute and educational at the same time. Light pastel colours on walls with images of birds, animals and also letters and numbers are ideal as children love to learn and décor plays an important role.
Type of Toys
To make a home baby-friendly it is important to buy toys that children like to play with. Toys have to be safe and engaging and also educational. It is a good idea to buy toys that are bright in colour and different types of toys are suited for different situations. Bath toys, stacking toys, blocks, animal-shaped toys, walker toys, soft toys, and balls are all very popular. Toys teach children about colours, numbers, animals, and the world around them. Toy books that do not tear easily are also very popular.
Baby Monitors
Baby monitors are an essential part of making a home more environmentally friendly. Baby monitors and baby cameras help parents keep a watch on their babies and keep the babies safe in their homes. For large homes, baby monitors are a boon, for example, a parent can carry the monitor with them when they are in the kitchen or away from the child's nursery. While children are safe in their nurseries under their warm blankets or Christmas quilts, the parents keep a watch on them with their baby monitor.
The above-mentioned ways are a great guide for making sure that the home is much more baby-friendly and a place where babies can thrive and grow in a safe and friendly environment.
Ref number: THSI-2178
Ref: THSI-2764 / ZD. 24599