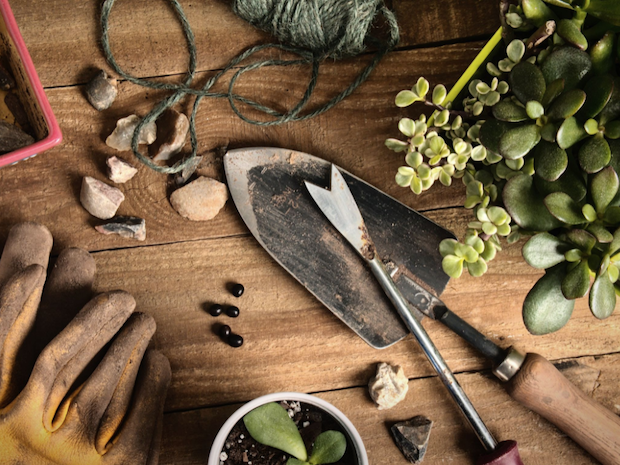 Are you ready to cosy up your garden on a budget? It is time to transform your outdoor area with affordable and easy garden ideas and projects even a beginner at gardening could pull off. Keep on reading for the expert advice that will change your backyard for the better.
7 cheap and easy garden ideas
Add a water feature
Adding a water feature is an ideal solution if you want to create a relaxing area in your yard. Water instalments like ponds, fountains and artificial waterfalls attract wildlife and are all about embracing tropical and zen vibes. Such garden features are low key luxurious but at the same time quite easy and affordable to construct and install. 
While some water features do cost a fortune, ponds are very simple to pull off as a cost-effective DIY project. All you need is gardening tools, pond linen, net and stones to secure the linen. 
Another way to stay on a low garden budget is to put up a simple tiny birdbath or decorative fountain. If you are looking to upcycle old furniture like sinks and baths, bury them fully or partially, fill them with water and put a creative spin on the idea of an outdoor water feature.
Add more lights
Good lighting is super important, even outdoors. You would be surprised to learn how a few additional lighting sources can literally light up the space and make it cosier. Depending on the garden design you try to pull off, there are different budget-friendly solutions.
One of the most visually appealing lighting installations to consider is cable-connected yellow light bulbs. If you are trying to be even more cost-effective or want to save money on the electricity bill, go for wonderful lanterns or solar-powered garden lights. 
Plant trees and flowers
Planting flowers is one of the simplest budget garden ideas, yet, they can totally transform your outdoor space. Plant your new greenery into flower beds or pots and bring your garden back to life with an extra splash of green and vivid colours. 
Adding trees to the landscape is another great budget project for your garden. You can make a bold statement with blooming trees, exotic trees, evergreens or even fruit-bearing ones. As a result, you get a new garden feature, extra shade from the sun and more privacy in your own garden.
All you need to do to make it happen is buy seeds or transplants, choose a proper place for planting them and get to work. 
Climbing plants
Climbing plants are a superb choice for outdoor spaces. Not only do they save space by growing upwards but could also be utilized to make living arches, garden frames and more! 
These types of plants are amazing means to cover walls and fences, as well as create lush green walls or stunning vertical garden displays. And the best thing is, they are relatively inexpensive and will save you money on replacing hideous fences and restoring old walls.
Build shelves from old furniture
You don't need to break the bank to get impressive shelving displays. Utilize old furniture instead! That way you get to keep your worn-out items, put them to good use in the garden, not throw them away as unnecessary waste. 
Old cabinets, drawers, palettes, ladders are perfect for executing this type of easy DIY garden idea. What a great way to upcycle and save extra money on new furniture, right?
Use indoor accessories
Outdoor ornaments are oftentimes super expensive. So every time you have the opportunity to utilize indoor accessories outside, you better seize it. It is a great way to repurpose furniture and double it up as an indoor/outdoor feature. 
Create a modern storage place
Storage space is a must for every garden. Whether you need a place to put away tools, machinery, cushions, decorations or recreational objects, garden storage will always provide. It helps organize stuff and provides a much-needed shelter from bad weather, water damage, etc.
There are many budget garden ideas to consider. For example, transform recycled pallets and assemble them into modern storage structures, seats and boxes. Another option is to upturn crates and stack them for a chic contemporary statement. Use the new structure as shelving, to display garden goods, accessories and beautiful potted plants.
Making your garden comfortable might be challenging 
Even though we make improving a garden as simple as possible, it does not mean you should not turn to garden experts for help and advice. Professional gardening services can help you achieve outdoor goals by sticking to your budget and taking all major maintenance and gardening tasks off your shoulders.
Ref: THSI-2450 | 
THSI-2677 / ZD. 24013