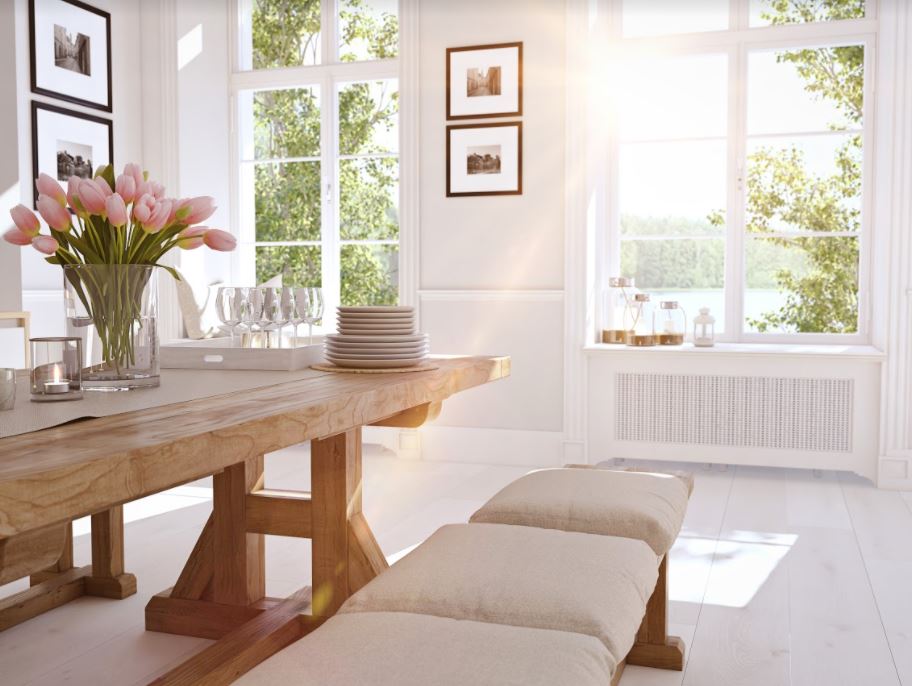 Who doesn't want to come home to a house where everything is sparkly clean and organised? Wouldn't it be amazing to feel like your home is a commercial showroom that interior designers set up to see the room's full potential? While it may seem too good to be true, you can achieve that look within your home.  
Keeping your home sparkly clean may be difficult, especially when you're too busy to clean. But, did you know that a clean home comes with a healthy environment that'll be safe to live in, especially with kids and the elderly? To keep your home sparkling, listed below are the cleaning tips you might want to consider:  
1. Clean Your Window Treatments
In most cases, people often forget to clean their window treatments as these usually look clean or in tip-top shape. While it may seem like it, you'd be surprised with how much dirt these had accumulated when you get to clean them. You're just used to your window treatment's appearance that you forgot what it initially looked like.  
Window treatments can come in different styles and sizes. However, the two most popular types are curtains and blinds. With curtains, all you have to do is to take them off and wash them according to their fabric type. With blinds, you need to follow a particular blind cleaning guide to ensure that you're not damaging the blinds, but rather thoroughly cleaning them.  
2. Deep Clean Your Carpets
While vacuuming your carpets could be a daily habit that you practice in your household, it's not enough if you want your home to be sparkly clean. Vacuum cleaners only take out the dirt, but not the factors that make your carpet dark and filthy. To wash your carpets, you can deep clean them for an effective cleaning process.  
When deep cleaning, you can use a steam cleaner machine or look for other DIY methods that allow you to clean it thoroughly by using cleaning or natural products. However, if you don't have much time, you can call for a deep cleaning service which can get the job done proficiently.  
Apart from the carpet, you must regularly clean your household floors for a shiny and healthy living environment, especially when you just moved into a new home.
 3. Clean Your Windows, Glass, and Mirrors
Wouldn't it be lovely if you get to see the view from outside and it's crystal-clear? It'll be fantastic if you don't see any white spots from dried raindrops that could ruin your view's clarity. Apart from your windows, you should also clean the mirrors in every part of your house. In most cases, the mirrors in your bathroom would most-likely be foggy as these get wet almost every day.  
If you have a glass encasement in your bathroom shower, you should also keep it clean and crystal-clear at all times.  
There are plenty of glass cleaning materials that you can purchase at the store, or create your formula at home. It'll be ideal if you clean the glass in your household, at least, once a week for a thorough cleaning.  
4. Wipe Down Light Fixtures
Most people ignore cleaning their light fixtures when cleaning the whole house. Apart from being high up on the ceiling, these may seem in neat condition and don't need to be touched. Well, you're in for a surprise! At least every month, you should clean your light fixtures to keep your home sparkly clean. This might help to brighten up the look of your household and, at the same time, lengthen your fixtures' lifespan.  
When cleaning your light fixtures, you don't have to wash them. You can just simply wipe them down with a clean cotton cloth or use a glass cleaner for a thorough cleaning. You'd be surprised how much dirt these had accumulated, and installing them back on can give your room a brighter feel.  
5. Clean Your Walls
The quality and cleanliness of your walls affect your household's overall look. No matter how tidy your entire room is, if your walls are filthy, it'll not complete the look and vibe you're going for in your house. At least once a year, you should try to clean your walls by wiping them from floor to ceiling for a complete and refreshed look.  
When it comes to cleaning your walls, ensure that you use the right materials which aren't too toxic for the paint you used when building your home. This would also be a great time to repaint the room if you're looking to update your interior look.  
6. Clean Your Taps And Sink
Who wouldn't love to see your kitchen and bathroom sink all shiny and spotless? Nothing feels better than a brand-new-looking kitchen sink where it feels like it's still the first day you moved in. However, with natural wear and tear, it'll lose its shine and might also develop scratches, losing its pristine condition.  
You can use liquid dishwashing soap and warm water, mix them, and scrub your tap and sink using a washrag to remove the light dirt. For the grimy areas, you can use baking soda and toothbrush to scrub hard-to-reach areas. However, if you'd like to use the power of chemicals for your sink, there are plenty of commercial products available that you can purchase at your local store.

7. Scrub and Wipe Bathroom and Kitchen Tiles
Have you ever taken a closer look at your bathroom and kitchen tiles and noticed something dark forming in between tiles? While you may be used to the tiles' colour, it shouldn't be that way! They should look as they did when constructors installed them. Apart from the grout lines, you should also consider the tiles' overall quality. If you purchased a shiny tile, it should be shiny throughout the years.  
Bathroom cleaning should be a weekly routine as it's the most humid area of your house where moulds are most likely to develop, mostly when you use a steamy shower.  
You can clean your bathroom or kitchen tiles using water and vinegar mixture, spray the growth lines and scrub using a stiff brush, and clean every corner of the room. You can use an old toothbrush for thorough cleaning of hard-to-reach areas.  
Conclusion 
Keeping your home sparkly requires determination and motivation as you need to do it regularly. While you can achieve a sparkly home over the weekend, it'll not last long if you don't maintain it. With proper maintenance, you'd be having a sparkly home for the whole year round!  
Ref number: THSI-2177