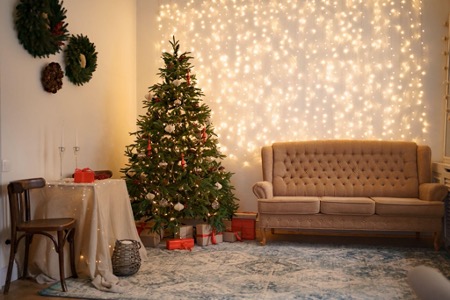 Get ready to be in the festive mood as Christmas is around the corner! It is almost the time of the year to indulge in buying gifts, baking mouth-watering cookies, watching Christmas classics, and of course, decorating your home! 
We understand you might be living in your uni dorm or student apartment and badly missing your family and friends this festive season. But remember, nothing should stop you from celebrating this fantastic festival all on your own. So invite your uni friends, cook delicious dinner, and sing Christmas songs and carols. 
And to get started for the ultimate Christmas party, begin by modifying your student room into a winter fantasy with these seven fantastic and creative room decoration tips. So without further delay, let's jump right into it!
Brighten Up Your Space with String Lights
Light up your University accommodation with bright coloured string lights. There are many creative ways you can experiment with these aesthetic fairy lights to deck your hall. Such as wrapping around your bed frame, draping across furniture, stringing them across your ceilings, or weaving them around objects like empty glass bottles to turn them into fancy centrepieces. It is the best and affordable way to make your room into a winter wonderland.
Don't forget about the Good Old-Fashioned Christmas Tree.
Your Christmas decorations are incomplete without the good old-fashioned and traditional Christmas tree. The iconic centrepiece has remained an integral part of Christmas celebrations throughout (many) centuries. So purchase a Christmas tree (natural or artificial) and adorn it with a tree topper, red stockings, velvet ribbons, your favourite candies, Christmas balls, fairy lights, and whatnot! Get your creative juices flowing!
Get Super Innovative with Macramé
This Christmas, you can go the extra mile by making creative pieces out of Macramé. It is a crafting technique that uses knots instead of weaving or knitting to create various textiles. The art required only cheap and accessible materials like cotton twine, hemp, yarn, etc., with multiple beads to enhance the work.
So while staying inside your student housing, think of some creative ideas, such as making a beautiful wall hanging or some eye-catching Christmas tree ornaments. The possibilities are endless, and it is the best time to learn or hone your Macramé skills. 
Get Creative with Your Bath Towels 
We know you must be wondering how you can use a bath towel to decorate your student pad! But trust us, you can! Either you should purchase Christmas-themed bath towels online or get crafty with some of your bath towels–and hang them inside your student accommodation.
If you wonder how to do the latter, it is easy! Just take out your old acrylic paint colours and brushes and let your inner Picasso do the work. You can draw a Christmas tree, stockings, candies, or even a reindeer and Santa Claus (if only you are sure about your artistic skills). 
Get Crafty with Polymer Clay
Creating cute tiny objects out of polymer clay is one of the most innovative ways to adorn your student room. You can shape the clay into various creative pieces, such as a star, Christmas tree, snowflake, or even Merry Christmas letters. 
Polymer clay is different from regular clay as you need to bake it in the oven after giving it the desired shape. And once it hardens, it retains its shape and colour for several years, making it more perfect to use numerous times for Christmas and other festivals.
The clay activity is even more fun when you invite your friends to your place and start shaping your favourite objects together!
Use Scented Candles to Enliven Your Mood
Is there any better way to get into the holiday warmth than burning scented candles in your student room! After all, the sense of smell is connected to our emotions, which hits a sweet spot for most of us. So, buy some sweet-smelling candles like ginger, crisp pines, or lavender to conjure comfort, warmth, and Christmas cheer.
And Remember to Hang a Wreath on Your Main Door
And lastly, don't forget to hang a DIY or ready-made wreath on your main door! It is again an affordable way to deck your hall. If you want to go a step further, adorn your main door with ribbons, tinsels, Christmas stickers, and more so that anyone passing your door can instantly get into a good festive mood!
We hope you liked and found all the innovative ideas we have shared in the blog helpful. And with that said, it is now time to wrap up our blog. So remember, let your inner artist deck your student room beautifully this festive season. Merry Christmas to you and your family!
Author: Harshita Anand 
Ref : THSI-2546 / ZD. 22961