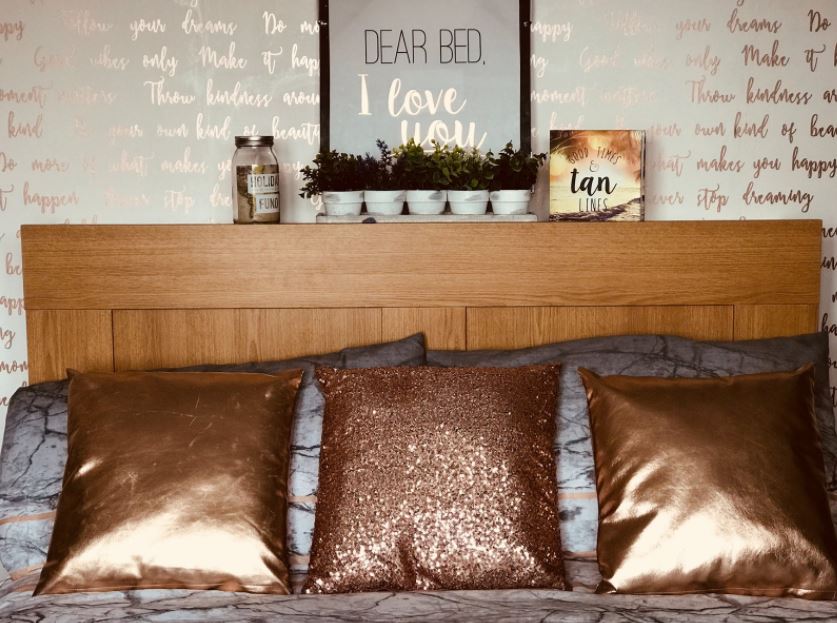 The keys to existing in a small space are to optimize the room and get creative with storage. This theory applies whether you're planning on staying in your home for the foreseeable future or you are showcasing it to potential buyers.
With the right organization and storage elements in place, a small bedroom can feel warm and cosy rather than cramped and chaotic. Here are seven creative storage ideas to help streamline your small bedroom.
Bed Trundle Storage
Your bed is one of the biggest space wasters in the bedroom, taking up valuable square footage and floor space. However, it's also the key feature of your room and not likely to be sacrificed anytime soon.
However, with the right foundation, your bed can become your greatest asset for storage. 
Look for a bed frame that has built-in drawers underneath, or create your own with an IKEA hack. Alternatively, you can get a frame with enough clearance that trundle totes will fit underneath. You can use these to store footwear, extra blankets, seasonal clothing, and more. 
Alternatively, you can get headboards with built-in trundle shelves on the sides. These are ideal for storing away books, cosmetics and even your laundry hamper, keeping your room clean and tidy with minimal effort.
Repurposed Photo Frame Jewelry Hangers
Many interior designers look for ways to turn storage into a work of art. You can accomplish this by repurposing a thrifted photo frame into a jewellery hanger. Remove the back of the frame and staple in chicken wire, then hang the upcycled piece on your bedroom wall. You can use the wire to hang everything from your gold plated jewellery wholesale favourites to your fanciest pair of earrings.
Instead of chicken wire, you can also use a corkboard and create a multipurpose storage panel that can hold important notes and pictures to add to the overall aesthetic.
Shower Curtain Rings and S-Hooks
For a creative, budget-friendly way to enhance your closet space, pick up some curtain rings and s-hooks. Use the curtain rings along one hanger to secure your tank tops and scarves. The s-hooks can be used to hang jeans, belts, and summer dresses. These options take up less space than multiple hangers and will help keep your closet more organized.
Another innovative way to enhance closet space is to use soda can tabs to create a tiered effect with your hangers. This is ideal if you have a narrow closet as you can optimize the vertical space.
The Back of the Door
The back of your bedroom door is prime storage real estate. Get a shoe organizer and tuck away your footwear, cosmetics, or accessories. Alternatively, you can keep it simple by adding a hanging laundry bag to keep your floor clear of yesterday's clothes. 
There are also various shelving and hook options to store outerwear, hats, and even cosmetics. Think about how you want to use the space specifically before you purchase an expensive storage solution.
Use Drawer Organizers
You probably have more room than you think — it's just a matter of organizing the space. Capitalize on the space in your drawers by using drawer organizers that you can make yourself. 
You can get small inserts or use cut PVC pipes to keep underwear and socks well-organized and easily accessible. You can also find cloth box inserts and dividers to keep shirts from devolving into a mass of tangled fabric.
By organizing your drawers, you may discover that you have an extra drawer for storage. Additionally, you'll no longer have an excuse to leave the laundry stacked on top of your dresser.
Mounted Night Stand
Nightstands have long been a staple in home decor. However, more designers are moving away from these bulky pieces to open up space and invoke a minimalist spirit. That being said, it's nice to have somewhere to set a glass of water and your phone.
Opt for a small, mounted nightstand by repurposing a wooden crate or getting a small corner shelf. The idea is to provide yourself with enough space to place the bare necessities without letting the shelves succumb to clutter. 
High Shelving
The space above your windows and below your ceiling is perfect for a few floating shelves. These shelves will be out of the way and won't take up any additional floor space. Use your high shelving to store books, hats, "junk drawer" items in baskets, and anything else that needs a home.
With these simple storage hacks, you can improve the flow of your small bedroom, making it more appealing to both yourself and potential buyers.
Ref number: THSI-2193