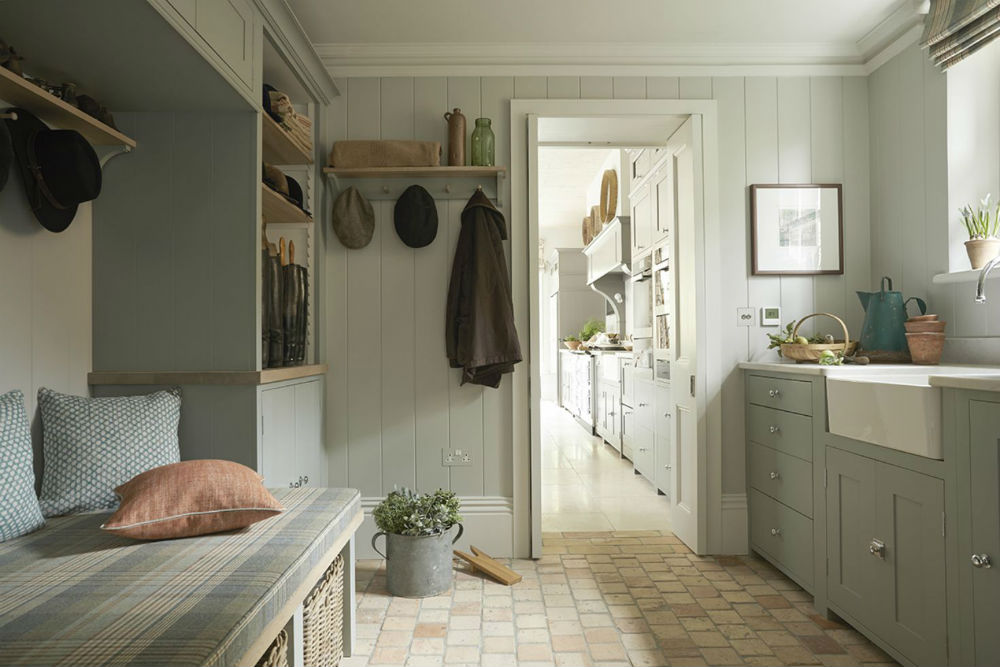 The boot room, a staple 'back end' feature of traditional country houses, is fast becoming the most practical room in the modern home.
Open-plan kitchen and dining spaces are perfect for sociable modern living, but with walls removed, potential for storage space is inevitably lost. The boot room, albeit in a transformed form (it's no longer just a space for wellingtons, riding boots and riding hats) is taking centre stage as the perfect place to keep the clutter away from hallways and other spaces indoors.
If you are about to renovate your home, knock down walls and create a fabulous open-plan living solution, you'd be well-advised to factor in a boot room. It's the perfect space to keep coats, wellies, dog paraphernalia (leads, soggy dog toys and a doggie towel), kids' sports kits, sports bags and more.
Here are 7 essential design features you'll need to create a practical and well-organised boot room.
One of the biggest oversights when designing a busy boot room, is how to deal with mud! Practical, hard-wearing flooring is a must. Whatever flooring you choose, it needs to be easy to clean. Stone or tile flooring is probably the best, but for a cheaper option opt for vinyl flooring; one with a pattern will hide the dirt more easily too.
Consider underfloor heating – a perfect luxury when you slip off your cold, wet shoes or boots on a cold winter's day.
A small porch or entrance valve to your boot room will ensure cold windy weather is kept at bay. It is also essential to have a door separating your boot room from the main house. It is a boot room after all, not a hallway!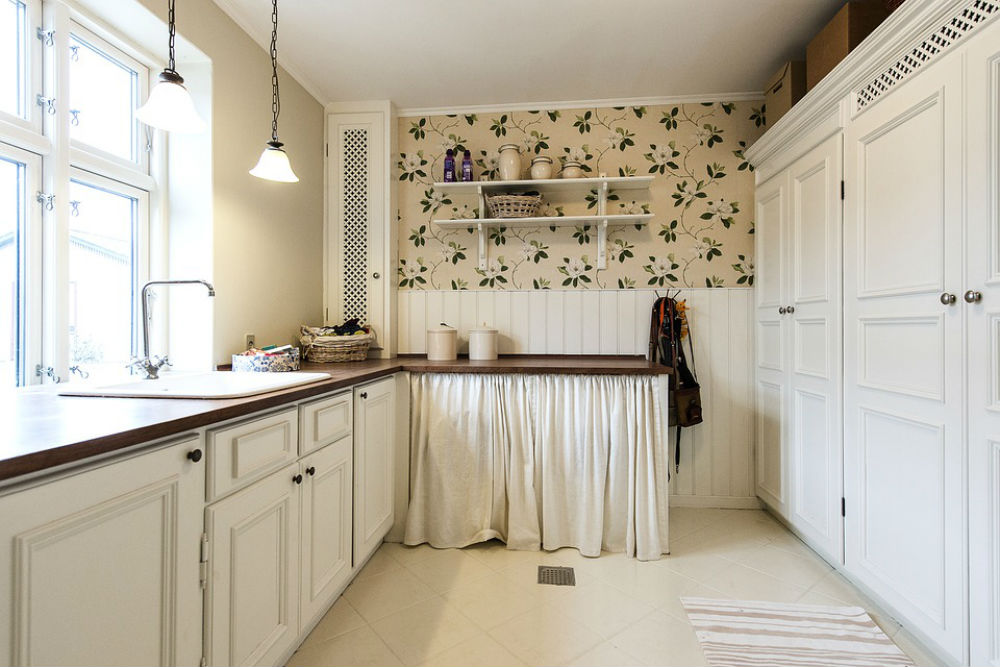 Image source: Pixabay
Obviously, as the name suggests, this is the space for you to store your muddiest footwear. Wellies, walking boots, snow boots, riding boots, football boots, hockey boots and any other trekking or sporting footwear should all have a dedicated place to go. Wellie racks are a great idea, as are boot drawers. Don't forget the essential boot jack by the door. See here for some great shoe storage ideas.
Be sure your boot room design includes ample hanging space for the family's coats, jackets, hats, umbrellas etc to keep everyone's outdoor gear impeccably organised. You will also need extra storage facilities for hats, scarves, gloves, welly liners and other out-of-season winter wear.
Whether you opt for freestanding hallway furniture, a dedicated coats cupboard or a bespoke solution to maximise the available space, it's a good idea to plan enough hanging space for visitors' outerwear too. You can never have enough coat hooks!
A bench seat is an absolute must in any boot room. It looks the part, provides a handy space to sit down while your loved one tugs off your wellingtons, and creates extra storage space with a handy lift-up-lid seat. Position your bench seat close to the door.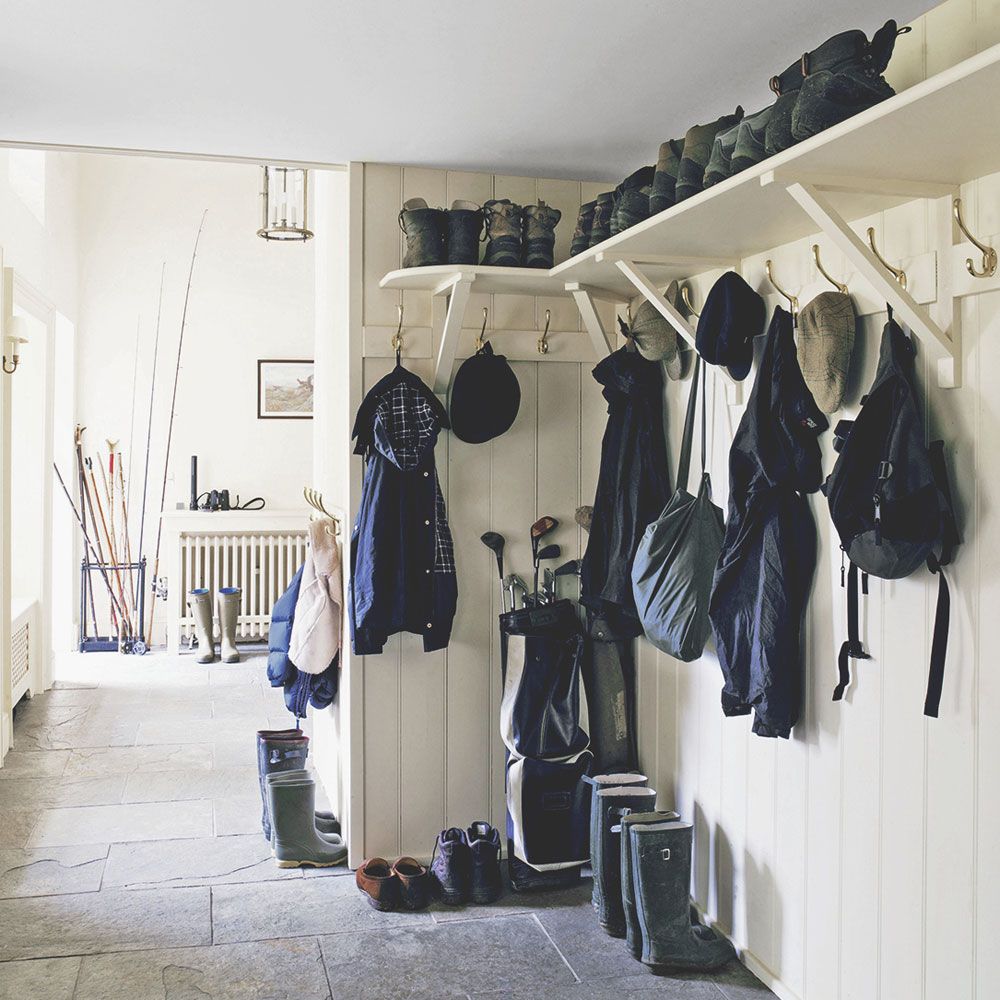 Image source: Ideal Home
If you have the space, a Butler or Belfast sink is a must and will mean any muddy clothing or footwear can be cleaned up without bringing them into the house. A sink is an even bigger must if you are a dog owner. Muddy paw prints on the sitting room carpet are a real pain to clean up.
If space permits, a dog basket next to a warm radiator will give your muddy, tired pet a place to chill and dry out after a long walk in the woods. If it's a warm and snuggly spot it will probably become doggy's favourite place to escape to when your house is busy with guests.
If you don't have space for a sink, an outdoor tap near to the door is essential.
It may seem obvious, but getting the storage right in your boot room is so important. Otherwise it will end up being truly the messiest and dirtiest room in your home. Coats, dog leads, football boots, wellies and cleaning products all need a suitable cubby hole, shelf or cupboard.
You'll need three levels of storage; cubby holes and drawers near floor level for shoes, hanging racks for coats and jackets, and a high shelf for less used items, such as cycling helmets. Fitted, bespoke furniture is obviously the best way to ensure you use up every inch of useable space. Good-looking boxes and baskets hide a multitude of muddy sins!
And don't forget practically placed plug points.
See more inspiration for your boot room here.