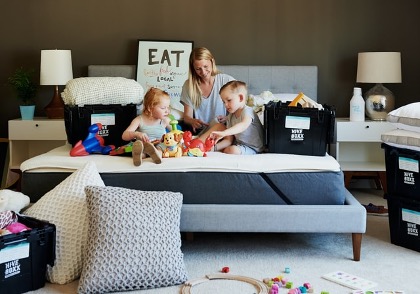 Moving to a new state or country is exciting, but it can also be stressful. There's much planning to be done, and you need to find a removal company you can trust. 
Hiring the right movers can make a world of difference. But how do you find the best company for your move when they all claim to be the best? 
Keep these guides of the seven things to look for in a long-distance moving company when doing your research.
1. Certification, Insurance, and Systems 
A reputable and trustworthy long-distance moving company will have three essentials in place:
State certification

Full insurance coverage

Established work systems in place
Mistakes happen, so you need to be sure your company is prepared for them.
A mover with transparent systems and documents your move all the way along is also easier to deal with. Your company should track the following:
Old residence arrival and new residence drop off times

Old and new locations

Number of boxes and furniture items

Any special requests
If certification, insurance, or working systems are not in place, keep looking. 
2. Experience
No amount of paperwork and qualifications can make up for the hands-on experience. You need to check and make sure the company you consider has the relevant long-distance move experience to handle your needs. You want to go for companies that have been in the business for at least 5-10 years.
That said, a new company may have an experienced team on board. Ask the establishment for a portfolio of recent work done by its staff.
3. Room for Changes
Moving a long way away takes an extraordinary amount of coordination. Check that your candidates have a flexible schedule to accommodate any setbacks or delays that could come up. 
Some companies are not accommodating in this regard, and you could stand to lose your deposit or incur extra costs if you have to change dates. You'll save yourself a lot of hassle by hiring a mover that can be more flexible if need be. 
4. Diverse Range of Services
You also want to check what services a mover provides. Think about the kinds of assistance you may need. These may include: 
Packing

Handyman help

Moving labour

Drivers

Storage

Junk sorting
The more they offer, the more convenient they can make your move.
5. Excellent Communication
All companies function better with clear and precise communication channels, especially for moving companies. Moving long distances requires a lot of back and forth between several parties. You need movers that communicate effectively and deescalate tense situations if there are delays. 
You can tell quickly if a company's communication is not what it should be. If anything goes wrong with your move, this can make for a chaotic and volatile situation. It is best to look for a company that communicates how they work, so there are no misunderstandings. 
6. Fair Rates
Moving a long distance is typically pricier than a local move, but it doesn't need to break the bank. You also don't want to go too cheap – this could be a sign of poor service. 
You'll establish what fair-going rates are in your area by researching.
7. Recommendations
A company's reviews will tell you a lot. Check on their online platforms for comments by previous clients. You can also ask people you know if they can recommend a mover. Word of mouth is powerful when it comes to recommendations. 
Some Final Thoughts
If you look for these seven qualities in a moving company, you're more likely to find a friendly, honest, and hardworking team. 
But also remember to trust your gut. If something feels off about a company, it's best to hire someone else. 
 You can find other tips and more helpful information on our blog. 
Ref : THSI-2552 / 112121 / ZD.23020