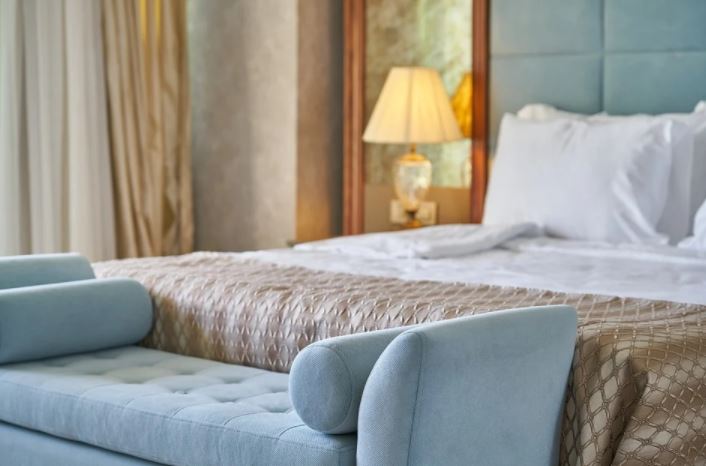 Furnishing your bedroom isn't always easy, with so many different styles to choose from and factors to consider when it comes to creating the perfect sleeping space for you. Having a comfortable, relaxing bedroom space is important for being able to wind down and enjoy a good night's sleep each night. The furniture that you choose can make a huge amount of difference to this, especially when it comes to key pieces of furniture that you will use on a nightly basis, like your bed frame and mattress. 
To avoid overcrowding your bedroom with too much furniture or items that are going to seem out of place once you have completed the look, it's important to factor in the amount of space that you have, your budget, and anything else that might be important, such as your décor and colour scheme, to ensure that the furniture you choose fits in well and looks at home. Whether you're giving your bedroom a revamp or have recently moved into a new home and want to start a new bedroom from scratch, here are some tips to keep in mind when choosing your furniture. 
How Much Do You Want to Spend?
First of all, it's a good idea to have a figure in mind for how much you want to spend, since the cost of bedroom furniture can quickly add up. Assessing your budget will give you the chance to determine how much you can afford and subsequently which furniture is going to be the best option for you in terms of your finances. Before you visit any stores or browse for furniture for sale online, decide how much you want your overall budget to be, which will make it easier for you to narrow your choices down. If you want to visit stores in person to purchase your furniture, it could be worth browsing online beforehand to make sure that they have items that you like that are in your price range. 
Choosing the Right Bed
The bed is going to be one of the most important items of furniture in your bedroom since, after all, you sleep on it every night and it's essential for being comfortable and getting enough rest. The average person spends between seven and nine hours per night in bed, and perhaps even longer if you like to nap. It's important to make sure that your bed is the biggest investment that you make in your bedroom furniture, especially when it comes to your mattress. The right mattress can make a huge difference to the quality of sleep that you get at night and how you feel in the morning when you wake up. Spend some time visiting furniture stores and trying out the different mattresses on offer to get an idea of the right firmness level for your needs. When it comes to bed frames, there are tons of options available and the right mattress will go well with any bed frame you choose, so keep your aesthetic requirements and any storage needs that you have in mind. 
Storage
A cluttered bedroom is never a nice environment to sleep in, which is why you might want to put storage on the top of your priority list when choosing your new bedroom furniture. Items like ottoman beds can be a great idea if you have a smaller bedroom and a lot of items to store away since you can tuck them underneath the bed out of sight, and you don't have to lose the space that the bed takes up in your room. If you are interested in getting an ottoman bed to create more storage space in your bedroom and reduce clutter, check these bed frames here. Kingdom offers a range of ottoman beds in different sizes with various colours to choose from to ensure that the bed fits into your room décor perfectly. Whether you're looking for a gorgeous silver plush velvet bed frame or a rich wooden trundle bed, they have got you covered. 
Size and Measurements
It's a wise idea to measure your bedroom before you start investing in the furniture so that you are completely sure what is going to fit and where. Buying furniture that's too big for space can be very frustrating and, in some cases, a super king bed might sound like a good idea, but if you've overestimated the size of the room, it could end up causing more problems than it is worth. Taking exact measurements of where you would like each item to go and drawing out a map of your room so that you can plan where you are going to fit each item of furniture can be a good idea before starting – once you've done this, you can then easily find the right furniture to fit and avoid buying anything that you need to return or exchange because it doesn't look right in the room. 
Colour and Style
Your bedroom is your private area in the home for relaxing and sleeping, so it makes sense that you would want some of your personality to be displayed here. After all, your bedroom is the first room that you are going to be in in the morning when you wake up and the last room that you go into at night when you go to sleep, so you will want the way that it looks to reflect who you are. Before you start shopping for any furniture, come up with a colour scheme and style that you want your bedroom to have. Perhaps you like sleek and modern décor with a high-gloss finish, or maybe you prefer a more rustic and farmhouse look. Figuring out how you want the end result to look when your bedroom is all put together will make it easier for you to choose the right pieces, especially if you are buying them individually. 
Purchase a Furniture Set
If you want to save time and make sure that your bedroom looks put together with little effort, it might be worth looking into purchasing a complete set for your bedroom that includes a bed, wardrobe, bedside tables, drawers, and anything else that you need altogether. Not only will this all match and belong together but it can be easier to have everything delivered at the same time so that you can get your bedroom set up in no time rather than looking for individual furniture pieces. However, before doing this, make sure that you measure the room so that you can choose a set that is going to fit well. 
Accessories
Last but not least, don't forget about the different accessories that you might want to display in your room once the furniture is in to put the finishing touches on the aesthetic and make it cosier and more inviting. Throws and cushions for your bed can take it from boring to luxury in seconds, and you could consider adding plush rugs to the side of your beds for your feet to hit first thing in the morning when you get up. Lamps will add a more relaxing ambience to the room, and finish off with some plants, pictures on your walls, and decorative items that you like. 
Whether you want a complete bedroom to revamp or are putting together the bedroom in your first home, keep these tips in mind to choose furniture that works well with space.
Ref number: THSI-2302