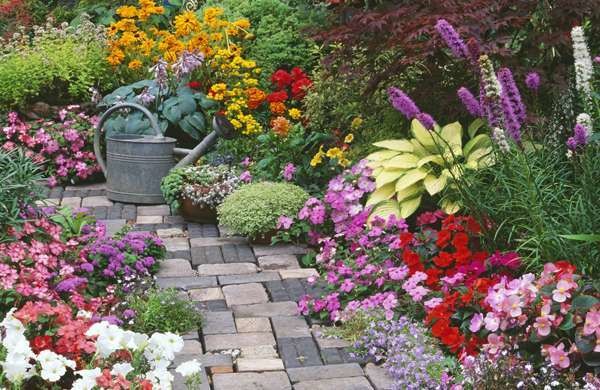 Gardens are an important space of your house. They are the first thing in your space that catches the attention of a visitor. A beautiful garden adds to the beauty of your overall living space and creates a serene environment.  The best thing about a garden is that you can get as creative as you want. The way you design and decorate your garden space lets you express yourself. Think of having a personal space in your house where you can unwind yourself and enjoy the serenity of nature. Here are 10 ways in which you can enhance the beauty of your garden.
1. Colourful Flowers
Nothing will make your garden look more beautiful than a natural splash of colours. Well-positioned groups of flowering plants and flowering trees make your garden look vibrant more than anything else. Colours and flowers add liveliness and diversity to your garden. A great option is to plant dogwood trees in your garden. Dogwood trees are available in many sizes and colours and you can choose them according to your space and preferences. The best thing about dogwood trees is that they are very easy to plant and easy to maintain and do not require any additional care. This makes them one of the most pocket-friendly plantations. You can get a dogwood tree of your choice from TheTreeCenter.com
2. Eliminate Weeds
Unwanted weeds sprouting here and there in your garden not only makes it looks less appealing and cluttered but may also end up consuming the important soil nutrients that were meant for the regularly planted vegetation. Other than that they kill the beauty and appeal of your garden and makes it look ugly. It is important that you eliminate weeds from your garden and ensure that they do not end up growing again.
3. Fence Your Space
Fencing helps in accentuating your garden in many ways. There are many types of fencing available in the market and you can select one according to your taste and pocket. Good fencing adds to the overall aesthetics of the house. Other than that they help in keeping unwanted pests and trespassers outside the boundary. The last thing you would want to happen to your garden is a rabbit burrowing all around it or dogs having a feast over your kitchen garden. A fence will not only help with enhancing the aesthetic appeal of your garden but will also keep attackers at bay.
4. Group Your Plants
If you plan to use lots of colourful plants in your garden it would be a great way to position them strategically to create a certain effect. A smart and easy way to do this is to plant many small plants with flowers of the same colour in a group and create a colour harmony that enhances its beauty. Alternatively, you can create a creative splash of a lot of colours in a single pot or a container.
5. Garden Art
Garden art is not only beautiful but does also looks fun and adds character to your garden. A lot of garden props are used to enhance the beauty of your garden space. Add wall hangings or painted pots that are jewelled with ornaments to enhance the beauty of your garden space. The clever placement and arrangement of these garden art pieces help in enhancing the beauty.
 6. Add Furniture
There are a lot of garden furniture options available in the market. You can choose from a large variety of furniture available for you. Furnishing your garden well will make you less dependent on other support items. Add a chic coffee table with some elegant chairs and a recliner to create a perfect relaxation spot for yourself. If you have some extra space, add a glass extension to your garden and create a study or a living area that has a collection of your favourite books and CDs.
7. Avoid Clutter
There are so many garden decorations available these days that you might get overwhelmed. You might want to add a bit of everything to your space. However, when you are designing your garden it is important to consider how much space you have.  Too much of everything will make your garden look cluttered and untidy. In contemporary design, less is more. When you are dealing with something as natural as a garden space it is important that it looks bright and spacious.
Ref number: THSI-2441