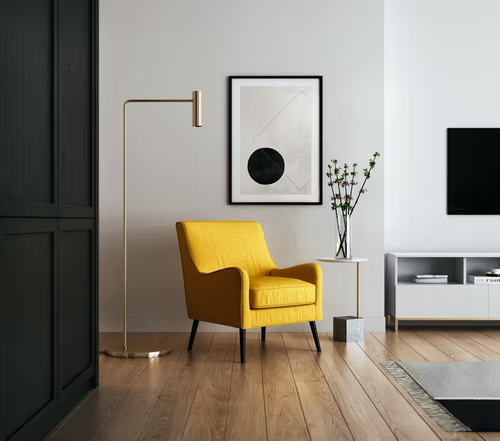 The interior décor and design of your home are an opportunity to make your mark on your living space. It is a chance to turn a home into a part of the family. The houses we live in, and the homes our children grow up in, should be a character in our life's story and not just a space. With the help of these top interior design tips, you can make sweeping style changes to your living areas and make your home your own.
Make The Most Of Accessories And Hardware
The small details stand out in home decor. When you walk into a room the walls and floors will grab your attention immediately, but only for a moment. The eye is always drawn to the fixtures, fittings, and accessories within minutes. Invest a little in high-quality hinges, handles, and knobs to make the most of your interior design.
Choose cupboard handles and drawer handles with a high-quality finish. Corston works with world-class manufacturers to produce furniture handles from their unique designs that suit any decor. The peerless designs and their craftsman-like finish bring a huge style upgrade to any room. You can change the look and feel of a space without having to get out the paint pots and ladders.
Use Pattern To Add Detail And Texture
We live in a three-dimensional world, but we tend to decorate our living spaces in just two dimensions. Flat walls, wood and laminate floors, and solid colours all create featureless spaces lacking texture. You can use patterned, embossed wallpaper to bring style to a space and a decor that reaches you.
Matching this with complementary materials, like throw cushions on a sofa, grabs this design detail off the walls and brings it into the rest of the room. Patterns help to create a motif or theme for your living spaces and can turn a humdrum decor into something decadent and luxurious. You can make big changes from a small investment, too, using cushions and rugs to add both pattern and texture quickly and cost-effectively.
Add Light By Going Bright
Colour has the biggest impact on decor. Whichever way you intend to use colour in a room, you should consider how your choice will affect both natural and artificial lighting. If you struggle to get natural light in a space, you can use brighter colours to bounce light around the space. This is perfect for living rooms and children's playrooms that do not get a lot of natural light throughout the day.
Be bold, and choose a bright yellow shade to bring some light into a living space. Go with a light colour on the flooring too. When light shines through a window, it hits the floor space. Bouncing the sunlight back up from a light-coloured laminate helps illuminate the space.
Furnish With Style
How we furnish our spaces contributes a huge amount to our interior design. The best-laid decoration plans can be undermined by a failure to furnish appropriately. Chairs, beds, wardrobes, and storage units all present an opportunity to add complementary or contrasting colours and textures. Furnishing also makes themes. For a rustic look, you must have some rustic furniture, or the theme will be lost.
Furniture doesn't have to match, but it helps. A great tip for redecorating a room is to assess all the furniture in the house. Consider how you could move units, chairs, and sofas around the home to get the best look in your freshly decorated space. You can always move out mismatched furniture to another room and replace it with something new and more appropriate for the decor.
Revamp Your Lighting Style
Lampshades, light fixtures, switches and lamps all impact your home decor. Investing in some unique pieces can be a cost-effective way to add style and accentuate existing interior design themes. The light itself also impacts the space. Overhead lighting can be harsh and cast awkward shadows around the room.
Think of switching up your overhead light fixture to something stylish that gives off a subtler hue over a broader radius, bringing softer light to more of the room. Lamps have massive value in home decor. They bring light, add texture, are an opportunity for pattern, a have colour. Search for the right lamps to make your room's motif pop. Research the different types of bulbs you can use too. Vintage amber lightbulbs that use modern energy-efficient LED tech are an excellent choice for a living room.
Spend More On A Small Space
Turn a small downstairs toilet, a landing on a stairway, or a dull hallway into a feature of your home. Spend more per square foot than you usually would; in a small space, it will not cost much overall. Make a style statement, and a conversation-provoking space from somewhere typically ignored or merely passed through. Be bold with your wallpaper and colour choices.
For landings and hallways, see if you can give the space a purpose. If there is space, turn it into a reading area or library. Shelves or a beautiful bookcase can immediately define the space and add a comfy chair to sit and read in. Complete the look with a lamp, and you have all you need to splash some style across a part of the home you usually ignore.
Hybridise Your Style
For a unique look, try mixing styles or themes in your living spaces. This requires a delicate approach but can be incredibly effective. There are limits to what you can do when you mix up styles. For example, minimalist and modern decor does not pair well with rustic farmhouse furniture. This can be a great way to keep hold of your favourite vintage furniture while giving a space a fresh and contemporary look.
Use colour and texture to bring things together. If you have a much-loved old wooden wardrobe, make sure other wood in the room matches its tone and colour, if not its style. If you have decor that you like in a room, but the space is overdue for a refresh, use fixtures, fittings, and furniture to add modern styles that complement the existing theme. Mixing and matching old and new or monochrome with patterns can reinvigorate a space without having to fully redecorate it.
Decorate With Nature
For simple additions that add colour, texture, and scent to a space, you should trust in plants. They are inexpensive and can bring life to a living room or blooming colour to a boudoir. If you do not have green fingers, don't worry. Plenty of hardy and low-maintenance indoor plants can give any room some extra colour, pattern, and texture.
Plants like Aloe Vera are popular succulents that bring fresh green colours and a mild and pleasant scent to a room. They require little maintenance, just a little water here and there. They are also natural air purifiers, cleansing the room with their natural properties as they breathe. If you don't want a living plant to look after, find a high-quality plastic plant to give you the same look without effort.
Do not settle for plain walls and dull colours in your living spaces. Breathe life, light, and love into your home through interior design. Make your decor reflect your family, and create spaces that give your house a character so it becomes a part of the family. Follow these design tips and make your interior style dreams a reality.
Ref: 3096.27164