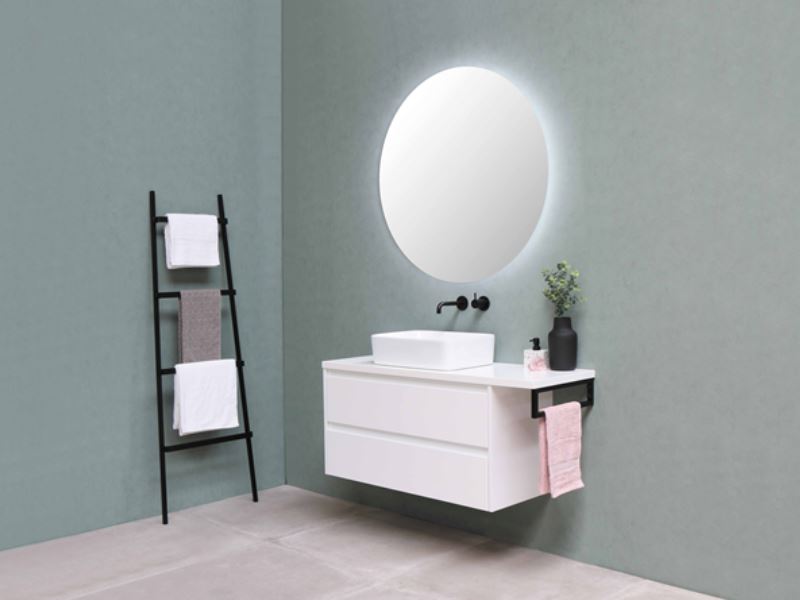 When renovating a house it's common to prioritise the areas where people spend the most time, such as the living room or kitchen. But the bathroom is one of the most important spaces to get right, both in terms of look and function. It's a room that everyone uses, even if only for a short time, and it definitely deserves attention.
To help you get creative with your bathroom aesthetic, we've compiled a list of our top modern bathroom ideas for your home. 
Transform the Space with a Dark Interior
While typical bathroom designs work with whites and lighter colours to create brightness, a modern trend has brought darker colours into the mix. A dark bathroom with lighter accents projects a sleek and intimate feel and will definitely be a standout feature in your home. 
If you're looking for small modern master bathroom ideas, a dark backdrop could be the perfect fit. For a smaller room, embrace the size with black tiles, dark cabinets, smoky natural stone elements, and mood lighting. This will create a snug and intimate atmosphere that is sure to impress.
Introduce Textures to Add Warmth
Many common elements found in bathrooms tend to give off a cold, harsh effect. It's important to balance this out by introducing comforting elements to create a warm and welcoming space. 
An easy way to do this is to layer different textures throughout the room. Invest in some soft towels, and drape a plush mat or rug alongside the bath. Finish off space with some luxurious accessories like a fluffy dressing gown. This is the perfect choice if you're looking for modern bathroom ideas on a budget.
Get Creative with your Fixtures
Your tapware doesn't just have to be functional. Fixtures are a great opportunity to add some flare to your bathroom. If your bathroom's colour scheme is fairly dull, consider installing unconventional fixtures to break up the room's stark nature.
Modern bathroom designs have seen matte black tapware come into fashion for a sleek, sophisticated look. Or create a classy feel with contemporary golden fixtures. You can even opt for a pop of colour with red, purple, or pink elements for a really unique look. 
Spice Things Up with a Freestanding Tub
Modern bathroom ideas definitely favour luxury. And nothing says luxurious like a lush freestanding bathtub. These stylish features are the perfect statement piece to give your bathroom that true wow factor. 
Freestanding baths are also easy to install. They don't need to be inset into the wall or floor, and so can be flexibly installed wherever you'd like. Just make sure to contact a plumbing professional to handle the correct installation of your tub, like the experts at www.bookaplumberonline.com.au. 
Add a Circular Wall Mounted Mirror 
Most amazing modern bathrooms these days work with geometry to create statement features around the room. Circular wall-mounted mirrors are an easy way to add softness and curves that contrast with the hard lines usually seen in a bathroom. 
For added style, go for a wall-mounted rounded mirror with LED backlighting. This simple wall hung addition will elevate your modern bathroom design to true contemporary glam. 
Install a Floating Vanity Unit
Interior design experts recommend a floating vanity unit for added class in the bathroom. These sophisticated bathroom features create the illusion of more space, and so are perfect if your room is on the smaller side. 
To enhance your modern bathroom, choose a black and white floating vanity and basin combo, paired with a monochromatic wall design. This will create the sleek and elegant minimalist look that is ideal for a modern bathroom. 
Put it in Concrete
Whilst not suited to everyone's tastes, the modern urban concrete look is definitely a unique style worth considering. Noted as 'industrial glam', concrete's contemporary popularity has come from its uniqueness and affordability. 
Either opt for small concrete details or go all out by lining your walls and flooring. Pair with wooden accents to soften the harsh feel, and you'll achieve perfect modern mid century bathroom décor.
Go Natural
For a softer modern look, use natural materials such as wood or stone to brighten up your bathroom. Choose one material or mix and match for a warm, welcoming feel. 
Some other natural elements can help tie everything together too. If possible, try and let as much natural light into space as you can. Even just introducing plants for pops of green can really liven up your bathroom space to create a modern in-home sanctuary. 
Ref number: THSI-2189