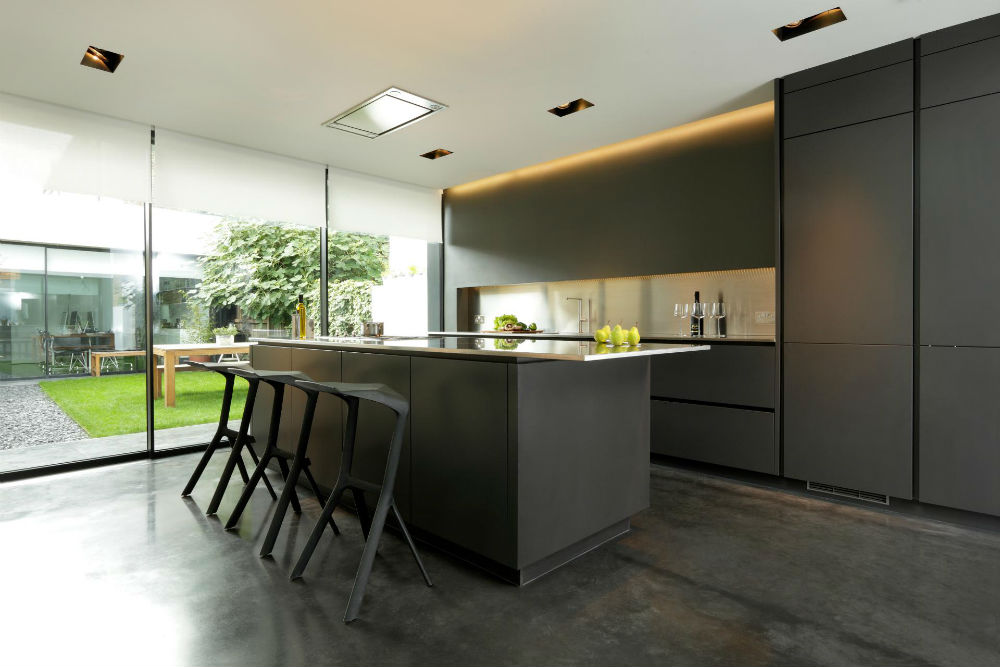 As the heart of our homes, the kitchen gets a lot of traffic, which can leave it looking cluttered and tired much quicker than other areas of the home. Kitchens are also known for being one of the most expensive rooms to renovate, meaning that they seldom get the attention they deserve. Fortunately, there are often only a few tweaks needed to bring a contemporary twist to a kitchen that has seen better days.
A crisp, clutter-free kitchen fantasy (source: Halcyon Interiors)
 Give everything a home
For every item that's on a countertop or the floor, ask yourself whether it could be stored in a cupboard or drawer instead. If you're blessed with heaps of storage, look at ways of housing integrating your small appliances behind closed doors so they can be easily accessed, but kept out of sight. Everyday clutter like utensils pots, tea caddies and fruit bowls? Choose one to keep on the counter in a modern container and hide the rest away.
Go for impact
If you've got a little bit of spare cash to update parts (but not all) of your kitchen, make sure to spend it on the areas that take up the most visual space. Consider investing in a crisp granite counter, painting or replacing your cupboard doors with something more modern, or laying a seamless resin floor.
Brighten up the space
A new set of spotlights or a statement pendant can go a long way to modernise the mood of your kitchen, literally brightening up the space as well as creating a new focal point. Edison bulbs are great for adding a quirky, edgy glow, while something more minimalist will bring your kitchen into the present. For windows, it's common in contemporary design to leave them completely bare. If this is impractical for your home then you could opt for a simple blind with a bold, graphic print instead.
Spruce up your seating
Even if you can't afford a total revamp, splashing out on some new chairs will create the illusion of a more modern space (and can even create a striking contrast with an older table). Heal's have an absolutely gorgeous collection, but if you've got one eye on the budget then you might want to find imitation designs at IKEA or MADE.com.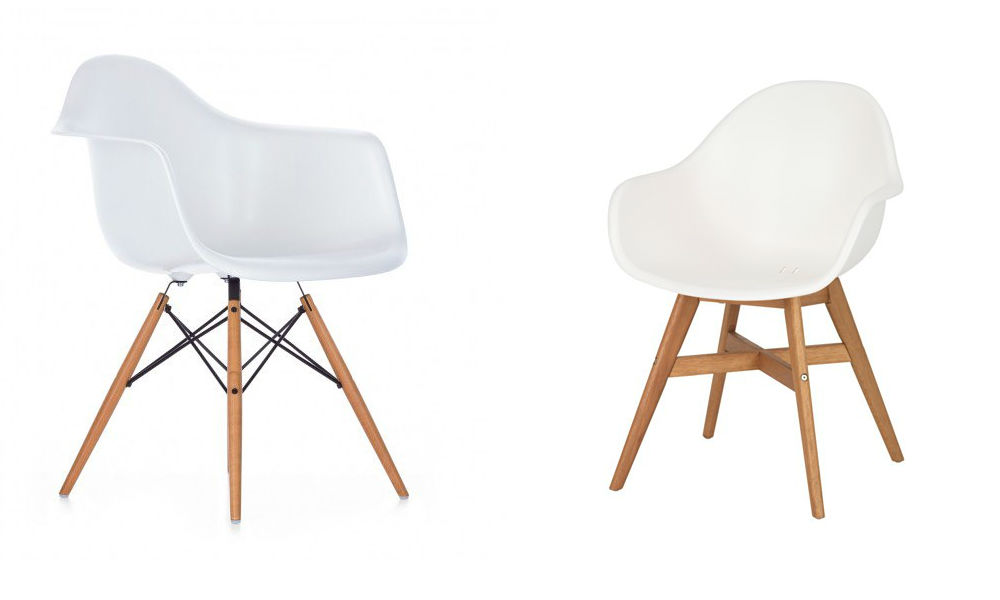 Left; Eames DAW Armchair, Heal's, £455. Right; FANBYN chair, IKEA, £55
 Pare back your palette…
Every generation of kitchen design has brought its own colour scheme, which is perhaps why the current fashion is to pare everything back to neutral to keep things classic. A sleek white kitchen feels clean and fresh, black is masculine and dramatic, while taupe or ecru will create a warmer atmosphere.  If you don't feel like embarking on a complete kitchen renovation then repainting your existing cabinets in a natural shade can provide a similarly glamorous upgrade.
…But don't go completely monochrome
A pop of colour is still allowed, just keep it contained to three or four small areas of the room. For example, using stick-on tiles to add interest on backsplashes, bright fabrics for seat cushions and choosing some matching tableware to display in open-fronted shelving. If you're wondering which shades to choose, contemporary kitchen colour schemes for 2018 include berry hues, tranquil blue-greens and sunny, goldenrod yellows.
Hang some statement artwork
Contemporary kitchens are all about sticking to confident choices, whether that's in your colour scheme, worktop material or light fixtures. If you're looking to tweak your existing kitchen into a more contemporary space, it's time to do away with bric-a-brac and gallery walls and replace them with one, striking piece of artwork. Source a second-hand neon sign, mount a patterned rug on the wall or paint your own abstract canvas if you're feeling creative. Whatever you do, make sure it's bold.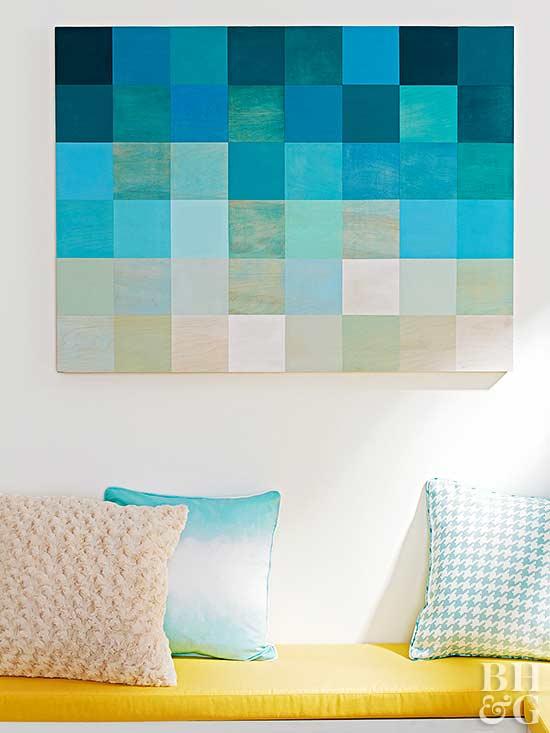 Modern art for much less than you'd expect (Source: Better Homes & Gardens)
 Choose new appliances carefully
If you are planning a few larger purchases, think carefully about how they fit with the features of your kitchen that you're keeping. In a minimalist design, appliances should be virtually indistinguishable from the clean lines of your cabinetry, with integrated induction hobs sitting flush with worktops, recessed sinks and dishwashers disguised behind doors.
The key to keeping a contemporary kitchen looking stylish for years to come is to minimise your influence from the latest trends. Incorporate small details that feature the currently fashionable materials or colours but make these features easy to update when fashions change. Although they may look expensive, contemporary kitchens don't have to break the bank.