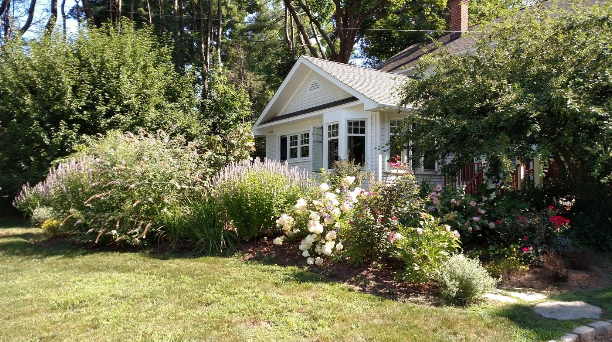 Just like you need to buy light clothes in preparation for the summer season, you also need to get your house ready for the warmer weather. So, just before summer hits you real hard, ensure you are prepared for it. Interestingly, you don't have to break your bank to do this. The 8 tips we are going to share in this article cost you little; if there be anything you need to buy.
Let's get going.
Have Summer Tools Ready
Such equipment as lawn mowers should be set ready for summer. If, for example, you are using an electric mower, be sure to check if all the cords are in good working condition. To ensure that it doesn't cause electrical shocks to the users, check if there are any cuts on the wires. Replace if any before turning it on to ensure that it's working all right. If, however, it is a gas mower, ensure that it has gas. Also, make sure it is in a good working condition. Further, ensure the blades are sharp enough. Additionally, if you are not interested to do the work by yourself, set an appointment with professionals like Lawnstreet Sydney to prepare your lawn.
Check the Air Conditioner
Check if the HVAC system of your air conditioner is in good condition. If need be, have a new filter. Next, remove any debris and dust. Dust can cause flu and serious respiratory illnesses. Besides, dirt causes the conditioner to clog; thus, making it hard to operate normally. In fact, it might even use more electrical power to run. As a result, you will spend more energy to air your house. To avoid this, while it is still winter, check on the condition of the conditioner.
Clean Your Windows
Do you still have storm windows in place? Well, it is time to clean them. However, we all know the mess snow can cause on windows such as rot, right? Wear your gloves, use window cleaning spray, and a soft clean cloth to clean the window. Remember, we are offering cheap tips so, no need to buy a squeezer if you do not have one yet. Use a newspaper. This, too, is the time to check the condition of your window screens. Where there is a need to repair, do so, or seek help from experts.
Clean the Gutters 
Gutters can cause real damage when they get clogged with debris. Therefore, there is a need to remove all the debris before summer. To successfully do this, if you do not want to hire a pro, ensure you have a trowel. You should use it to scoop the debris. To keep your hands safe, wear high-quality gloves. Your eyes need to be safe from debris so, wear protective goggles. Finally, use a ladder to reach the gutters. If necessary; you may need a hose to apply force to remove the clogged debris.
Change Direction of the Ceiling Fan
Remember that your ceiling fan has two purposes? To warm the house or cool it, right? Of course, it has been distributing heat all through the winter season. But you need to change its direction to cool the house. Isn't that so? What you need to do is to make it run in a counter-clockwise direction. There's a black switch that should help you change the direction. This helps to have a cool breeze.
Inspect the Roof and Exteriors
So, the best gutter leaf guards are now clean? Excellent; it is now time to check the condition of the roofs. During summer, your roof may have been damaged. You may, therefore, see cracks, rusted sections, or bent. Here is a good time to correct those areas that need to be fixed. Also, it would be wise if you inspect the foundation walls as well as the chimney bricks. Where there is a need to repaint, go ahead and do it to give your home a new look.
Inspect Outdoor Plumbing
One clear sign to show that your outdoor plumber has an issue is when the water is flowing slowly or if there is no flow whatsoever. Get hold of the outdoor faucets and examine them by removing the freezing caps (insulators). Next, turn on the water to see if it flows as usual. If the water isn't flowing normally, get to task and repair it or call a plumber man.
Plant Veggies and Herbs
Planting some veggies and herbs can make your summer days beautiful. Not only will your home look attractive due to the green plants, but you will also have fresh food for your family.  You may plant on the fence gutters if you have some or on the garden (if you have one). Alternatively, you may plant some flowers. Your home will have a sweet scent that will make you feel relaxed when bursting on the sun.
The Verdict
Don't allow the damage caused by winter season to mess your summer. Check on the windows, roof, ceiling fan, outdoor plumbing, gutters, and the summer tools early enough to ensure that they are all in a good working condition. Lastly, plant some veggies or flowers.