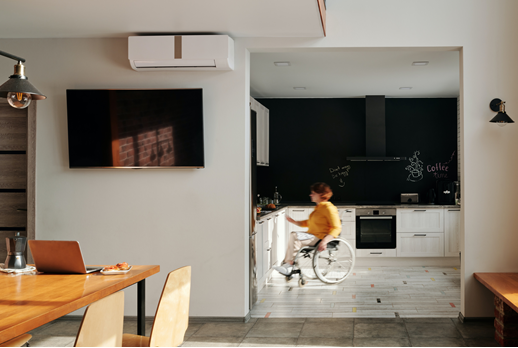 26% of the adults in America live with one form of disability or another – that is about one in four Americans. The Americans with Disabilities Act (ADA) in 1990 was passed to ensure homeowners and landlords recognize the disabled when building places for people to live.
While some states don't enforce these standards, the compliance levels in states like California is legendary. The California Commission on Disability Access (CCDA) administers strict ADA California laws.
However, it's not just the government and contractors that make living spaces accessible to the disabled. Here are eight ways you can make your home, apartment, or rental building more accessible to a loved one or guests with disabilities.
1) Install a ramp
A ramp is a must-have to accommodate those who use wheelchairs. It is also useful if anyone has temporary mobility difficulties. Building a ramp might entail specific permits, so consult your county's building codes before installing one in your building.
2) Expand the doorways 
Doorways are an often-ignored part of setting up an accessible building – but they can easily be one of the most important adjustments you can make to a home or apartment. Some walkers and wheelchairs are too wide to pass through the doorway easily, and that can be an uncomfortable experience for everyone involved, potentially life-threatening in some cases.
While widening the doors can be expensive, you can install offset hinges that extend the doorway. The hooks help open the door more clearly, adding some inches of space in the process.
3) Install risers on toilet seats 
Toilet risers make going to the bathroom much easier for anyone who struggles to sit down. It can also be helpful for those who can't bend over without falling.
Best of all, risers are inexpensive. You can buy one at any home improvement store.
4) Install hardwood floors or tiles
No doubt, rugs, and carpets complement wall colors beautifully. But they are hazards for anyone with permanent or temporary mobility issues.
You can find some well-patterned tiles or hardwood that will complement your walls just as well.
5) Install grab bars 
The most popular areas to install grab bars are in the shower and near toilets. However, you can install them all over the house, especially in pathways. They help with stability while walking.
Most people should be able to grip a 1-1/2-inch diameter bar comfortably.
6) Use lever handles instead of knobs
Knobs on taps or door handles can be challenging to use for those with coordination issues. A great way to accommodate them is to install lever handles. They are not only handicap-friendly but are also much easier to use in general.
7) Install step-in showers
Bathtubs can be a problem due to their high sides. It is easy for someone to tip over while trying to get in – and that can be a fatal accident.
To prevent an accident, install step-in showers, or convert the bathtub to an accessible tub. Step-in showers also tend to take up less space in the bathroom, unlike baths.
8) Build accessible kitchen cabinets
Hanging kitchen cabinets up in the wall has become a staple of the modern kitchen design. With handicap-accessible apartments, you need to reconsider that aesthetic. And in cases where you insist on that, you also need to plan on having enough lower cabinets that are appropriately placed for someone with a wheelchair.
The Bottom Line
When you make your home accessible, you're taking steps to create a comfortable environment for people with disabilities. Asides the regulations, building an accessible home can be a selling point for prospective buyers. The knowledge that they don't need to make any adjustments for their loved ones with a disability can entice them to pay above the market price in some instances.