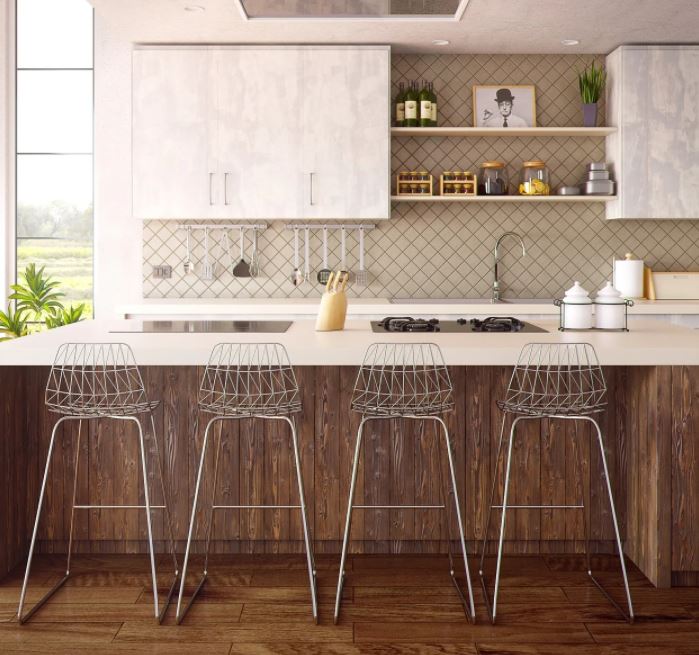 Have you ever walked into a person's house and felt your jaw drop at how beautifully luxurious it is? Often, it can be hard to even pinpoint exactly what it is that makes a house seem luxurious- it's as if there's simply an expensive feeling to every room. 
If you think an expensive-looking home is only reserved for rich people, then think again. A gorgeous house can be achieved just through interior alone, so even if you don't live in the biggest, grandest building, there are still many ways you can make the inside feel like a five-star hotel. 
Most people want to make their home feel more luxurious, but it can be hard to know what to do to achieve this. To help you out, here are 8 ways you can add a touch of luxury to your home:
Not only will fresh flowers make your home smell beautiful, but they're also gorgeous to look at as well. Naturally, the more expensive your flowers, the more luxurious your house will appear. A huge bouquet of roses is going to do a lot more to your living room than a couple of daffodils in a vase. 
If you wanted to really impress your guests, you could even coordinate your flowers with the interior of each of your different rooms. If your kitchen has pops of red in it from your appliances, then matching your flowers to these will look simply stunning. Likewise, you could add white lilies to your bedroom for a fresh feel. 
Artwork can instantly make a room feel more expensive and is a sure way to impress your guests. Not only that, but art is a great way to express yourself and make your house feel more like home. Putting such a personal stamp on your home will make it much more memorable to guests than if your walls were simply left blank. Statement pieces are good, but make sure to choose artwork that compliments your room. 
A new kitchen is a sure way to add value to your house, and since your kitchen is often where the entertaining takes place, it's important to take pride in its appearance. If your kitchen is looking old and outdated, then there are many ways you can spruce it up. 
Simply by adding a lick of paint to your cabinet doors or replacing your taps and handles, you can breathe some light and modernity back into your kitchen. However, sometimes this won't be enough to see the changes you desire. 
To give your kitchen that stamp of luxury that you're looking for, the best thing to do is opt for a complete remodel. It's important to choose the right designers since the last thing you want is a kitchen that's identical to everybody else's. 
The bespoke kitchens by Kesseler are created for clients who are not like everybody else. You can play a part in the creation of your very own personalised kitchen, meaning that the finished result will be unique to your house only. It truly doesn't get more luxurious than this. 
When people think about changing the interior of their home, they often forget about the bedding. The colour, pattern and quality of your sheets can hugely impact the overall appearance of your room, so pay attention to what type of bedding you're using.
If you can't remember when you last treated yourself to some new sheets, then it's time to head to your local bed store. Luxurious bed sheets might be expensive, but in actual fact, replacing your bedding is a pretty cheap way to upgrade your bedroom. Try to stay away from patterns as this can look cheap. Instead, why not try a new material like silk, or treat yourself to some high-quality Egyptian cotton sheets?
The pillows on your bed will also play a part in how expensive your house looks. Flat, overused pillows are going to instantly cheapen your bedroom, so make sure to replace your pillows regularly. If you haven't already, consider adding four to six cushions to your bed to give it more of a hotel feel.
What do the luxurious shops in Harrods all have in common? They all smell amazing! The smell of your home is so important if you want to create a good impression with guests. Not only do candles look expensive, but they will make your home smell absolutely heavenly. 
It's better to select some candles that are more on the pricier side when shopping around, as cheaper candles tend to not smell as strongly. You could also add a couple of reed diffusers or plug-in air fresheners to give your home a beautiful scent. 
Always Use Your Best China
If you have the best china saved for an occasion which never seems to happen, then, to be frank, you wasted your money even getting it in the first place! Nothing says luxury like being able to eat off your best china on a daily basis, and you'll be certain that you're getting your money's worth. 
Choose Expensive Hand Soap
You don't always have to go all-out to make your home feel more expensive, and something as simple as switching to a pricier hand soap can be pretty transformative. You could also kit your bathroom out with matching accessories like the soap dish, toilet brush and toothbrush holders. There's just something about matching accessories that can instantly make a room look all the more luxurious. 
Consider Under-Floor Heating
Nothing says luxury more than being able to walk around your kitchen barefoot and feel the heat coming through the tiles. In England, we use our heating for a good portion of the year, so you'll get plenty of use out of your under-floor heating during the colder months. As a bonus, if you have a pet, they will also be guaranteed to love your under-floor heating!
Ref number: THSI-2294