In February 2016, the government will implement a brand new Right to Rent scheme, which will require landlords and agents to ensure all tenants that occupy their properties have legal status to live in the UK. In this edition of 'A Landlord's Guide to…', we give you a run down of this new legislation and what steps you will need to take to comply with the new measure.
What is 'Right to Rent'?
Right to Rent is a new government scheme which requires landlords to check that the immigration status of new tenants is lawful and to ensure they have the relevant documentation to be residing within the United Kingdom. Currently, the rules only apply to West Midland areas Birmingham, Walsall, Sandwell, Dudley and Wolverhampton, but from 1st February 2016, all landlords will be required to check the details of their tenants following the upcoming Immigration Act of 2014 enforcement. It is the responsibility of private landlords, or the estate agent representing the property, to ensure the checks are completed accordingly, on time and without discrimination towards the tenants who are being checked.
Who do the Right to Rent rules apply to?
Right to Rent check rules will apply to both landlords and agents on the start date above, with the trial checks currently active in the West Midlands. A relevant national, someone who is a British citizen, EEA national or a Swiss national, will need to provide evidence that they fall into one of these groups. Non relevant nationals will need to provide details that they have leave to enter or remain in the UK, with permission from the Home Office. When a tenant has leave to enter or remain in the UK for a limited time, it is the landlord or agent's responsibility to check when the tenants leave is due to expire. Also of note is that landlords and agents do not have to check the right to rent of existing tents who have moved into the property prior to 1st February 2016. Some types of properties are excluded from the scheme including;
Accommodation involving local authorities
Social housing
Care homes, hospitals and hospices
Hostels and refuges
Mobile homes
Tied accommodation
Student accommodation
Long leases
What documentation is required for a Right to Rent check?
The Home Office have produced this useful list explaining which documentation is required of an occupier. List A highlights the need for one acceptable piece of documentation i.e. a British passport etc. or a combination of two acceptable pieces of documentation i.e. a full birth certificate issued in the UK along with an employee letter confirming their status. All documentation from this list must be dated to confirm its validity from the past 3 months. List B highlights the need for documents when the tenant has a time-limited leave to enter and remain in the UK i.e. a valid passport endorsed to show that the holder is allowed to stay in the UK for a time-limited period. The Home Office has 3 golden rules when checking an occupier's details.
Obtain – ask the tenant to provide you with original versions of one or more acceptable documents.
Check – check the validity of the documents, ensuring they are correct and up to date.
Copy – always take a clear copy of the documentation for reference and record the date that the checks were made on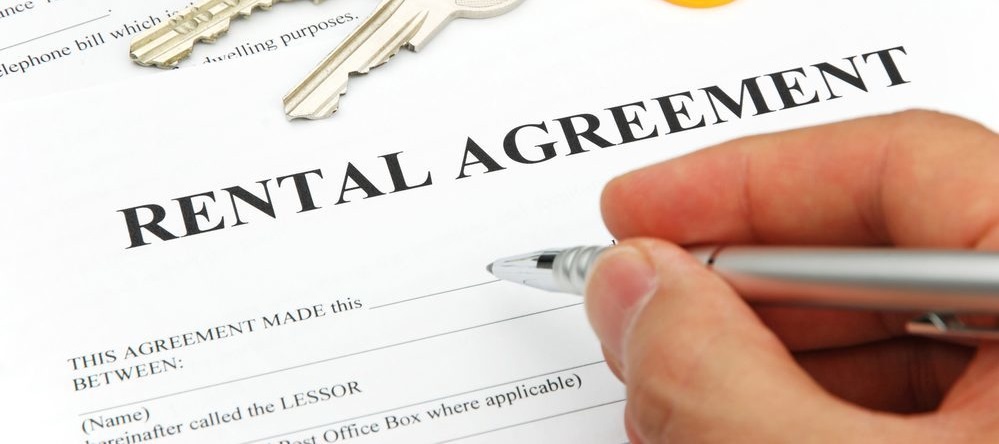 What should I do if I believe the Right to Rent documentation provided is false?
If you believe that the passport documentation provided by the occupier is fraudulent, you can report it to the HM Passport Office on 0300 222 0000. Any other documents you believe aren't correct or valid should be reported to Crimestoppers on 0800 555 111. As a landlord or agent, you are not expected to know everything about identity documentation but there are many clues to suggest when a document is real and when it is fake. Most travel documents contain a number of security features such as holographic images and usually, passports tend to be more resistant to bending so gently bend the passport. If it feels to light or thin, it is most likely not correct documentation.
When must I conduct a Right to Rent check?
Although the new government regulation will not be coming into affect until 1st February 2016, checks must be made within 28 days before the start of the tenancy agreement on all occupants aged 18 or over. If the tenants stay in the UK is time limited, checks must be made to ensure the tenancy dates reflect the same time period as when the occupant is allowed to stay in the UK. To ensure the documentation remains valid, if the tenants stay is time limited, you must conduct further checks in the future if they are looking to stay longer.  If this is not complied with, the landlord could receive a penalty fine for not informing the Home Office of a tenant over staying their right to remain in the UK. If the tenant does not pass further checks, the landlord may choose to evict the tenant following usual eviction procedure.
What could happen if I don't conduct a Right to Rent check?
If a landlord or agent does not conduct correct right to rent checks, they will be liable for a civil penalty. Similarly, if the landlord or agent makes a report to the Home Office providing incorrect information or have carried out repeat checks and discovered that the tenant no longer has the right to rent, the landlord or agent will again be liable of receiving a civil penalty. The fine can be up to the value of £3000. Repeat offenders could be jailed for up to five years and have rent payments confiscated under the Proceeds of Crime Act.
Can I appeal a Right to Rent penalty?
An appeal of a civil penalty can be brought up by the landlord or agent within 28 days of the due date given in the notice. A N161 form, which can be obtained from any County Court office or HM Court Services website, must be filled out and sent along with copies of proof by recorded delivery to; Government Legal Department, 1 Kemble Street, London, WC2B 4TS. It is noted also that landlords or agents would be responsible for court expenses if the appeal does not succeed.
What To Remember When Conducting a Right to Rent Check: 
✓ Conduct the check within 28 days before the tenancy begins
✓ Obtain copies of the original documentation
✓ Record everything – the dates, who was present at the check, what documents were provided, are they on a time status?
So there you have it! We hope our Landlord's Guide to Right To Rent Checks was useful and feel free to drop us a line with any questions, comments or suggestions for other 'Landlord's Guide To…'
For more info, check out our Right to Rent page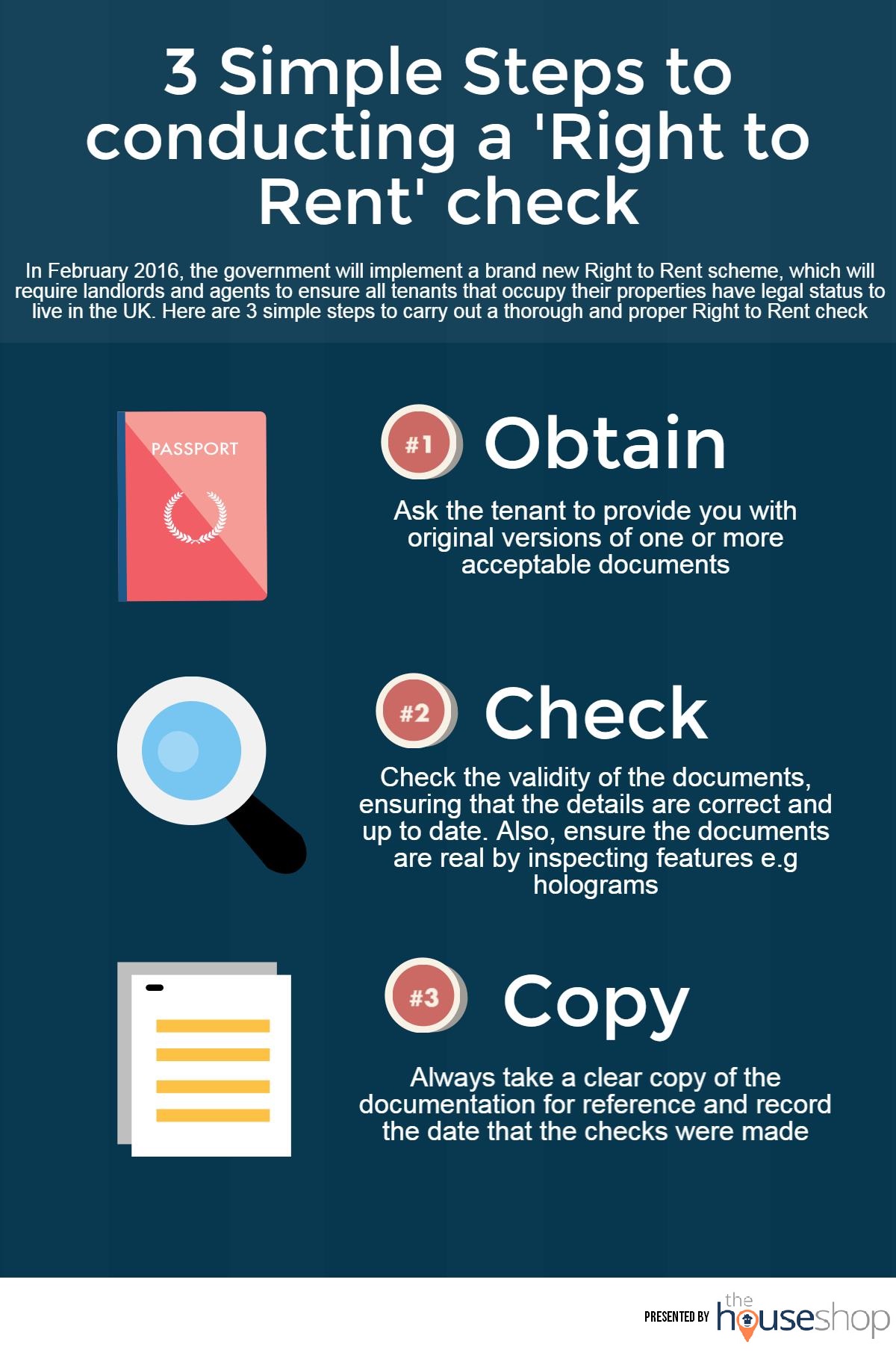 Want to embed the image above on your site: <a title="html image code" href="http://www.dazzlejunction.com/generators/image-generator.php" target="_blank"><img src="https://www.thehouseshop.com/property-blog/wp-content/uploads/2015/12/rightorentinfographic.jpg" alt="" border="0" /></a>