Ever wonder what happens to older aircrafts as new ones fly forward? Well, here are a couple of stories of what CAN happen.
Innovative hotel lodgings are adopting the flip-side of that cliche plot of a planned romantic get-away turn crash landing into a wild jungle. The irony aside, the hotel Costa Verde wanted to offer a unique experience to its residents. Inspired by the thought, they salvaged a vintage 1965 Boeing 727 airplane from where it lay under dust in San Jose airport. Doing away with its former life, flying as South AfricaAir and Colombia's Avianca Airlines, this now refurbished plane is an epicurean en-suite jumbo room in the National Park of the Costa Verdes II area.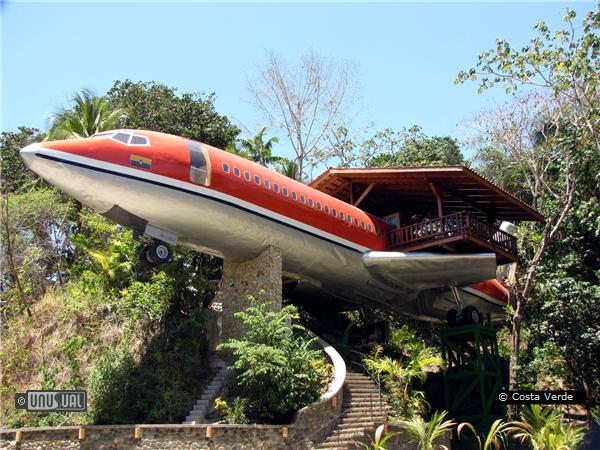 image source 1: http://www.costaverde.com/727.htm
image source 2: http://www.unusualhotelsoftheworld.com/CostaVerde
In attempting to replicate the feeling of being airborne for its dwellers, it is perched about 50-feet off the ground, with its right wing acting as a deck to look at the ocean view far ahead, with a jungle canopy frame. Retouched mostly with hand-carved wooden furniture from Indonesia and Costa Rica, it comes complete with air-conditioned bedrooms, a private bath, a kitchenette and foyer to dine in, the classic spiral staircase in the heart, and all surrounded by beautiful gardens. If one is lucky enough, the residents of the 727 can also catch a glimpse of local wild-life such as sloths, toucans and monkeys.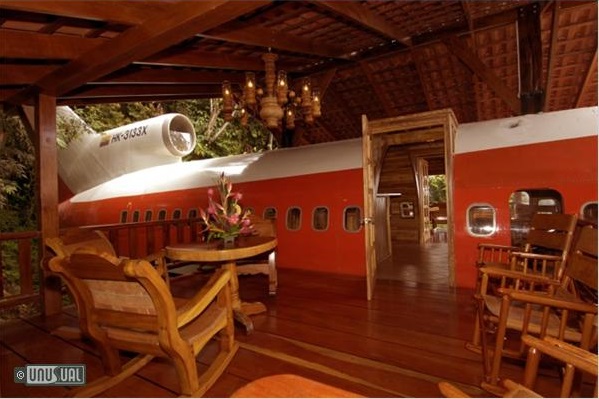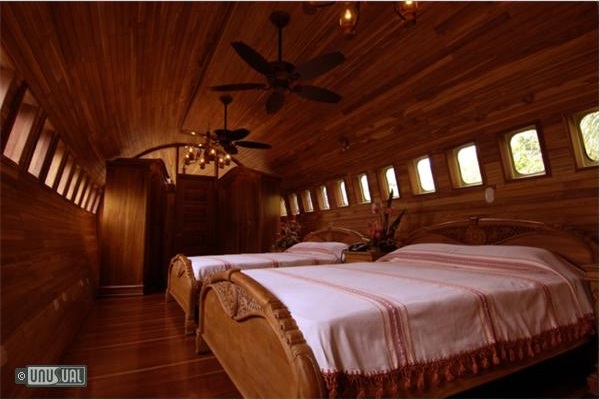 image source 1: http://www.unusualhotelsoftheworld.com/CostaVerde
image source 2: http://www.unusualhotelsoftheworld.com/CostaVerde
Luxurious flight-plans aside, this inventive use of a retired airliner has inspired the kids of Kingsland Primary School to decide that they want a new classroom… inside a plane. Beyond those cement walls, propped chairs in front of a black board, these kids in Stroke-on-Trent now study in a decommissioned Concorde s-360 that used to travel from Ireland to Spain. The interior of the Concorde is now complete with all the fittings of an educational environment, such as desks, laptops and a big presentation screen in front of the classroom. This cool new idea for a classroom, after 2 years of refurbishment, is said to have improved attendance and engagement from the kids. What now flies and fosters the schools neo-education surroundings was saved from the scrapheap at Market Drayton.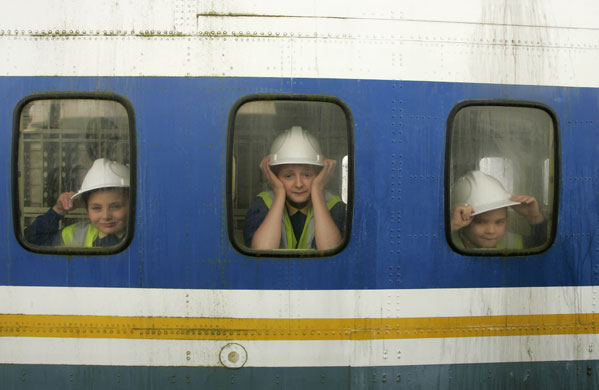 image source: http://www.theguardian.com/education/gallery/2009/mar/24/plane-classroom-school#/?picture=344815312&index=3
Many people would be shocked to discover the immense number of decommissioned and retired airplanes that sit in the middle of a desert, collecting dust – somewhat reminiscent of an aviation ghost town. There is a general lack of effort being put into re-purposing or recycling these now permanently grounded multi-million pound flying behemoths, and if more people came up with innovative and exciting projects like the ones described above, we could give these impressive flying machines a new lease of life.
Varsha Venugopalan