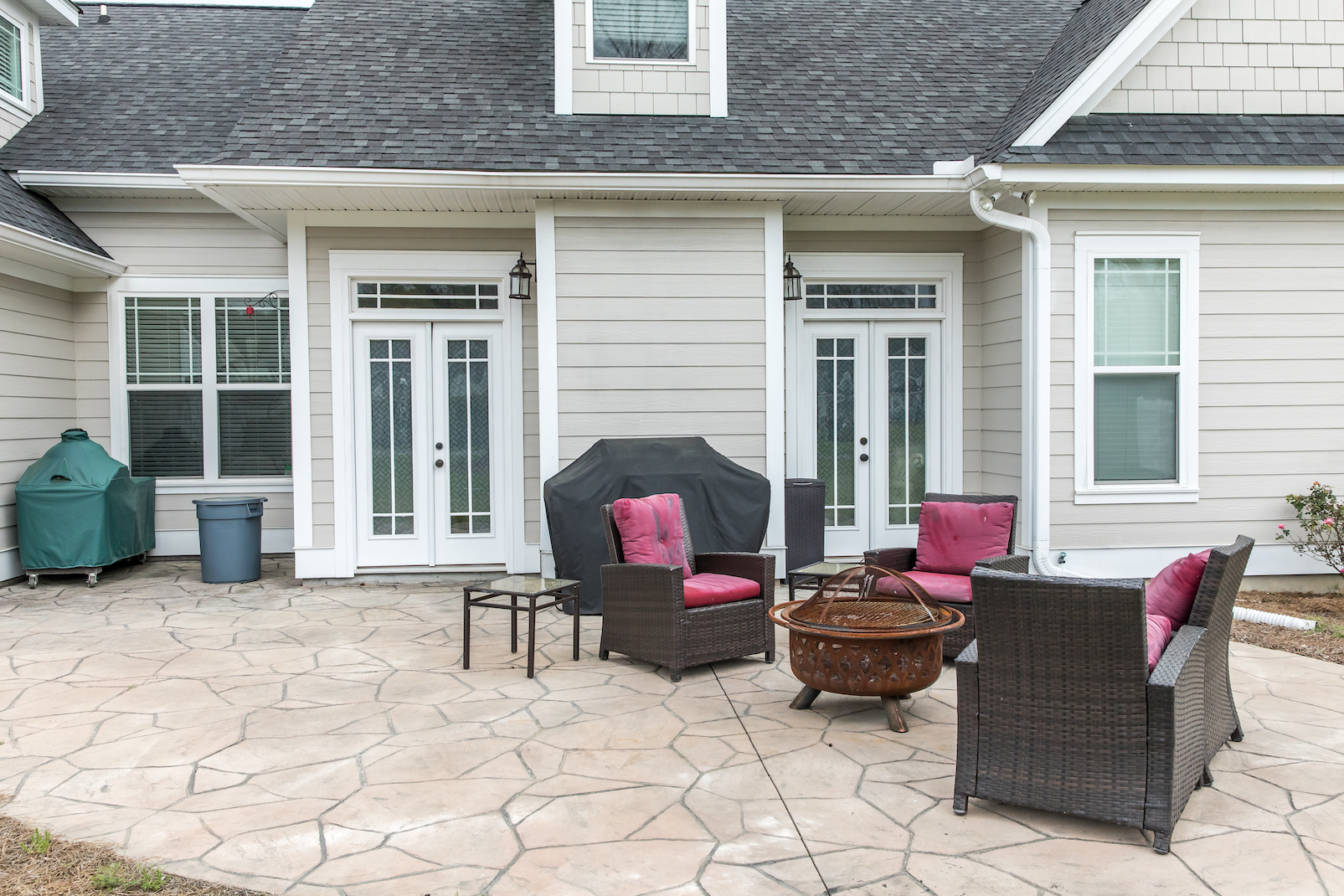 Gardens are excellent spots to grow plants, decorate outdoor spaces, and relax with family and friends. Patios are now becoming popular due to the flexibility of switching between work and pleasure. However, what is the right accessories to buy to give it a perfect touch? You'd need patio awnings, fire pits, good lighting, furniture, etc. Keep reading to learn how to buy the right patio accessories. 
Fire Pits 
Patio fire pits and fire tables are our top picks when it comes to enticing outdoor accessories that improve the ambience and appearance of your garden. Like most other patio items, fire pits and tables come in various designs. There are four types of fire pits to select from, ranging from wood, propane, gel fuel, and natural gas.
Gas-powered Firepit 
Try a gas-powered fire pit if you're searching for a fire pit that doesn't produce any soot or smoke. You'll have rapid access to the fire when you flip the switch. In addition to adjusting the flame, you can also control the amount of heat it produces. They produce better heat than gel, but refuelling the tank might be expensive, especially if you burn a lot.
Gel Fuel Fire Pit 
No smoke or soot is produced with gel fuel fire pits. Take off the canister's cap, ignite the wick, and put it into position. Ceramic logs lick the flames, and some gels shatter like a real wood-burning fire. While gel fires may not provide sufficient warmth to keep you comfortable, the canisters are pricey, and some people report an unpleasant stench as they burn. The majority of gel firepits on the market are tabletop versions.
Wood Fire Pit  
Wood-burning fireplaces provide a wonderful ambience and enough energy to keep you comfortable and cook a few meals. You'll need a dry area to keep the wood for a wood-burning campfire. Also, be aware that in most cities, open flames must be kept at least a few feet away from any structures on your land.
Outdoor Lighting 
Lights can transform your garden into something unique if you've ever been under their spell on a hot summer evening. For this reason, we believe that outdoor lighting should be considered a need for each patio.
String, ceiling, candles, and lanterns are just a few types of lighting available. Candles, of course, may be utilised to create a mood. Whatever the size of your patio, you'll be able to fit a few candles into the mix.
If you don't have pillar candles on hand, that's fine since any candle will work. The safest and most straightforward option for families with small children who can't control their impulses is to use battery-operated pillar candles.
Patio Awning 
A patio awning is a roof-like cover for your patio or deck that provides shade and protection. These structures, also referred to as patio coverings, are essential for providing shade, and you can control them automatically or with a motor.
An awning's primary function is to provide shade from the sun. It accomplishes this by forming a barrier. To get the most out of your awning, you'll need to figure out what size it should be. You can learn more about different awning types from experts to figure out the best ones for you.
Regarding taking measures, there are a few ground principles to follow. The awning must extend beyond any windows or doors to provide enough coverage. The width of a standard awning is usually at least 3 metres. You should also remember that the sun's position changes during the day since the globe is always moving. Considering the amount of exposure to the sun and estimating the quantity of shade necessary based on your intended coverage area is so critical.
Choosing fabric for your awning is the next step after deciding on the proper size. UV resistance and heat retention are directly related to the material's qualities and quality. Also, polyester fabric coverings have a low UV resistance rating, making them unsuitable for outdoor use. In the end, though, they are an excellent choice if you only plan on using your canopy once or twice a year and want to save money. You may extend the life of the fabric by taking proper care of it.
A water-based cleaning solution is required to keep acrylic looking new. Because of its rot-proof properties, this material is perfect for outdoor application. It has a long lifespan and excellent performance. However, the lack of ventilation is a drawback.
When it comes to awnings, micro-perforated coverings are the most popular. Using water, you can simply clean this UV- and tear-resistant material. It's also rot-proof.
Patio Furniture 
When purchasing garden accessories, consider how you want your space to look. For example, do you plan to use it as a dining space on warm summer nights? Do you intend to hold a dinner party or a birthday celebration in the space? Do you mind creating an outside reading area with inviting patio furniture? Identify the activities you want to perform in the space and figure out garden furniture ideas.  
Invest in low-maintenance patio furniture to save time and money. All-weather wicker, teak, and wood can all withstand the harshest climates without fading or cracking. Furniture built of these flexible materials will last for years with little care.
During the off-season, store your patio furniture in a dry, well-ventilated area. Keeping items in a garage, cellar, or shed will protect them from the weather and help them last longer. To maximise your space and money, look for furniture that can do double duty. Multi-purpose furniture may save you money by allowing you to conduct more of your special outdoor activities without buying more pieces. 
Fountain 
A fountain is a patio addition that may make a significant difference in the atmosphere of your outdoor space. If nothing else, fountains just provide beauty and serenity to any garden. Start by evaluating your space to determine whether or not a water fountain is necessary. Consider its role in the garden's overall appearance. Think about how your area will look when people gather in the fountain.
Granite fountains are incredibly adaptable, able to resist extreme cold temperatures, and versatile for different space settings. Cast stone fountains are hefty, but they'll endure a long time.
Determine where you'd like to place them before investing in a garden fountain. Despite their lesser weight and lower cost, fibreglass fountains may seem like granite or stone. Because the fibreglass grows brittle over time due to UV degradation, and because the fountain is so incredibly lightweight, it can easily be blown away by a strong wind.
Fountains of bronze and copper have a sparkle that makes them stand out in a yard full of lush foliage. However, you would need consistent cleaning to ensure they remain their best.
Your yard's fountain should be a standout feature that blends in with the rest of your landscaping. Your landscape can seem cluttered if you have a fountain that is too huge. It's impossible to get the desired effect with a too tiny fountain. Because of its position, the fountain's design will be influenced by both functional and aesthetic considerations.
When purchasing a fountain, it's also a good idea to print out your final configuration and bring it with you. So, a knowledgeable sales representative will know right away what size of fountain you require.
Ref: THSI-2972 |  ZD.26144