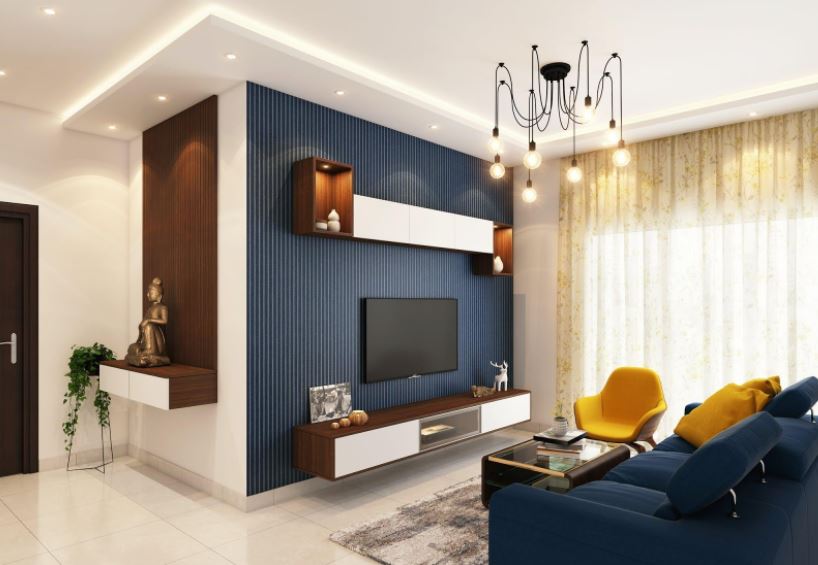 Moving into a separate apartment is an important step in the life of each student. Decorating and designing a new home could be interesting and exciting. Everything from the colour of the walls to the small decorations can affect your feeling and productivity. It is possible to make the apartment cosy, light, and spacious with small investments. In this article, you will find the best interior design ideas for students on how to make your apartment super comfy and good-looking at a minimal cost.
Make Small Space Feel Larger and Cozier
Living in a small apartment requires creativity and careful planning of the interior, so think about how you can organize the space and make it feel ample. The practice of zoning implies creating separate areas for work, entertaining, and wellbeing in one multi-functional room. The open-plan layout is a perfect cohesive design choice for a small apartment as one zone can smoothly flow into another one. For example, you can merge a living room with the kitchen and make this transition seamless. Compact furniture, curtains or shelves, can make a room feel taller than it is, and mirrors can expand the space.
Choose Your Design and Colors
It is essential to choose the style that mirrors your character and personality. Usually, psychologists recommend choosing off-white, blue, green, or yellow colours for the learning environment, but there is no need to stick to one colour theme. Dark colours make the room visually smaller, so it is better to freshen the apartment with light colours that will also have a calming effect on your eyes and mind. Students need to be concentrated while working on college projects and pick room designs for comfort study. It is highly recommended to take care of good lighting and establish multiple light sources. It will keep you awake, make you feel better, and think faster. Do not forget to include the general lighting, a few table lamps, and ambient lighting that can be introduced with sconces or candles. Just let there be light in your place.
Fulfil Your Apartment with Mirrors
Mirrors make any interior space appear much larger and brighter, and I think it is the best solution for a student's apartment. It can be used to illuminate the darkest corners in your apartment and optimize the natural light flooding in the room. Choose the most appropriate places for mirrors and use different shapes. If you put it near the window, the natural light will be reflected and it will enhance a room. The bigger mirror – the bigger space.
Choose Smart Solutions for Your Furniture and Use Storages To Save Place
Essential furniture can quickly become pointless in your apartment design if it takes too much space. That is why you can pick pieces with a few purposes like a modular sofa that can be arranged into different shapes and used as the armchair, bed, a height-adjustable table that turns into the desk, storage ottomans that will be utilized as seats, or keeping things. Collapsible furniture, compact, but capacious closets will help you to keep your things organized and diminish the cluster in your place.
Set Up a Corner for Writing Your Papers
When it comes to studying, the workplace should inspire you to learn new things and write amazing essays. It is crucial to create the study space of your dreams. This is one of the key elements in the student's apartment as there you can keep the concentration while working on the different college assignments. Since such tasks are usually very time-demanding, you can easily pay someone to write a research paper and focus on the less time-consuming things or just relax reading the book. Meanwhile, the professionals from Studyclerk will deal with all your papers and you will get them done before the deadline. 
Organize Your Bedroom Zone
The bedroom is one of the most important zones in the apartment because we relax, sleep and reload our minds there. Hence, the priority mission is to utilize the space in the best possible way and make it very comfortable. You can put carpet, buy light bed linen with natural fabrics, select pillows and blankets that would fit into the interior and as a final touch, do not forget about proper lighting.
Add Personalized Decorations
Gather photos and postcards that will fill the space with your character. Fulfilling your apartment with mood boards, books, different art objects will create an amazing atmosphere and influence your overall feeling. Pot plants could also bring cosiness. Everything in your apartment is about you.
As you can see, there is no need to spend a lot of money on expensive furniture and other unnecessary stuff, since rigorous planning can save your time and finances. You create the atmosphere in your home by yourself, and it is a reflection of your thoughts and feelings. All you need is to have a desire to make your apartment cosy and comfortable. Just add a small touch of personalization and enjoy staying at home.
Ref number: THSI-2163