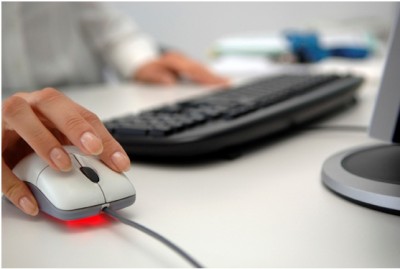 If you're thinking about selling your house, one of the key questions you'll probably ask yourself is whether to choose an online or high street agent?
In order to answer this question, let's look at it from the context of how the broader property sales market is currently behaving…
A Rapidly Evolving Property Sales Market
There has been a wave of sweeping changes to the UK estate agency industry over the past twenty years or so that has revolutionised how properties are transacted. High street agencies continually find themselves in a position where they need to constantly adapt to keep pace with these changes or face extinction.
The first wave of change came in the form of the property portals that listed properties for sale online. Before that, agents advertised in shop windows or possibly in the local press. Although many agents continue to do this, the main shop window is now online through the property portals.  This channel gives them a much broader reach to sell their stock.
Leader of the portal pack, Rightmove, now enjoys a 78% share of all the property pages viewed online and receives 110 million site visitors each month.  Zoopla and Prime Location make up the majority of the remaining market share, but there are other smaller players with varying levels of popularity and relevance.
These days an online presence through the portals has become paramount to the success of any agent operating in the industry. Small agencies have struggled to keep pace with the financial overheads associated with being a member of these portals.  
This, in turn, has lead to a proliferation of the corporate estate agencies and a pronounced concentration of power amongst the select few.
Online vs. Offline Estate Agents
However, these large corporate estate agents appear to be struggling under the weight of the second wave of change which has been growing like a tsunami over the past five years.
To find evidence of this you only have to look at the beleaguered behemoth that is Countrywide. The firm behind Bairstow Eves and Hamptons (amongst others), who has stood aloof as the largest estate agent in the UK for many years, has been under threat of bankruptcy of late.
Countrywide's share price has dropped from 600p to 11p in just over four years and it has seen its market share challenged by the likes of Connells and, more discerningly, Purple Bricks.
The latter has indeed been one of the principal protagonists behind the second wave of change that has now hit and is one of the driving forces behind such a catastrophic performance amongst the large high street agents.
The nimble, quick-footed and somewhat flashy online upstarts have arrived with their promises of low fees and technology-driven efficiency savings.  And these young, tech-savvy companies are threatening to disrupt an entire industry.
In the third quarter of 2018, online agency sales now have almost 10% of the total market share as their growth trajectory shows no signs of slowing. Online agents clocked up 20,806 transactions compared to the 268,515 on the high street over the same period.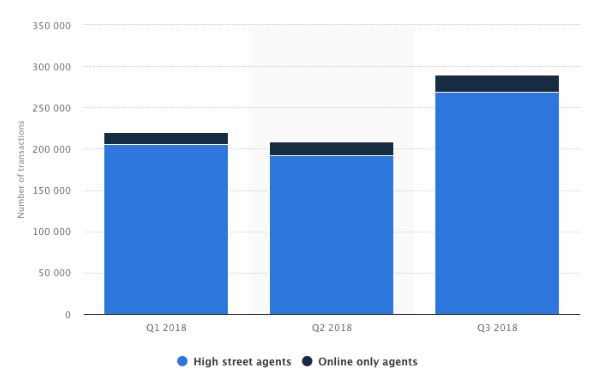 Online Estate Agents – Is It All Just Hype and Bluster?
One thing is for sure… The high street is not as popular or relevant as it once was.  The way people are transacting on a day-to-day basis is changing rapidly.
Given the fact that we know that the majority of buyers hang out online, what extra benefit does a flashy office on the high street give us in today's technology-obsessed world apart from driving up costs for the agents and ultimately the consumer?
Many of the new wave of online agents offer innovative benefits that are not being matched on the high street.  One example of this would be 24/7 telephone and live chat services. Someone is always available for buyers or sellers to answer their questions – meaning an enquiry from a hungry buyer is never missed.  Contrast this to high street agents, that are usually open from 9 to 5, and the advantages of an online service become clear.
Think of it as having an estate agent that's small enough to fit in your pocket, at hand to answer your questions no matter what time of day. And many customers are warming to this level of service and enjoying the extra benefits it brings.
It would appear that the portals are the new high street and eager buyers are busy milling around them like a Saturday afternoon at Selfridges. Except the difference is they do not need to leave the comfort of their house and deal with the endless crowds that occupy the high street. They can access the property portals from their phones or laptops and browse properties for sale from the comfort of their armchair.
Pricing Structure
Another way that online agents differ is that they can and do offer cheaper fees. Why? Because, as alluded to earlier, they do not have the expensive overheads that high street agencies have, such as high commercial rents and fancy offices. In fact, some online agents are so cheap you can now sell your house for as little as £99.
Granted, it may not come with all the bells and whistles that a full high street service will include you – but it's there if you want it. And that is the key factor to remember here. Online agents have opened up Pandora's box and have given vendors choices and options like they never had before.
You can find whatever you want on the internet and that mantra has now become true of the UK estate agency industry.
Sellers have more choice than ever and, in our view, that can only be a good thing for the consumer. The industry needed innovation and now it has well and truly arrived.
As to whether you should choose an online agent or a high street agent, that depends on your own personal needs and circumstances. The great thing is that there are now specialist boutique agencies to suit every need and budget.
Below are some of the questions that you may wish to consider before choosing an online agent:
  – Do you want cheap fees and a basic service or higher fees with a more comprehensive package?
 – Do you want managed viewings or do you want to do them yourself?
 – Do you want a quick sale or are you happy to wait to find a buyer?
 – Do you need an agent that is open 24/7?
 – Do you want to be tied into a contract or would you prefer to be contract-free?
The online estate agency is helping to reverse the trend towards big corporations and is acting to decentralise the power and choice back to the consumer. The high street will not be disappearing any time soon but the seeds of change have been sown and, once again, they must 'adapt or die' as the old adage goes.
Property Solvers are online 'fast sale experts'. We specialise in helping people sell their house in 7 to 28 days. We buy property directly as well as sell homes on behalf of clients on all the major portals.  For a no-obligation chat, please visit our website or call us 24/7 on 0800 044 3733.