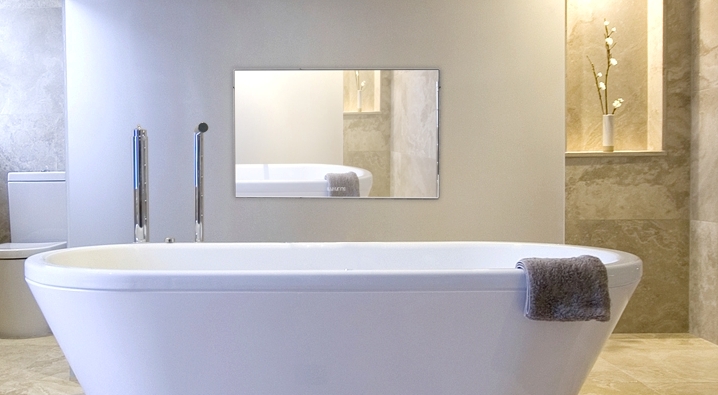 Advancement in technology has made it possible for you to convert your private space to just about anything you want. From sci-fi to fairytale or even early 50s themed look, you can kit out your bathroom to your heart's content. And if you ever wanted to give your bathroom that awesome, wow atmosphere found in only the best and premium hotels, you can now do so.
In this short article, we look at a few gadgets and smart technology you can use to tweak your bathroom into a spa like atmosphere for a luxurious and relaxing bath or shower experience.
Digital Faucets – Looking for a way to save on energy and water bills? Digital faucets allow you to save on both while at the same time giving your bathroom a futuristic advantage. You can use them to control water temperature, lower and increase water flow, conserve water and save on energy bills. A few of them even come with automatic timers and touch-less controls that can turn on and shut off water whenever you want. And what's more? They come with filters that help keep your water clean, so you can even take a sip while soaking in the tub.
Chromatherapy showers: Ever heard of aromatherapy? The smell therapy. Chemotherapy works with a similar system, only this time it is color therapy. Imagine different soothing colors combining with the water cascading over your body in the shower of the tub, all working together to balance your energy and provide a soothing and tranquil bath time. That is how chromatherapy works. Call it science or art, but it makes for a very exciting and show stopping bathing experience. Installing a chromatherapy shower in your bathroom will definitely change your perception about bathing.
Mirror TV: "There is nothing as soothing as having a soak in a tub while watching your favorite soap" says Michel, business developer at UK style and technology company Sarason Bathroom TV's who are Specialists in bathroom TV's
Today, there are lots of options when it comes to bathroom television but the mirror TV beats all others every time. This is a TV that doubles as a mirror when turned off so you don't really need to have another mirror in your bathroom. A lot of them even fog resistant so you don't  get to miss anything even when your bathroom is all steamed up. And what's more? You actually have some space left for those essentials like toothbrush, toothpaste and so on.
Towel warming drawer: You don't only get to use a warm towel when you spend the night at a five star hotel, you can also enjoy that luxury in your home by installing a towel warming cabinet right there in your bathroom. This drawer not only keeps your towels clean, and toasty for when you need them, it also keeps them organized in an easy to reach location. No more jumping about looking for towels or using damp towels on a cold morning.
Heating technology: So you have a towel warming cabinet, why not go the full road and get some other heating technology. Heating floor gadgets will keep your feet and even your hands all toasty while using the toilet. While you are at it, you may as well add a heated toilet seat for total comfort.