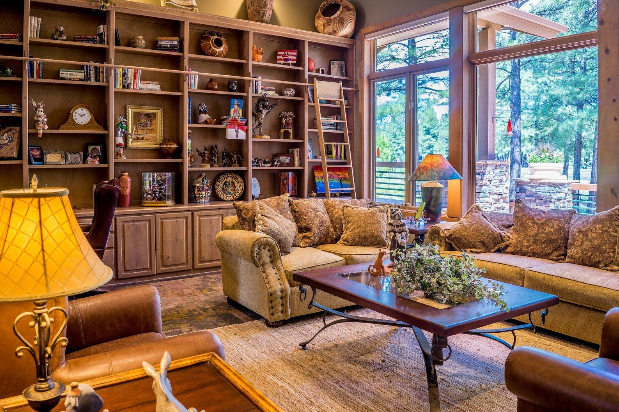 Apartment living implies that you are currently inhabiting a cozier space with smaller square footage than say, a house in the suburbs. Many apartment dwellers also are currently renting and may not own the space they live within.
Either way, apartments limit your overall decorative imagination, and many even are restrictive to your own vision due to rental agreements. Don't despair, however, as there are many opportunities to bring your living areas to life in a manner that is easy to remove, or change, as you see fit. Mix and match the following ideas to create the perfect living space!
Apartment Styles and Common Needs
Apartments often maximize the amount of space they contain in unique ways. Open floor plan designs such as studios are very popular, which combine living and sleeping areas in one common area; as are lofts, which have two levels to help separate your living area from a sleeping area without walls. Some apartments are more traditional and have a separate bedroom and office areas, but generally, these are small in nature.
What is common between all of these is a way to create privacy, as well as provide unique, decorative touches. Wall space may be minimized, creating a challenge to hang pictures and other wall decors, and lighting may be a challenge due to limited surface area.
Rental Friendly Reversible Remodels
When you walk into your living space, you want to feel like you have ownership of it, even if it is only temporary. A home should feel comfortable and be filled with the things that you enjoy, and be reflected in your choice of furniture, colour, lighting, and personal touches.
Many rental agreements disallow the painting of walls, addition of permanent decor, or any sort of building that may be presumed to be a remodel of any sort. This can make the addition of both privacy and colour a challenge. However, there are a few things you can do to make it all yours without creating a hassle for your landlord, or making you lose your deposit.
Privacy Solutions
Room dividers are temporary solutions and are easy to both find online to fit your specs, or even build on your own. These can be made from wood, incorporate cool designs, or even include vertical or horizontal window shades in a frame to provide as much or as little screening as possible. They also can be easily made to fold up to place in a closet or lean against a wall when not needed.
Personal Remodels
Cedar decking is easy to add to your shower for a spa-like experience; large, framed mirrors can be leaned against walls to make your space seem larger than it is; and switching out cabinet and drawer hardware to something more sophisticated, or quirky, is as easy and quick to undo when the time comes.
You can even add your own curtain rod choices without drilling a hole by using Command Hooks that come in a wide array of metal looking finishes. This way you can hang your favourite curtains, or even make your own with the top sergers for beginners!
Lighting Solutions
Not a fan of the included lighting covers? Try replacing them with something you enjoy, such as a drum shade, or a DIY addition. You can also place vanity shades over bathroom vanity lights, or even install task lighting under cabinets in kitchen areas, bathrooms, or built-in bookshelves. 
Quick Colorful, Non-Permanent Additions
A few other additions can quickly transform your living space without creating a permanent mess to try and undo later on. These are all budget-friendly ideas that can get you thinking about how to best utilize your space and make it all your own in no time. Many allow you to design or create on your own!
Peel-n-Stick Wallpaper
Peel-n-stick wallpaper can be used in a wide variety of ways as long as the surface you are pacing it on is smooth. Try creating a backsplash, or accent wall with this option, or even create a paintable surface that you can paint your own wall mural on. They even come in a chalkboard style that is fun for your refrigerator surface.
Wall Decals
DIY your own wall mural using wall decals that you can have custom made to size and shape.
Tile Tattoos
Have a tiled wall or backsplash? Use vinyl decals to make them unique to your decor.
Washi Tape Additions
Mix and match washi tape to create borders or even place on entryways.
Built-in Shelving Upgrade
Use wallpaper or fabric and rubber cement to decorate the wall behind your built-in shelving.
Floating Floor
Vinyl flooring is easy to float over editing floors if you need a change! These are best for small spaces