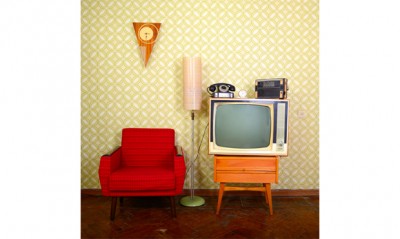 The Décor of the Sixties
The nineteen sixties were infamous for many reasons, but as well as The Beatles, miniskirts and flower power, the decade was a time of great social and cultural change. The relaxing of more conservative traditions and emergence of youth culture were not only reflected in the fashions of the time, but had a great impact on the interior design of the era too.
The décor of homes as well as flats and bedsits reflected the new-found freedom of the younger generation. The décor of the sixties is instantly recognisable due to its strong colours and patterns based around nature, linked to the era's hippie culture. A colour palette of greens, oranges and yellows as well as heavily stylised floral and paisley prints were often mixed with mod style furniture and accessories, resulting in a unique blend of styles which has come to be emblematic of the decade. Another important feature was the more widespread use of futuristic materials and technologies, such as plastic and PVC.
Another element of sixties décor was the influence of exotic cultures, fashionable as a result of the growing popularity of foreign travel. Scandinavian, Moroccan and Oriental influences can often be seen in nineteen sixties homes in the form of ornaments, rugs and other textiles.
Important Figures
There were many important figures in the interior design of the sixties. With the popularity of prints and fabrics as decorative features, textile designers such as Celia Birtwell and Finnish design house Marimekko (pictured) produced prints for both fashion and homeware.
Many other interior designers were particularly successful during the decade. David Hicks was popular for his adept mixing of modern design with influences from past decades, as well as bold use of colour. Terence Conran had strong links with the fashion industry; having previously designed a shop for fashion designer Mary Quant, she took charge of the uniforms for his store, Habitat, which opened in 1964.
Recreate the look
In order to recreate a sixties-style look for a modern home, there are many ways to incorporate the best of the decade, while still maintaining a contemporary feel.
Wallpaper is a good place to start; for those brave enough to go for original wallpaper, this can still be obtained online on sites such as Etsy, but there are also many new designs that are a little more subtle and orientated towards contemporary interiors while still heavily influenced by sixties style. Try Barbara Hulanicki's range of Biba-style papers, or Orla Kiely's retro prints for paper (pictured) and home accessories.
The same rule can be applied to fabrics; there are countless examples of stunning retro textiles available that can be incorporated into a room, in the form of curtains, rugs and cushions.
When it comes to furniture, shape is what really makes pieces stand out as being reflective of the decade. Look for unusual colours and simplistic, curved designs such as those from legendary brand Ercol. Remember that to truly capture the modernist look of the sixties, an open plan feel is key, so keep furniture as minimal as possible.
For a more subtle nod to the decade, you could choose to accessories with some artwork of the sixties. Pop art pieces such as work by Andy Warhol and Roy Lichtenstein are highly evocative of the era and are a simple way to introduce a retro feel to any room. The good thing about sixties décor is how well it can be incorporated into modern style. Choosing a simple but effective colour palette of dusky blue or mustard yellow, or displaying psychedelic prints against a clean white background can add personality and a little flower-power fun into any modern home.
by Emily Garside