Undeniably, the 1920's were a pretty special decade. The First World War had not long ended and peoples lives were just starting to get back on track. The 20's also saw the first television, the first talking picture, and the rise of modernism entering the homestead, creating new fashions across Europe.
For an idea of what a traditional 1920s home might look like, think of F. Scott Fitzgeralds The Great Gatsby, which was set in 1922. It was all about elegance, sophistication, and opulence. It was a time of bolder colours, new shapes, and experimental fabrics to add depth of character to any room.
Typical Features
The new 1920's style was very elegant and smart, involving lots of geometric shapes and sharp angles. Furniture was usually rather streamlined and came individually rather than in the suites we see more commonly today. We all know how a good rug can pull a room together, and the 1920s saw the start of this with large rugs patterned with geometric shapes and bold colours being used as centrepieces in the living room.
When it comes to fabrics and features, it was all about shiny fabrics, chrome statues, and the odd ostrich feather for some real class. The walls would not be cluttered with decorations but instead featured a single painting or figurine.
The cornerstone of 1920s interior design was simplicity and functionality. That isn't to say that appearance was secondary, as that certainly was not the case, but rather that a room defined the individual occupying it, expressed their character, while also being suitably arranged for natural living.
In The Principles of Interior Design, Bernard Jackway, an interior designer from the 1920s, says "One who sets out to furnish a given house for the occupancy of a given family faces a three-fold problem. He must select and arrange in the house such things as suit the age, sex and temperament of the individual members, meet their needs, express their tastes and aspirations, and fit their purse. He must, moreover, see that the things so selected and arranged suit the house itself, in scale, colouring and style. Finally, he must see to it that these things are not only suitable but intrinsically good-looking, and that they combine to form a harmonious and beautiful whole."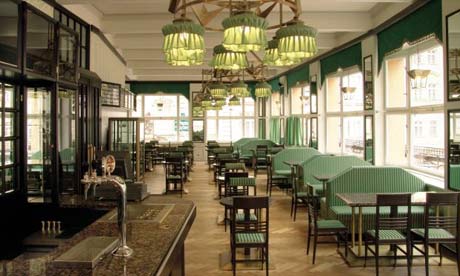 image source: http://www.theguardian.com/travel/2008/apr/12/prague.weekends
If you're looking to redecorate your home with a touch of the 20s in it,the best place to start is by checking out what other people have done. See how Annie Werden has brought the 1920s into the twenty first century in her 3-storey home.
Also, Bettina Dedas blog shows you how to capture the 1920s look using this years style guides and spring/summer trends.
For tips on avoiding decorating disasters, check out our blog.