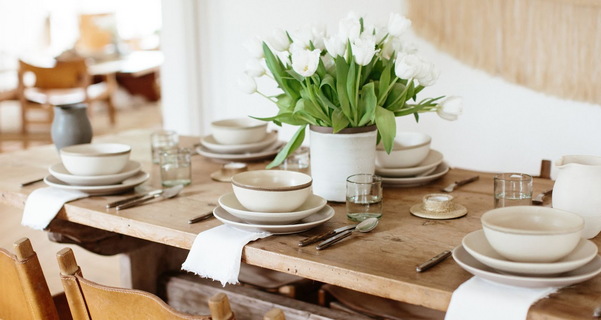 In this article, we will go through the various tips you need to know about if you want to make your event a success. If you have a modern dinner party to celebrate your new baby, a bridal shower, or anything else, here's help on how to design your table setting.
Table Setting Tips
You need a few things to have a successful modern dining table set. First, you will need some ideas on where to put the food. You must decide where the appetisers and salads should be placed, what should go with what, and how you want your guests to be seated.
Choosing the right table setting, such as candles, linens, and silverware will be determined by the type of party you are having. The colours, linens, and accessories should match the theme of your event.
Basic Place Setting
Here is where you will make your statement. Therefore, it's the most essential part of your table setting. It should reflect the theme of your event. The place setting starts with a large plate. This is usually the charger or service plate, which can be removed and used as a tray.
The charger must match the rest of your tableware unless it is a different colour for contrast purposes. If you're planning to use a charger for a buffet meal, it should either be placed on the buffet table or on a separate stand to keep it from getting dirty by food particles that fall off plates and silverware when people are eating their food.
Decor Tips
Linen napkins can be used to create a statement while they are being placed on your plate. A fringed napkin is the most elegant and adds a touch of texture. However, you can make your own out of flour sack towels if you don't have one.
Use fabric or even magazine pages where you can include photos from your party as decoration. Framed family photos can add a personal touch to your table setting and make guests feel as if they are at home with you when they are dining with you at your event.
Buffet Place Setting
As your guests arrive at your party, one of the first things you should do is set up the buffet table. In this case, the charger will be part of the table setting. You should purchase a round or oval dinner plate that matches your charger and place settings. Usually, containers are placed in a circular formation with a centrepiece in the middle. However, if you have more than ten guests, you should make two concentric circles to give everyone enough room to serve themselves as they choose their food from the buffet.
Remember that a buffet table is not a place for your best china. Purchase acrylic or glass plates for the buffet. You can even use plastic or paper plates, which will be disposed of at the end of the party. Make sure you have plenty of flatware and napkins.
Casual Place Setting
Casual settings are great for family and friends because they take little time or money to prepare. If you're having a casual dinner party, it's best to leave the tableware as it is and only changes the placemats.
Placemats made of fabric or from a decorative dish towel are ideal for this type of table setting and add to the comfort zone. You don't have to worry about matching colour schemes because this is an informal dinner setting. Your guests will feel at home and relax without worrying about making a mess on their plates or spilling food all over their clothes.
Formal Place Setting
If you're having a formal dinner party, you can either leave your dinnerware the same as it is or use place settings that are different colours. You can choose a different hue and pattern for the dinner plates to match your menu or switch everything out to give it an entirely different feel. As for the table setting itself, use a charger that matches the rest of your china or plates.
Formal place settings are usually made of metal, crystal, or silver. Your guests will use these when they are eating at their best china. If you want, add other items to the table, such as a fruit basket or a bowl of fresh fruit. The centrepiece can also be a decoration that serves some purpose, such as a vase for flowers, or it may be used to hold napkins and placemats.
One Last Advice
It is essential to keep your place settings organized so that you can find the items you need for meals if you want to add some pizzazz and beauty to your table setting, purchase placemats and tablecloths with a different texture that sets them apart from the other linens in your home.
If you're having a special event, make sure that your table settings are coordinated with the rest of the items on your dining room table. Make sure your guests are comfortable before they sit at the table because if they aren't, it will show in their actions and ruin their appetite for food.
The Bottom Line
The only thing left is relaxing, having fun, and enjoying the event. The most important thing is to make your guests feel welcome and comfortable. Remember that the focal point of your table setting is the centrepiece because it reflects what type of party you're having. If it's elegant or casual, the centrepiece should match your theme.
A table setting with coordinated linens and place settings will add beauty and comfort to your event. Use candles, fresh flowers, and other decorative items appropriate for your theme to help you express yourself and keep people comfortable when they eat at the table.
3206.27837