Are you trying to coming up with some great do-it-yourself strategies for making your home look amazing? Would you like to remember the exciting and important events in your life while making your house look great? Try making your home unique with a wall plaque.
Remember your Uni Days
I'm sure you have fond memories of your college days, we all do. Why not remember your days at Uni with a traditional university wall shield. The University of Bath has a Wallshied that comes in light, medium, or dark woods and elegantly presents their coat of arms for everyone to view. Use your schools coat of arms as the centre piece for the photos commemorating your graduation; or to balance out the pictures of you and your friends over the years.
Display Your Artistic Side
Looking for something a little more artsy? Try an abstract wall clock. The abstract gears make a great centre piece for small paintings, portraits or use it as a standalone piece to create drama and provoke conversation at your next dinner party. Use the colours of the gears to influence your paint and upholstery choices.

Show the Music Lover Inside
Are you a musician or just a lover of all things musical? Try a wall plaque to let everyone know it. Putt hem all together on the same wall to create a cohesive focal point.They can be displayed in a rectangle to create artistic lines or staggered to bring some interest to the space. Place them around your photos to create a frame.
Tie in your Family Tree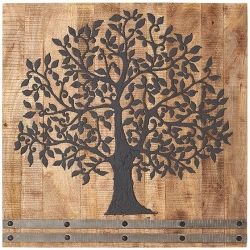 Are you looking for a unique focal point for your family photos to surround? An artistic tree Wall Plaque can display your artistic side while unifying your family photos. Surround this wall art with pictures of your family to create your family tree. Hang it above the mantle to create a unique focal point.
Nature Meets Industrial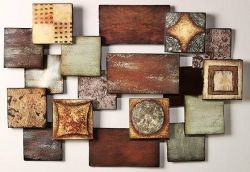 Try something that marries linear with the warmth of natural colours. The Naveen Metal Wall Plaque by home decorators is a great example of just that. The variations of rust are warm and reminiscent of colours you would find in nature. These neutrals will pair well with anything and the stacking of different sized rectangles creates an interesting look that will get people talking. This piece could easily standalone over a mantle or on a large wall. Pieces like it could do the same.
Commemorate your Love of the Sea
Whether you fish, sail, or love to spend time at the beach, the right decorative wall plaque can tell the world about that love. Whether its a carving of a colourful mermaid carrying a shell, a painting of your favourite fishing hole,or a wall sculpture of a school of fish, a decorative wall plaque can provide that unique touch that says I love the sea. Add a large plaque over the mantel for a piece that everyone will talk about, or small plaques with your photos or other decorations to add a splash of colour.
Find the Wall Art that Speaks for You
No matter what you're interested in the right wall plaque can help you turn your room from run of the mill to exclusive as quickly as you can hang a nail. A wall plaque can add a pop of colour, a layer of interest, or say to the world this is whats important to me.