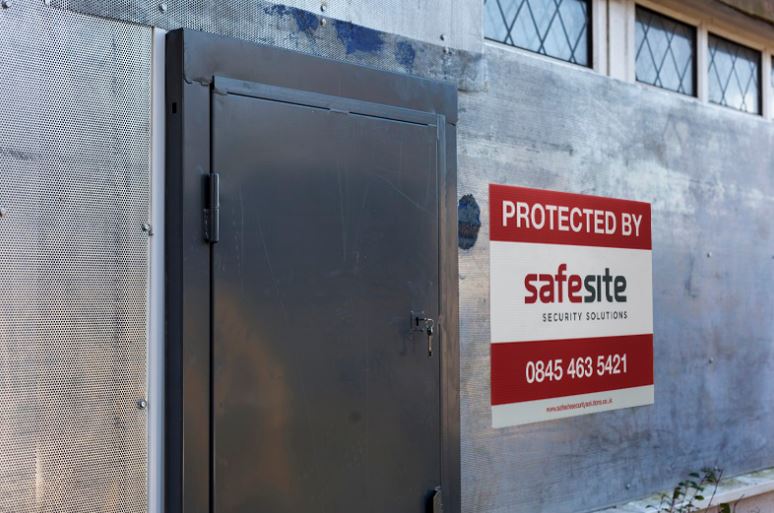 There's no doubt that all businesses – and households – have been affected in some way due to the COVID-19 pandemic.
In this article, vacant property security specialists SafeSite Security Solutions highlights some of the trends it has seen emerge during these unprecedented times.
Cinemas and theatres – many major cinema chains and small independent picture houses in the UK have announced they are closing indefinitely or are significantly reducing their opening hours. During the pandemic, they have suffered financial losses due to challenges in enforcing social distancing rules, coupled with the continuing growth of home streaming. This has sparked an increase in premises installing temporary and permanent property protection measures such as boarding up, intruder alarms and CCTV systems.
Hotels – the hospitality industry has arguably suffered the hardest with restaurants, bar, clubs and hotels closing during both lockdowns, leaving over 2.5 million staff furloughed and many businesses unable financially to reopen. This meant that for over three months, during the first lockdown, most of the UK's 10,000 hotels stood empty, although a small number accommodated key workers and the homeless. An increase in 'staycationers' has boosted the hotel industry in recent months although market disrupters have managed to pivot more quickly, stealing a march on the hotel competition. Airbnb has kept its business afloat by taking part of its services online and focusing on longer-term stays, aiming for people looking to relocate from busy cities to more remote locations. Crucially this is also helping to keep second homes occupied, which would otherwise remain empty indefinitely due to travel restrictions imposed through national and local lockdowns.
Commercial premises – Government guidance continues to advise home working for non-essential services, leaving commercial property owners facing tough financial decisions. Many are choosing to divert funds into meeting essential business costs and, as a result, many commercial premises have been left unsecured, putting them at risk of vandalism or intrusion.
Homeworking – with much of the UK workforce now home-based to help stop the spread of the virus it's no surprise that official figures estimate a 32% reduction in total crime during April and May 2020 compared with a two-month average in the pre-lockdown period (Source: Telephone-operated Crime Survey for England and Wales). With people spending more time at home during the lockdown, the number of domestic burglaries fell. However, with social distancing and non-contact measures in place, and people slowly starting to return to the workplace, package theft is reportedly on the rise, making home security systems a must-have.
Evictions – the Coronavirus Act 2020 suspended all ongoing possession actions to protect honourable occupants from eviction during the pandemic. Initially, the Act protected all occupiers, including trespassers but later clarifications enabled applications for interim possession orders to be made for those cases involving anti-social behaviour and other crimes. From 21 September, the courts started to deal with evictions again, albeit with a backlog to get through and with certain cases receiving higher priority. The government has also changed the minimum notice period tenants receive for evictions from three to six months and this rule will be in place in England until at least 31 March 2021.
Managing vacant properties – with many properties becoming wholly or partially unoccupied during the pandemic asset protection is essential. Maintenance requirements, such as fire risk, security, and other statutory health and safety obligations must be prioritised to safeguard properties from theft or damage. Vacant property owners are exempt from paying business rates for up to a maximum of six months from the date the property is unoccupied, and further relief may be sought on the basis of a 'Material Change in Circumstances' due to COVID-19 related cases.
Repurposing vacant properties – many mothballed premises may have the potential for other uses and during the pandemic, the UK's essential services benefited from properties that temporarily repurposed to offer much-needed car parking, storage and distribution facilities. This not only provided critical support to public services, but it also aided landlords by resetting the clock in respect of any empty rates relief they were entitled to.
'Meanwhile' Building Use – also known as Property Guardianship, is a property occupancy option for vacant buildings, which also provides the owner with a security solution. Its success requires careful management and, whilst compelling, in some cases property guardianship can be problematic. During a pandemic, guardians are not automatically protected from eviction in the same way as other tenants, and if they are living in a local-authority owned building, could find themselves homeless at short notice if the property is required for COVID-19 emergency care. However, a recent survey carried out by Inside Housing asked whether property guardianship could provide essential shelter to less vulnerable homeless people, or people who have lost their jobs due to COVID-19 and are looking to reduce the cost of their rent. Over 60% of respondents said it was an option that was worth exploring.
Ref number: THSI-2027