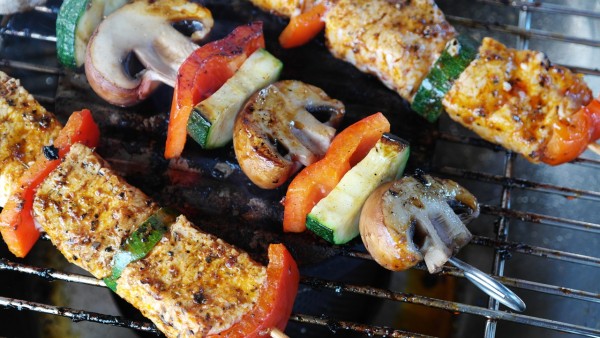 The sun has finally started to shine and it's starting to feel a little bit more like summer! This is despite the rain we have also had as what would a British Summer be without a bit of rain?
When most people think of summer, one of the first things that comes to mind is BBQ's. Whenever the sun is shining you can tell people are making the most of it with their favourite summer activity; just from the smell of charcoal in the air. Despite not enjoying the food aspect of BBQ's (having been a dedicated veggie for years) I still love the social side of a BBQ and also some of the cute summer kitchen and dining items you can pretend you desperately need.
Due to this, I have saved you time and found some of the best items that will enable you to throw your summer BBQ's in style. So dust off your sandals, slap on some sun cream and use these items to truly get into the summer mood.
BBQ and Food Accessories
Now, I am no expert on BBQ's as (as I've mentioned) traditional BBQ food isn't in my diet. Because of this, I didn't think it would be right for me to try and evaluate the best BBQ's on the market! However, I do know cooking and cooking accessories so I've found some cute items you can use to make cooking that meal a little bit easier!
Golf BBQ Tool Set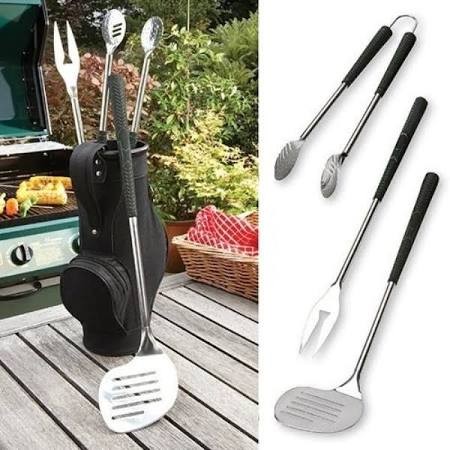 Source: Coast and Country Store
This is perfect for those BBQ lovers who also love golf. You can pretend you're out on the green whilst you are flipping your burgers!
Apron and Tool Set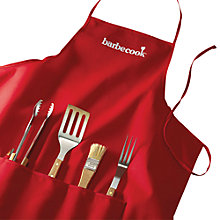 Source: John Lewis
I feel as though this apron is a typical 'man using a BBQ' item and I bet most people would feel powerful with all those important tools easily to hand. Of course, I would suggest you use these items for some nice vegetable skewers rather than the meat!!!
Pizza Oven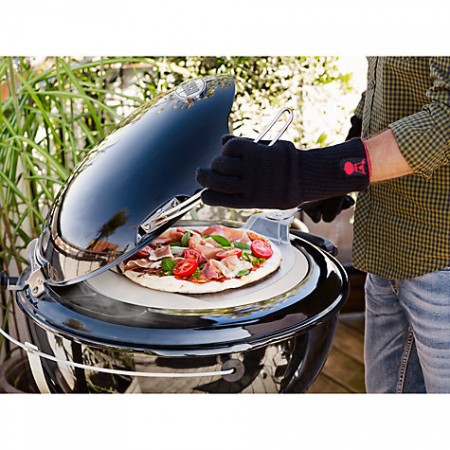 Source: John Lewis
This is amazing. It shows that you don't have to be a BBQ food lover to enjoy using the BBQ. This is perfect for catering to many different tastes and also means you can use your BBQ more often.
Watermelon Slicer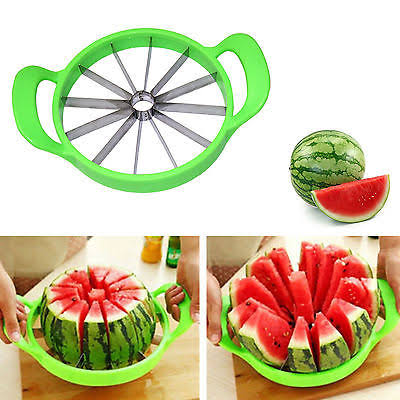 Source: Ebay
I love these slicers. I have one for apples which works well but this one for watermelon looks amazing! Perfect for summer days as a snack or as a tool to get the watermelon cut quickly for a watermelon salad or fruity dessert.
Ice Lolly Moulds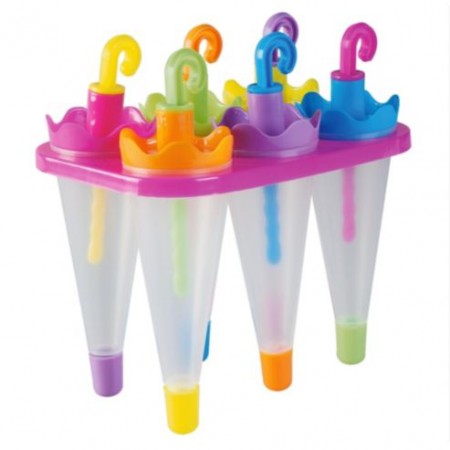 Source: Tesco
Ice lollies are a summer must have and making your own is so much healthier than shop bought ones that often contain lots of added sugar and additives. You can go for fruity, boozy, fizzy; whatever you fancy. The umbrella design is also a nod to the usual summer weather we have in England!
Outdoor Furniture
Rattan Outdoor Dining Set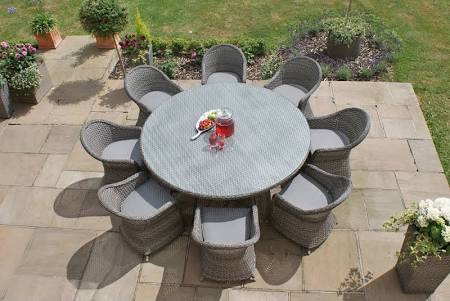 Source: Furnish
I love rattan furniture at the moment and think it looks so good outside in the garden for summer. This table is brilliant if you have a large family as you can fit everyone in without having to delegate someone to a fold up chair and old end table!
Sun Lounger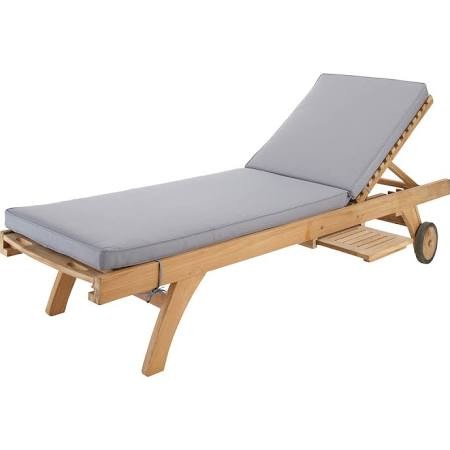 Source: Maisons Du Monde
Although we may not get much sun in UK, when the weather does turn, you need to make the most of it. This sun lounger is the perfect place to sit and soak up some rays with a mojito in hand!
Deck Chair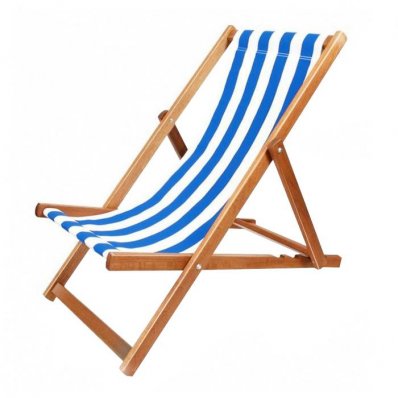 Source: Oypla
I love deck chair style seats as they obviously remind me of the seaside. I think it's such a cute idea to have some of these in your garden as they add some fun and colour to your party but also are small enough so they don't take up too much space. The best fit for a busy garden party or BBQ.
Stackable Chairs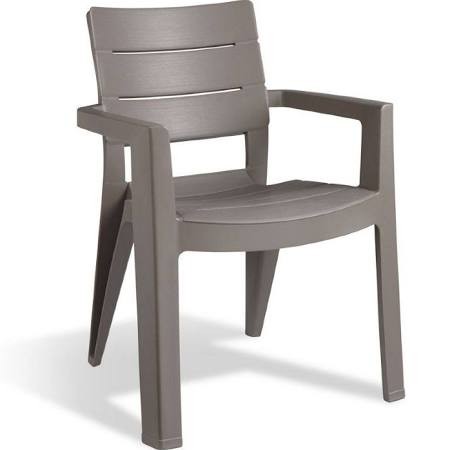 Source:Homebase
If you have a big family, it may be a struggle to get everyone a seat when you throw a BBQ or party. This may result in people standing when trying to eat or spread across the garden trying to find anything to use as a seat. These chairs are stackable so will be easy to store and are a bargain at £19.99 per chair so you can stock up and ensure all of your guests have a place to sit.
Chair Cushion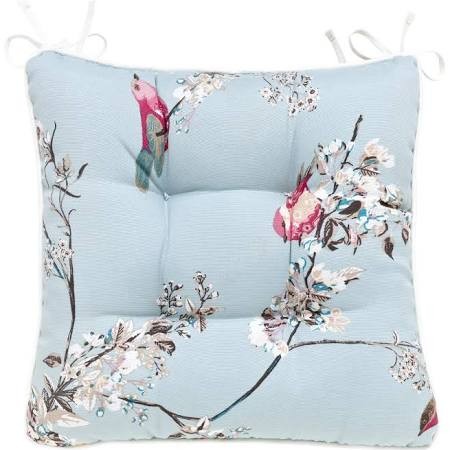 Source: Dunelm
Any dining furniture could be made a little bit prettier with this chair cushion. This would work especially well with the previous chair as it can make an inexpensive item look a bit more up market and also provide some comfort for your guests.
Dining
Mason Jar Drinks Dispenser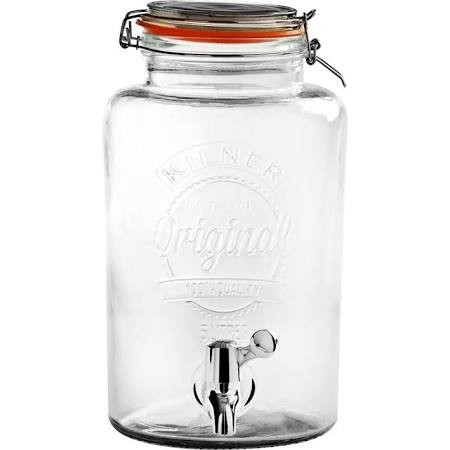 Source: Currys
These jars are everywhere at the moment and I love them. They are perfect for BBQ's as no one will go thirsty waiting for a refill. I like the idea of filling it with a cool and refreshing cocktail (although I would have to be careful not to drink the whole jar!).
Plates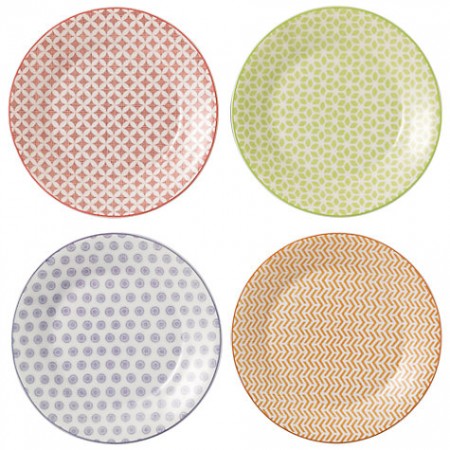 Source: John Lewis
These plates are so lovely. They just scream summer to me and give your BBQ a fun and summery twist.
Paper Plates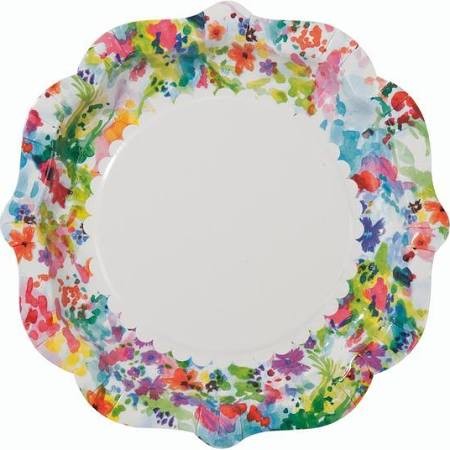 Source: Ocado
If you have a large crowd, it may be a better idea to invest in paper plates if you don't have enough plates to cater for everyone. These would be perfect for a BBQ buffet. Ditch the boring white paper plates and opt for these summery floral ones instead.
Margarita Glasses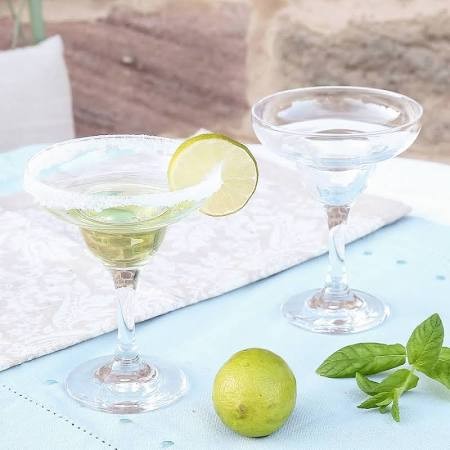 Source: NotontheHighStreet
For the grown ups at the BBQ, these margarita glasses are brilliant. The classic margarita shape glass could be used for a frozen margarita if the temperature is warm enough.
Tablecloth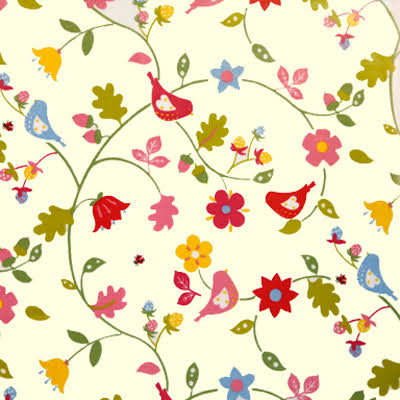 Source: Wipe Easy Tablecloths
One of the easiest ways to update an old table is to throw a cute tablecloth on it. This print is so lovely, it would be perfect for any summer meal. The wipe clean fabric also means it is easy to clean up any mess afterwards.
Pineapple Party Cup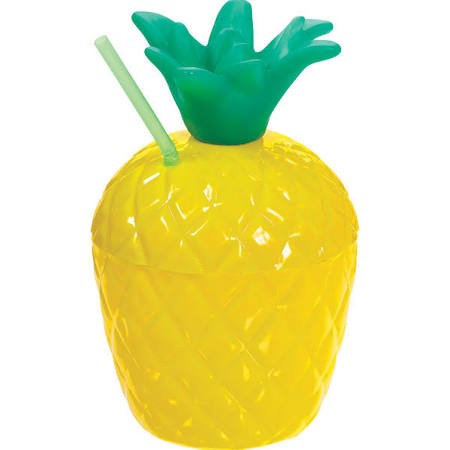 Source: Party Delights
These are so fun and would suit any BBQ or summer themed party. Mix up a tropical cocktail with pineapple and coconut to stay in keeping with the pineapple style.
Salad Bowl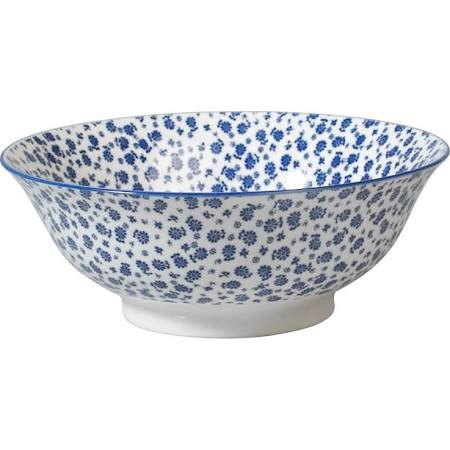 Source: Dotcomgiftshop
Salads can be the secret hero of the BBQ as it will be likely to be something that everyone will try. This bowl would make an amazing centre piece to a BBQ spread and would also be useful for every day use. Try a bulgar wheat salad for a perfect accompaniment for your BBQ that will rival the main event.
Table Runner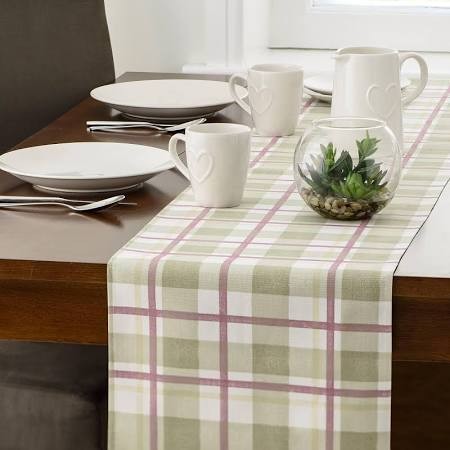 Source: Dunelm
As with a tablecloth, a table runner can update an old table and make it suitable for a summer party. This tablecloth is subtle enough to not overpower and take away from the food but also make a statement at the same time.
Straws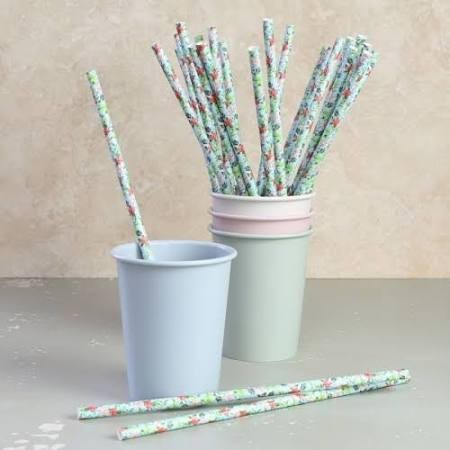 Source: LisaAngel
Straws are usually overlooked and picked up as a last minute item meaning the classic neon coloured straw is often used. However, these floral straws are so much more cute than standard straws and they are an easy way to add a summery touch to your drinks.
Garden Decorations
Hanging Lights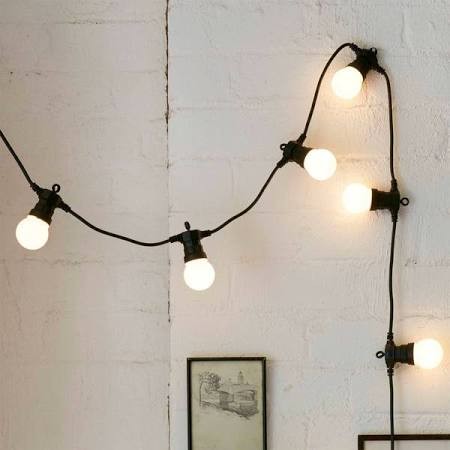 Source: Lights4Fun
Lights are a must have for any evening BBQ or summer party. The bulbs in these lights are fairly big meaning they will throw out a good amount of light. However, the simple design means they will blend nicely in to your garden in the daytime.
Bunting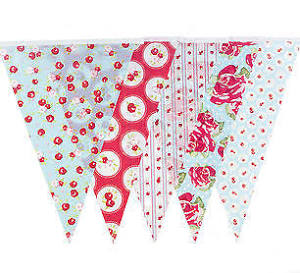 Source: Ebay
Another classic garden decoration is bunting. Bunting is one of the easiest ways to create an area for a party of BBQ and comes without the hassle of extension leads and power.
Candle Jars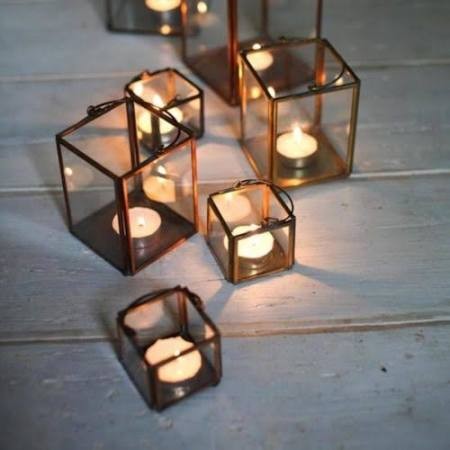 Source: Ebay
These candle jars are so chic. I love the different sizes and can imagine them scattered around the garden. For a safer option in the garden and for light that will last all night, try using LED candles.
Free Standing Parasol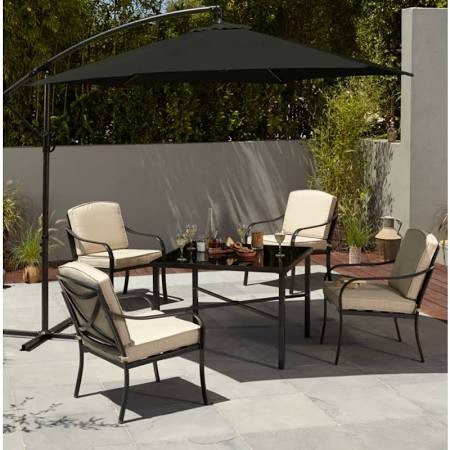 Source: Asda
If we are lucky enough to get any sun this summer, it may be a good idea to get some shade if your garden is in full sunlight. This will allow you and your guests to enjoy your BBQ comfortably and without having to reach for the sun cream every half an hour.
That was my run down of some of the things you need to throw the perfect BBQ. You don't need all of these items but one or two may help to uplift your usual BBQ and give it a more current and summary vibe. Obviously, whilst these items are all great, the main factor is that you enjoy yourself and have some fun in the sun; with or without the mason jar drinks dispenser full of sangria ;).