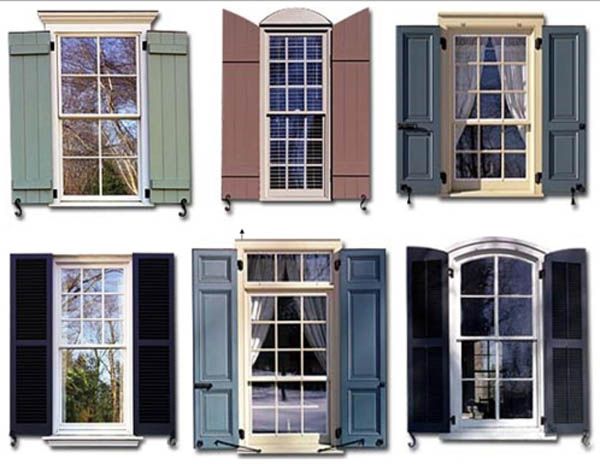 Think about some of the building and houses that you see every day when you are out or surfing the web. It's hard not to say that a lot of the designs we see have improved over the years. You can clearly see how far architecture has come of the years. People are always looking to make the next best design for the world to see. Although, you don't have to be a professional designer just to turn your home into a masterpiece. Besides the color of your home, there are multiple ways for you to go about introducing a new look. In fact, how many houses do you see a day that has window shutters? There is a fair share of homes out there who have shutters, and they are designs that are simply incredible.
Be honest, window shutters have become a popular design, and its popularity is only gaining more fans. Window shutters aren't just a design; they are a design that has people stopping to take a second look at your home.
Being that shutters were designed a long time ago, it's safe to say that they've been around for quite a long time. Even though they were originated back in the 15th century, the designs back then aren't like how they are now. Over the years, exterior shutters designs have evolved into something different offer a great deal of design options. As architecture moves forward each year, everyone is bound to see different looks, looks they may want to try. Now, there are a lot of people who are looking to add shutter to their home or even replace the ones they have now with a different design. It's all about finding the one design that appeals to you the most so that you can make a change. The real challenge behind your design decision is going through the many that exist out there.
It may seem like a difficult choice to make because you want a specific style for your home. Or, maybe you are looking for different advantages for having them.
They Offer Window Protection
With exterior shutters, you will have a sense of protection, plus you may even be able to save a few bucks too. They eliminate that need for you to install any plywood over your windows before a big storm. Being that they cover the window, it'll be protected from a number of things like high winds and even flying debris.
Have Your Privacy
With shutters installed, you can easily pick between visibility and privacy while you are relaxing at home. Even if you choose to close them, most of them come with an adjustable rod. You'll be able to let as much light in as you want. If you prefer them completely closed then you just close them and continue with your day.
Customization Is Super Easy
For starters, a lot of shutters are ready-made and come in a variety of sizes. This makes finding the right size a bit easier when evaluating your options. In case you choose a pair that's slightly off from what you measured, you don't need to panic. They can easily be customized to your liking, all you need is a radial arm saw, table, or miter.
There are some of the most common advantages that come with investing in exterior shutters for your home. It'll be great to add a new addition to your house, one that will have you looking from outside for a little bit. With a little decision making, you could the perfect shutters that fit the look of your house.