Looking for a property on Facebook Marketplace?
This page should answer any questions you have about how to message the agent, how to arrange a viewing, what to do if you don't hear back from them, and anything else you need to know!
IMPORTANT: Please remember that TheHouseShop is a property marketplace that helps estate agents to advertise their properties to tenants. We do not manage the properties ourselves and cannot arrange viewings or answer questions about a specific property for you. We will put you in touch directly with the agent managing the property and they will then respond to you directly.
How do I enquire about a property I've seen on Facebook Marketplace?
Once you've found a property you are interested in, you can use either the blue "Contact" button or the "Request Viewing" button to send a message directly to the agent managing the property (see example Marketplace property listing below with buttons outlined in red).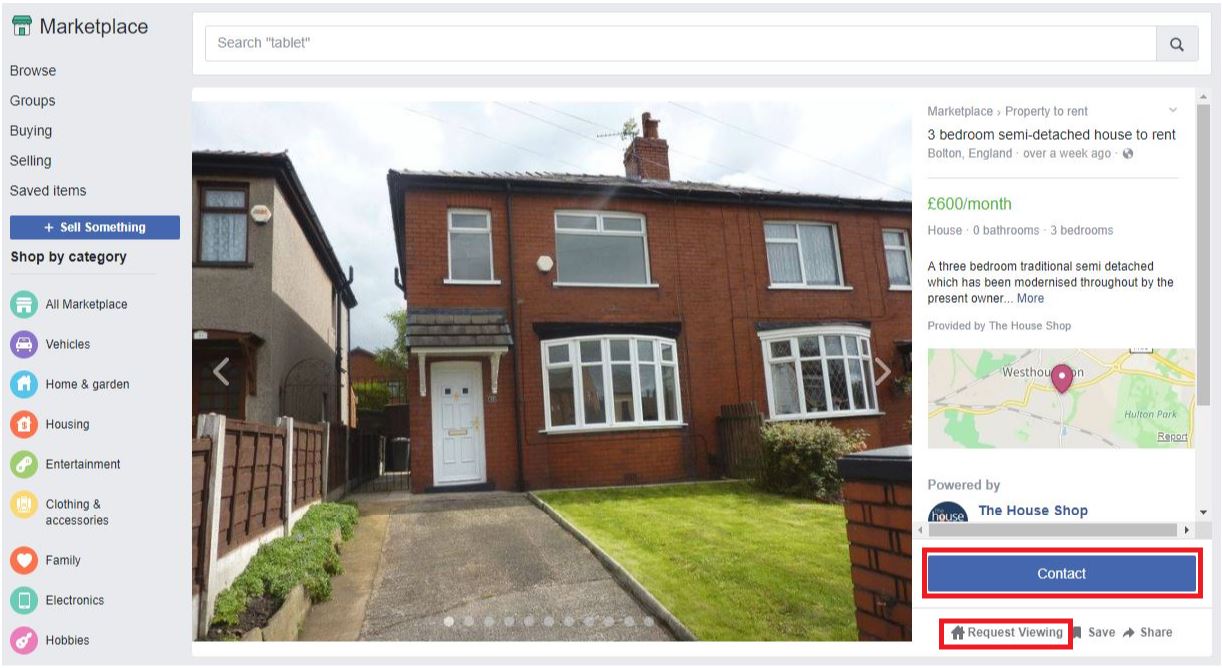 When you click either of these options it will open up a short enquiry form where you can fill in your contact information and add a message to the agent including any questions you may have about the property (see example enquiry form below).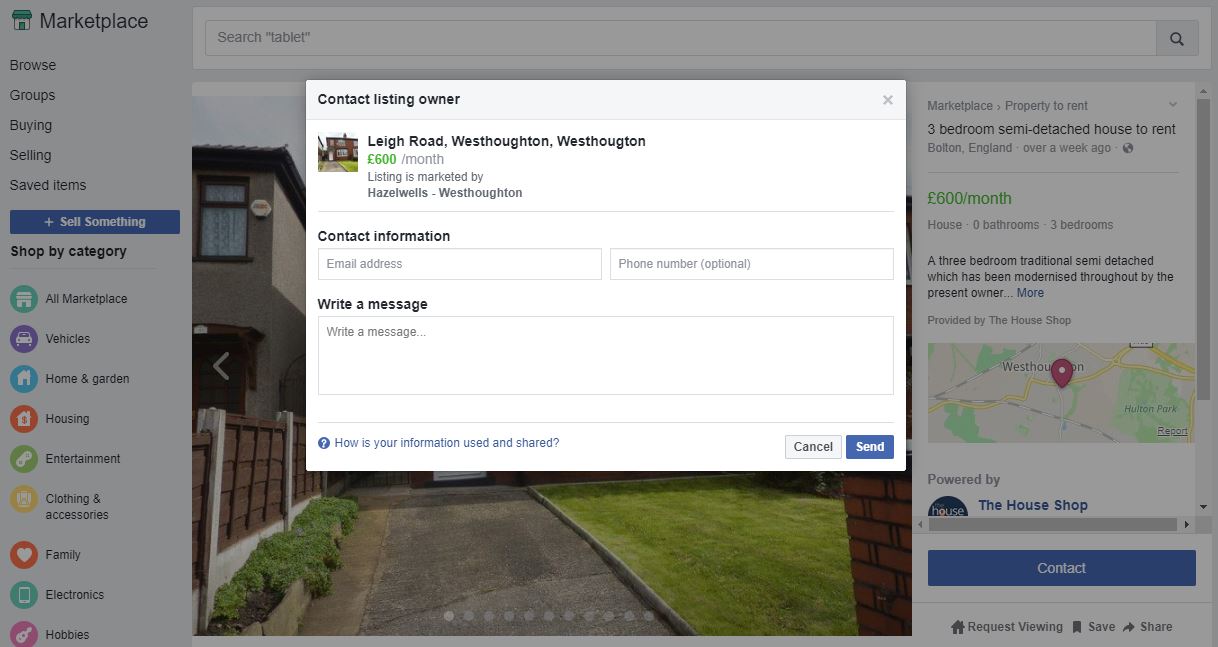 How do I call the agent advertising a property on Marketplace?
With all property listings on Facebook Marketplace, your first contact with the agent will always be made online using the "Contact" or "Request Viewing" buttons (as highlighted above).
We do not advertise the agent's phone number on any of our Marketplace property listings, so you will need to send a message using the enquiry form if you are interested in a property.
Once you've sent the initial enquiry, the agent will get back to you either via phone or email and you can then communicate with them however you please.
I have already sent an enquiry via Facebook Marketplace but I have not heard back from the agent – what should I do?
If you have sent an initial enquiry and have not heard back within 48 hours, there is no harm in sending a follow-up enquiry via the Facebook Marketplace listing. Estate agents can receive dozens of enquiries for a property each day and it is possible that your message may have slipped through the cracks. Sending a follow-up enquiry should hopefully prompt a response.
If you have already sent multiple enquiries via the Facebook Marketplace listing, you may want to consider reaching out to the agents main offices to follow up on your enquiry.
Unfortunately, we cannot give out the contact email or phone number for an agent due to Data Protection regulations. However, if you look at the property listing on Marketplace, underneath where it shows "Powered by The House Shop", you should see a line of text that reads "Listing is marketed by Agent Name" (see the example screenshot below with agent name highlighted in yellow).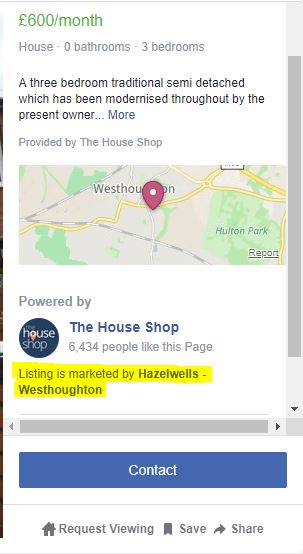 You could then look up this agent online by searching their name in Google and try contacting them via their website or using the direct contact information provided online.
How can I find a property that will accept Housing Benefit or DSS?
Many of the agents we work with manage properties where the landlord is happy to accept tenants using DSS or Housing Benefit.
Unfortunately, there is no blanket rule to apply as it is down to the individual landlord to decide whether they are willing to accept DSS tenants.
With this in mind, if you find a property you are interested in on Facebook Marketplace, the best thing to do is to send an enquiry using the "Contact" or "Request Viewing" buttons and include in your message any details of your Housing Benefit situation. By including this information in your first message to the agent you will not waste any time arranging viewings for a property where the landlord will not accept Housing Benefit.
It's always a good idea to explain a bit about your situation and highlight your reliability as a good tenant to show the landlord or agent that you will be a great fit for the tenancy.
I have found a property I am interested but cannot see a way to contact the agent – what should I do?
If you have found a property you are interested in on Facebook Marketplace but cannot see the "Contact" or "Request Viewing" buttons (as highlighted in the first section of this page) it may be because the property is marked as "No Longer Available".
Somewhere near the top of the listing on Marketplace it should say "No Longer Available" in red text and the buttons that would usually appear to contact the agent will not be there.
Properties are marked as "No Longer Available" when tenants have been found for the property and have started the application process but have not yet formally completed and signed the Tenancy Agreement. If for any reason the tenants pull out of the tenancy or cannot complete the process, the listing on Marketplace will be reactivated and tenants will be able to contact the agents.
What fees will I have to pay when applying for a property on Facebook Marketplace?
Since the 1st June 2019, the Tenant Fees Ban has come into fill force, making changes to the way landlords let properties in England. It is now illegal for landlords or letting agents to charge tenants any 'administrative' fee that is not requested by the tenant. This means that tenants will no longer be required to pay for things like referencing, inventory, and any other non-rent associated fees.
Landlords or letting agents will only be able to charge rent, deposit (capped at 6 weeks), utilities (included in the tenancy), holding deposit (1 week) changes and early termination requested by the tenant and defaults by the tenant.
However, it is worth noting that since letting agents can no longer place this charge at the door of the tenant, it will consequently be passed on landlords. In response, it is highly likely that landlords will raise rents to accommodate this new cost. This has already happened in Scotland where tenant fees were banned a few years ago.
Be Wary of Agents Asking for Up-Front Fees to Secure a Property
You will never be asked to pay any fees to an agent until you have formally started the application process for a tenancy. You should never transfer an up-front fee to an agent or landlord without having viewed the property in person at least once.
You should always be wary of agents who say they cannot show you around the property before taking your first month's rent or security deposit. If an agent or landlord is asking you to transfer a significant amount of money up-front without allowing you to view the property, you should report that agent to us by emailing security@thehouseshop.com and including as much information as possible regarding the property and the agent in question.
How can I advertise my rental property on Facebook Marketplace?
TheHouseShop is an official listing partner for Facebook Marketplace.
Access To marketplace for estate agents?
As part of your pro account, we automatically export all your properties onto Facebook Marketplace and any leads generated is automatically sent directly to the agent managing the property. If you are using an estate agent to advertise your rental property, you can ask them to create an agency account on TheHouseShop and upload your property listing to our platform. Once your agent has created their account, your listing will automatically be promoted on TheHouseShop.com, Facebook Marketplace and our network of partner property sites.
Access To marketplace for private landlords?
If you are a private landlord who is not using an agent to market your property, you can advertise your property in minutes and have it live in front of tens of thousands of tenants on TheHouseShop.
If you opt for our Gold Package (£29.99), we will export your property to Facebook Marketplace, as part of our service. You will also receive a voucher for a free tenant referencing worth £24.99 and a "privacy number" to be contacted anonymously. your identity is never revealed on Facebook or on our website.
If you have a question about finding properties on Facebook Marketplace that has not been answered in this post, please let us know by sending TheHouseShop a message on Facebook Messenger so that we can add your question to our FAQs to help other tenants in future.