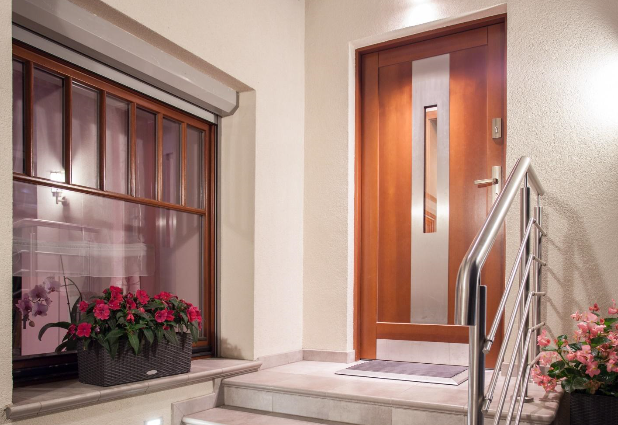 When you decide to put your home on the market, you want to sell it for the maximum amount. You may be wondering what steps you can take to increase the value of your home and, sometimes, it can be something as simple as replacing your front door. 


The Value of a First Impression

First impressions are important, and the first thing a buyer is going to see when touring your home is your front door. The quality of the door can tell a lot about the person living in the home, as well as how security conscious they are. 
Whether it's something you've thought about or not, the type of door you have goes a long way in assessing the home's value. Replacing your old door with something more high quality can help give your house the amazing first impression it deserves.

Having a wooden front door is one of the ways to show potential buyers, or even guests, that you value where you live. Hardwood doors come in many varieties that are crafted to blend in with any structure and color scheme. 
There's a reason why hardwood doors are the optimal choice, their quality is unsurpassed and are built tough enough to withstand rain, wind, snow and even intruders. Whether you're inside the house or out, you might be at ease knowing that your home is secure.

Another simple change you can make that will significantly increase your home's value is painting the door black. Not only is it inexpensive, it can leave a lasting impression. This ever popular update looks good regardless of the color of your house, looks fantastic in listing photos and can boost your home value up to $6000.



Ready to Buy

When you're finally ready to purchase your brand-new door, do so with measurements of your old one in hand. Have all of your questions for the employee at the home improvement store ready. A common misconception is that all you need to do is replace the door itself when, in fact, you're replacing everything.

If you're putting your home on the market within the next few years, inquire about the warranty, how long it lasts and any stipulations it might have. The best doors on the market typically have a limited warranty that lasts for as long as you own your home, but ask about transferring the warranty to the next owner if applicable.



Different Types of Doors

As mentioned earlier, wood entry doors are popular among many homeowners. They're unparalleled compared to other doors on the market, and they're sturdy, which offers added security. Wood entry doors, however, come at a costly price, not just initially but down the line as well. Due to the door needing routine maintenance throughout its lifetime, you will be spending more to keep it from warping or rotting.

Pros
• Wood grain is an attractive feature
• Numerous wood options to choose from
• Superior durability and insulation
• Energy efficient
• Custom made to fit any size opening/doorway

Cons
• Require costly maintenance
• Absorbs moisture
• May sag over time

Fiberglass doors are starting to become more popular since they're both durable and energy efficient. Unlike its wooden counterpart, fiberglass is not susceptible to expanding or warping, saving you hundreds of dollars. 
These doors are available in a variety of finishes, including wood grain, so you can mimic the beauty of a wooden entry door without the cost and hassle of maintaining it. Built with a foam core insulation, these doors are perfect for both the summer and winter months when you need to keep either cool air or heat inside the home.

Pros
• Longer lifespan
• A variety of styles, grains and colors
• Option to be painted
• Energy efficient
• Easy to maintain
• Extreme weather resistance
• Easy installation

Cons
• Folds easily
• Poor durability
• Less secure

If safety is your top priority, you might consider a steel entry door. A steel door holds all of the same benefits of a fiberglass door, except steel does the job much better. A thick steel door provides maximum protection, whether it's from extreme weather or an intruder, this door acts like an excellent deterrent.

Pros
• Secure
• Affordable
• Higher resale value

Cons
• Limited style and color options
• Can't be painted
• Rusts over time
• Less energy efficient

Regardless of whether you're replacing your door because you're looking to sell your home or if you just want to spruce up your living space, there are plenty of great options available to you. All that's left for you to do is to pick the best option for you and your needs!