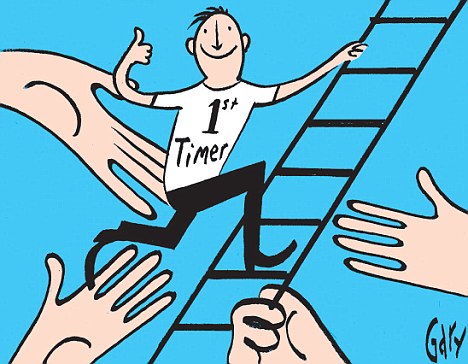 Recently, a close friend of mine decided to take a step onto the property ladder. After some stressful negotiations, her offer was accepted on a very charming flat, in a reasonably sought-after location in the southeast. I was, of course, delighted for her (and, I'm comfortable to admit, a little envious).
However, being part of the millennial generation, I'm keenly aware that such a beautiful property must definitely have come with some drawbacks – we simply spend too much on avocados to single-handedly afford a home with no strings attached.
Despite knowing that my friend works hard and lives a fairly frugal lifestyle, I wasn't surprised in the slightest when she admitted that her parents had loaned her a substantial deposit, and that she had signed up for a 40-year mortgage. Although it's spacious for a 1-bed (featuring a separate kitchen and a full-sized bath), there's limited storage, no garden access and an insane waitlist for a parking permit – again, not exactly unexpected. Then she told me about the leasehold.
What is a leasehold?
The leasehold is exactly that: a lease. You might have bought the house or flat, but the freeholder is still your landlord, and you their tenant. The leasehold agreement will only be for a certain length of time and, once it expires, full ownership of the property reverts to the freeholder.
Unlike renting, you don't get a new agreement when you move in – you just take over the lease from the previous owner. It's therefore essential to know how many years are left on the lease and what the terms of the agreement are, which typically include ground rent, service charges and a share of maintenance (known as a 'sinking fund').
My friend's flat came with an annual fee of £1,000 for services and ground rent, and 90 years left on the lease – this might sound like a long time, but bear with me.
What's the alternative to a leasehold?
Owning the freehold, or a share of freehold. Although this means that you're responsible – or partially responsible – for the maintenance of the building and surrounding land, you'll never have to worry about the lease running out or being stuck with unfair terms by a landlord.
Why is leasehold a problem?
Look, leaseholds aren't always a problem, and if you're trying to buy your first property in a city that's teeming with expensive apartments, restricting your search to 'freehold only' will seriously limit your options. Instead, just do your homework to fully understand the leasehold contract you're entering into. These are three major aspects to consider:
It will eventually expire
Do you want to buy a house that you will have to give back to the freeholder in a few years? No. Nor will the people you want to sell it to in future – or their future buyers either, for that matter. For this reason, you need to be very critical about the number of years left on the lease. Most mortgage lenders won't even finance your purchase if the term drops below 70 years, because their resale value drops so quickly.
At 90 years, my friend's lease might seem comfortably above this, but the value really depends on how long she – and her next buyers – intend to stay in the property.
The cost of extending the lease
It's at this moment some people might point out that leaseholders are entitled to a 90-year lease extension, which is completely correct. Once a leaseholder has lived in the property for at least 2 years (and providing they meet other qualifying criteria), the freeholder is obliged to grant them a lease extension and reduce their ground rent to zero.
Of course, this comes with a hefty fee (as well as solicitor and surveyor costs), particularly if the lease drops below 80 years when additional charges are applied. As you can imagine, it becomes increasingly difficult to sell a property once the lease gets close to this threshold, particularly as new owners will have to wait the 2 years previously mentioned before they become eligible for an extension. Sellers usually end up applying for (and paying, at least in part, for) a lease extension before they move out.
You can do a little test of how much an extension might cost you by using a leasehold calculator – ideally before you buy. You can see how 90 years is starting to look a little bit tight, right?
Ground rent and service charges
As a leaseholder, you're only responsible for the condition of your own apartment. The maintenance and management of the rest of the building is the responsibility of the freeholder or their managing agent. However, you can expect to make a financial contribution in the form of service charges and/or a sinking fund to cover any unexpected work.
The service charge you pay will vary from building to building, so it's essential that you ask the agent about it to ensure that it's within your budget. It's typically used to cover things like communal garden, electricity bills for shared spaces, external maintenance
At least there are some rules around certain expenses. For example, the landlord will have to consult you before undertaking maintenance that will cost more than £250, or over £100 a year. They will also have to warn you about any construction expected to take more than a year to complete. You can also request to see a summary of expenses and how they have been calculated, to make sure your money is being spent appropriately.
Ground rent is another important factor, and is usually up to £400 a year – unless you apply for a lease extension (or a previous owner has), at which point the ground rent is reduced to zero.
Is there anything you can do about a leasehold?
Fortunately, yes. If at least half of the leaseholders in the building are interested, you can join together and collectively buy the freehold from the landlord (a process known as collective enfranchisement). This will give you greater control over the cost of living in your building, allowing you to arrange your own maintenance quotes and extend your lease up to 999 relatively easily.
Look, I realise that getting onto the property ladder is hard. Finding an affordable house (or apartment) is already difficult enough, and then you've got negotiations to make, jargon to sift through and a hundred additional costs to work out.
All I'm saying is that, if you're financially tying yourself to a property that you can barely afford, the kindest thing you can do for your future self is to understand what you're investing in. It might be the nicest flat in the world, but if you only have a few years before it becomes prohibitively expensive for you to live there – or for anyone else to buy it – it'll only be a heart-breaking waste of money.