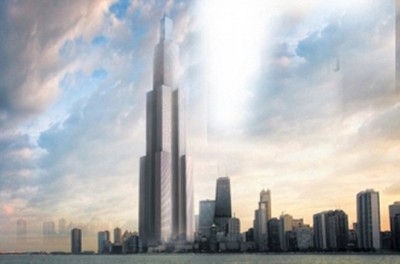 A firm in China, Broad Sustainable Building,  has erected a thirty storey skyscraper in just over two weeks using pre-made pieces constructed on site. Will this revolutionise buildings?
The term "skyscraper" first came about in the 1780s, but was used to describe a very tall hat, it wasn't until the 1880s that it began to be applied to buildings. The Chicago Home Insurance building, ten floors in height designed by William Le Baron Jenney, is widely considered the first true skyscraper and since then, architecture has come a long way. We're now able to construct buildings ten times as high and in much less time.
You'd think it would take more than 15 days to construct a skyscraper, but not in Changsha, China. 90% of the building was made in an external factory and brought together on the construction site. The skyscraper used one sixth of the materials regularly used on buildings of this size and is extremely eco-friendly. The company intends this to be the start of a Sky City, and taking pride of the place will be the Sky City Tower, or Sky City One, the next tallest building, which will surpass the Burj Khalifa but will take merely 90 days to build.
The question is, is it safe? According to the head of Broad Sustainable Building – yes. It has proven to be earthquake-proof, able to withstand tremors of up to 9.0 on the Richter scale. This new kind of building could potentially be used to help areas of China through disaster relief and provide quick and efficient housing in over-populated suburbs throughout the country.
With these promising results, we can hope that this modern technology will make its way over to Europe to combat the ever growing need for fast and economic housing.
Do you agree with this method of construction or do you believe we should stick to the traditional methods? Tell us in the comments below.
by Zaenab Younus