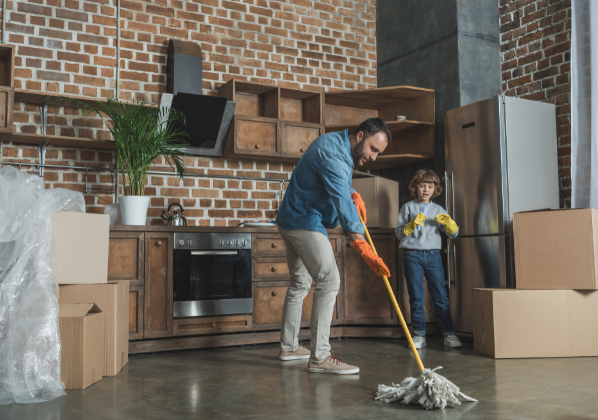 You're moving into your new home, all papers are signed, and payment confirmed: "Signed, sealed and delivered." Its move-in date, you're all excited, but you open your new home doors, and the house is a mess. It's dusty; there's a stench in the air, worn-out walls, windows are dirty as and fixtures are not working.  
A messy house is the last thing you want when moving into your new home. It's essential to have a clean house when you move-in because it signifies a new fresh start. You want all old dirt and germs out, and you want it disinfected so you can protect your family and yourself. Repairing all fixtures and cleaning all floors and walls will make it much easier to move things in.
One of the major tasks when cleaning your home is floor cleaning. Floor cleaning should be the last step you take, but it is just as vital as cleaning is accomplished from top to bottom. Below are some cleaning tips on how to clean your floors based on floor types;
Cleaning Laminate floors
The laminate floors are a multi-layer floor product that fused with a lamination process. It does not need polishing or sealing to keep its beautiful appearance. When cleaning laminate floors, the first thing you need to do is vacuuming or sweep to remove dust, dirt, and sand particles that may scratch the surface over time. After that, you can use a microfiber mop to clean the laminate floor surface. 
The most important thing to remember is to avoid moisture and any exposure to it. The laminate floors are high moisture resistant, but the joints between planks are vulnerable to moisture. The planks will soon start to swell and warp once water seeps inside. Once the laminate floor had damaged, you cannot repair it and only can replace a new one.
Few things to take note when cleaning laminate floors:
Sweep or vacuum the floor for dust before mopping.

Do not use wet mops or steam cleaners, wetting the floor will cause warping, swelling, delamination, and splitting of the joint line.

Wipeout spills as they arise with a damp cloth. Never leave liquids or spills on your floor, clean right away.

Do not use abrasive cleaners, heavy cleaners, or steel wool of the ammonia or chlorinated sort.
Cleaning Carpet flooring
If you have any carpets in your home, now is the best time to clean them thoroughly, so you don't have to do that later and whilst there is no furniture in the home. The rugs are more than likely not to have been washed, so it's important to clean before moving in.
There are two common methods to clean the carpet, either is wet or dry cleaning. Wet cleaning involves the hot water for extraction and then cleaning with an absorbent pad. While dry cleaning is required the use of chemical liquids applied by the machines.
Wet cleaning can clean the carpet deeply but needs a relatively long drying time. Dry cleaning is straightforward methods, however, this method is unable to clean deep down into the carpet.
You can clean the carpet by yourself or hire a professional carpet cleaner. However, the cost of hiring a professional is high. If you decide to clean it on your own, then you should consider using either a carpet cleaning machine or vacuum cleaners. Vacuuming the carpet regularly will extend its lifespan and retains the beauty of your floor. 
Cleaning Tile And Stone Flooring
Tile and stone floors are the easiest to clean and maintain. To clean them, you can vacuum or sweep with a broom, and then mop the floor using a wet mop and neutral, mild floor cleaner to keep the sheen on your tiles. One of the challenges that come with tile floors is cleaning grout lines. Grout is porous and white in color which will get dirty easily. You can clean the grout using brusher and grout cleaner. 
If you know what kind of tile you are dealing with, the perfect cleaning solution and system for your floor will be more accurately picked. Not every deep cleaning requires a blast of chemicals.
You'll have to avoid acids with marble and other similar tiles at the risk of damaging your tile flooring by the chemical reaction. 

Bleach is a fundamental solution that works well to clean, disinfect, and even whiten things that have lost their color. 

Baking soda and hydrogen peroxide would be a natural alternative to another non-acid solution that can penetrate through the buildup surface.

Steam mops are perfect for tiles as they kill build-ups and germs

Using a rag, mop, or any other cleaning instruments enables you to apply some elbow grease and cleaner allowing you to clean your tiles or get the stubborn corrosion. 
Now you're prepared to move into your new home after this. First of all, cleaning your home is essential to make sure you feel happy moving into your home. The excitement of moving in can be taken away by moving into a dirty house and having to clean at a later date. It also best to do this first.