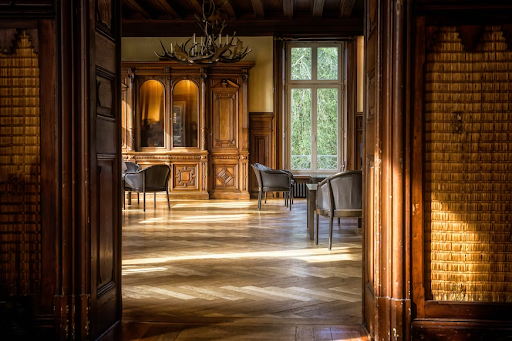 Floors are an essential part of any home. They can make or break a space. A rather popular choice today is wooden flooring – hardwood or laminate, it's all about the look. It is a versatile option that adds value to any home, regardless of its style. It's practical and looks good, and can add some much-needed texture. However, wood isn't the only option out there. There are plenty of options if you're looking for the perfect hallway. From monochromatic floors to complicated geometric designs, here are a few fantastic floor designs you should consider for your home. 
Source https://unsplash.com/s/photos/flooring?orientation=landscape
1. Continuous Wooden Flooring
Open floor plans are one of the most popular home layouts these days. The flooring should remain constant between multiple rooms to make the home feel seamless. An essential part of creating this illusion is executing the perfect hardwood floor door transition, which consists of clean lines and seamless change. Consistency is important. This ensures that you stay clear of gaps that could cause people to trip and hurt themselves and are just unsightly. When you arrange planks in a way that allows them to flow naturally from room to room, you keep everything looking clean and create a very elegant and timeless space. Not to mention, it makes things easier to clean in the future. Big cracks gather a lot of dust and other dirt.
2. Area Rugs and Carpets
Wood is timeless and elegant, but that doesn't mean it's for everyone. Carpets and rugs are a great way to add softness to your home. They are incredibly comfy under your feet, making walking barefoot around your home something you'll love. They also keep things nice and comfy during the winter, when wood and tiles can be icy. Adding an area rug can warm up the place if you have wood or tiled floors and don't want to cover them entirely with carpeting.
3. Make It Marble
Marble is a hallway classic. It adds interest to the home in one of the most elegant ways possible. It can be used in big and small spaces alike. While this is considered one of the more classic and traditional flooring methods on this list, it isn't outdated by any means at all. Yes, it can be found in more traditional period homes, but it is also quite prolific in more contemporary spaces. You can use marble tiles to create interest or larger marble slabs to cover a greater surface area. The choice is yours.
4. A Modern Take on Mosaics
Mosaics are as old as tiles can be. They have come and gone out of fashion over and over again but keep coming back. Using tiling cut in various geometric shapes to create unique flooring designs throughout your home can give it that extra something your home needs. You can keep it simple or go wild. A popular modern mosaic take is using small hexagonal tiles in black and white. Most of the floor is tiled in white with only a thin black border. This keeps the design clean and avoids the issue of your floor looking too busy.
5. Go Monochrome
Monochrome is every minimalist's dream. A monochrome floor can make it seem like the space is more significant than it is, especially when it blends into the walls. You can blur the room's edges by adding delicate edging to the seam between the tiling and the wall itself. You can use a smooth monochrome tile or a slightly textured tile to add additional interest to the space. Just match it to your wall and enjoy the beautiful illusion it creates.
6. Elegant Encaustic Tiles
Something making quite the comeback at the moment is Victorian encaustic tiles. This has been spurred on by DIY home reno videos when people remove more modern flooring or carpeting to reveal these gorgeous lost original tiles underneath. You don't have to buy an ancient home you're restoring by yourself to get the effect, though. You can create the same look in your modern home by sourcing similar tiling online. If you want to go the extra mile, you can even try to find authentic tiling online or from various reclamation yards.
7. Herringbone Flooring
Herringbone is the new preference for laying wooden flooring. However, it isn't just limited to wood. You can use the herringbone pattern with various materials, including rectangular tiles. The idea of the pattern is to elongate the space. If you have a short or small hallway, this is a great way to extend it. This is a great way to decorate a space without throwing down a rug that can collect dust and get dirty.
8. Combine Patterns
We are often told to veer away from mixing patterns, but why is that? Why can't you just have fun? Well, you absolutely can. It requires a fair bit of consideration and prep, but if you do it properly and you do it well, it has the potential to look amazing. Combined patterns can make for an excellent focal point but be mindful of where you decide to do this. This is not something we advise you do throughout your entire home. Perhaps in an entryway, the kitchen, or a bathroom, but certainly not all of them. When mixing patterns, try to keep things semi-simple. Sticking with tiling that is the same size and has a matching colour scheme is essential for cohesiveness.
9. Tile and Wall Contrast
Contrasting the walls with the floors is not new, but many modern houses neglect this time-old design aesthetic. Dark walls with light flooring and vice versa can make your home look fantastic. Light walls with dark stained wooden floors can add serious interest to your home, creating a moody yet cosy space.
10. Peel and Stick Vinyl Tiles
Vinyl floor tiles are low maintenance and definitely for those on a tighter budget. They are an excellent way for you to play around with various tiling ideas without having to commit to them. Plus, they are a renter-friendly tile option.
The type of flooring you choose comes down to personal preference and what you need it for. Wood, tiles, natural stone, and even vinyl have their own benefits. Do your research and find out which of these is best for you.
Ref: THSI-3000 | ZD.26400