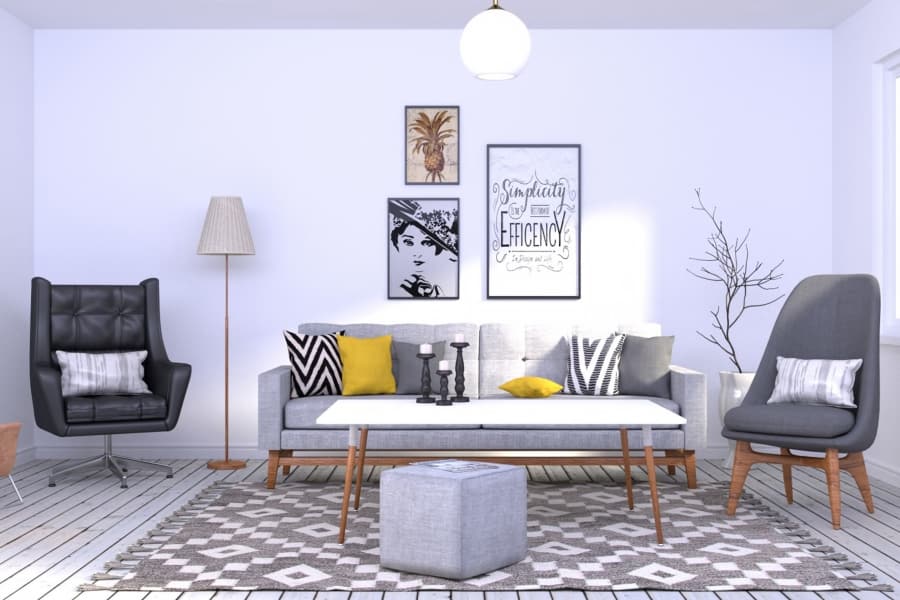 If you have an eye for interior design, you may have an idea for a home decor business. Whether you want to specialise in a specific type of home décors, such as art or lamps, or offer a variety of products, your home décor business idea can become a reality.  Here we will discuss the steps you need to take to achieve your goal.
Research the Market
Researching the market is the first step, and it's the most important. You need to explore a variety of factors in the home décor market, including what's trending. Is there a style of home décor that's most popular right now? 
The best way to find trends is to look at the companies that will be your top competitors and see what they're selling and what items are selling best. The idea is not to copy what they're doing. Instead, you want to develop a way to capitalise on the trend but do something unique to make your home décor stand out. 
If you can, try to find a market gap to fill. Are there types of items that would fit the current trends that no one is selling right now? If you can come up with a unique item, you've found a niche that you can focus on. 
Shop for Manufacturers
It's challenging to search the web, but online platforms provide information about multiple suppliers, such as pricing and quality information. You can ask the suppliers for samples to see the products firsthand. Then you can weigh the pricing, quality, and other benefits the suppliers offer. 
When making that decision and considering the price, you should determine what markup you'll be able to add to the manufacturer's fees to make a profit. This will involve looking at what similar items are selling for in the retail market.
Determine Your Sales Channels
How to sell your products? You can sell online or try to get your products into local stores. The last option is complex, so an online business is your best bet if you want to start selling fast and keep your costs low. You can create your website or make your own Etsy or Amazon store to sell online. 
You can probably sell faster if you start with a store on an existing platform rather than trying to drive traffic to your site, but as your business grows, you could start selling on your platform. Some marketing dollars will be required to get the site traffic you'll need, but you can also leverage social media to get exposure.
Calculate Your Startup Costs
Create a spreadsheet and put in everything you'll need to spend to get your business started. This can include:
Your beginning inventory

The cost of a website setup

Forming your business entity

Business insurance

Business licenses and permits

A marketing budget
Write a Business Plan
A business plan will be necessary if you need to obtain financing to start your business, but it will also help you think through every aspect of your business. Your plan will include an overview of your business, your products, a detailed marketing and sales strategy, a description of how your business will be managed, and how you will operate your company.
Operating your company essentially means what you will do logistically daily. How will you order products? Where will you store your inventory? How will you package and ship orders? How will you collect payments? 
You can find business plan templates online that will walk you through the process, or you can hire a professional service to help you.
Choose and Form Your Business Entity
You'll need to formalise your company by creating a business entity. The main options are:
Sole Proprietorship – The most common structure for small businesses makes no distinction between company and owner. All income goes to the owner, who's liable for the industry's debts, losses, and liabilities. The owner pays taxes on business income. You don't have to do anything to form a sole proprietorship. 

General Partnership – Similar to a sole proprietorship, but for two or more people. Again, owners keep the profits and are liable for losses. The partners pay taxes on their share of business income on their tax returns.  

Limited Liability Company (LLC) – A limited liability company (LLC) offers personal liability protection for ownership and greater flexibility than a corporation, particularly in terms of taxes. The LLC itself does not pay taxes. As a "pass-through" entity, income passes through the business to the owner or owners, who report it on their tax returns. 

C Corp – Under this structure, the business is a distinct legal entity, and the owner or owners are not personally liable for its debts. Owners take profits through shareholder dividends rather than directly. The corporation pays taxes, and owners pay taxes on their dividends, sometimes called double taxation.

S Corp – An S-Corporation refers to the tax classification of the business but is not a business entity. An S-Corp can be either a corporation or an LLC, which must elect to be an S-Corp for tax status. In an S-Corp, income is passed through directly to shareholders, who pay taxes on their share of business income on their tax returns.
To form your business entity, you can go to the website of the relevant government body in your state, usually the secretary of state, and form your business entity online. Again, there is nothing to register with the state to form a sole proprietorship or partnership.
Final Steps
You need to do a few final things, and then you can get up and running.
Apply for business licenses and permits at the state and local levels. Check with your local governments for requirements.

Get business insurance

Apply for an Employer Identification Number (EIN) with the IRS

Open a business bank account
You're ready to hit the ground running and start executing your business plan. It's time to start making money!
Ref : THSI-2725 / ZD.24186