Grand Designs is one of the UK's most popular TV property shows. It first aired back in April 1999 and is now in its 12th series, with over a hundred episodes recorded. Kevin McCloud has presented the show since it began, following the trials and tribulations of hundreds of homeowners building unusual or elaborate properties. The popularity of Grand Designs has meant that their is a live event , magazine and even an awards all based on the show.
The hit Channel 4 property TVshow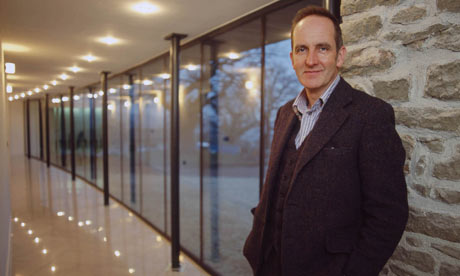 At the beginning of a Grand Designs episode, Kevin McCloud meets the clients embarking on the building project. The project is discussed and they examine computer-aided views of the finished property.
The common factor about properties featured in Grand Designs is that they are extravagant or unusual. The homes are hugely varied in style and design, from underground properties to converted water towers.
McCloud then periodically visits the property during the construction to follow the progress of the build. Frequently, projects either take longer than expected or run over budget. He then visits again once the project is completed and discusses any unusual features in the house as well as taking a tour. If a house is unlikely to be completed before filming finishes, it will often be revisited in a later episode.
Classic Grand Designs Show
Church Renovation
Builder Dean Marks, his wife Hilary and their children Abbey and Jonathan, have outgrown their rented home and are desperate for more space. Dean has always dreamt of converting a church, so when St Martins came on the market, he snapped it up for jus
As well as the main Grand Designs series, there have also been a number of spin-off shows including:
Grand Designs Indoors – concentrating on the interior transformation of six homes
Grand Designs Abroad – concentrating on properties outside the UK
Grand Designs Trade Secrets – gave hints and tips about building
Grand Designs Australia
Kevin's Grand Design – a special about Kevin's development of a caravan park into a 44 unit housing estate
Grand Designs Live
The event is based opn the Channel 4 show with over 500 exhibitors, across six different sections, covering interiors, gardens, home improvement, self-build, renovations, technology and shopping.
Go to www.granddesignslive.com
Grand Designs Magazine
Grand Designs Magazine is the official monthly publication to accompany the hit television series hosted by presenter Kevin McCloud and broadcast on Channel 4 and More 4.
Go to www.granddesignsmagazine.com
About Kevin McCloud
McCloud was born in Bedfordshire in 1959 and studies the history of art and architecture at Corpus Christi College, Cambridge.
His first book, Kevin McCloud's Decorating Book was published in 1990 and his first TV appearance was as a guest host on BBC Two's Homefront. He went on to write and present Grand Designs which first aired in April 1999.
As well as Grand Designs, McCloud has also presented other TV shows including Don't Look Down, Demolition and Kevin McCloud and the Big Town Plan. He is editor-at-large for Grand Designs magazine, and sat on the steering committee for the associated exhibition "Grand Designs Live" in 2005 and 2006.
On 30 November 2008, he appeared as the Star in a Reasonably-Priced Car on the BBC show Top Gear. He finished with a time of 1:45.87, second on the leaderboard behind singer Jay Kay.
McCloud lives in a 15th-century farmhouse in Frome, Somerset, with his wife Zani.
Learn more about Kevin Mcloud
Selling or Buying a Grand Design?
The House Shop have been helping owners save money selling homes online direct without using an estate agent .