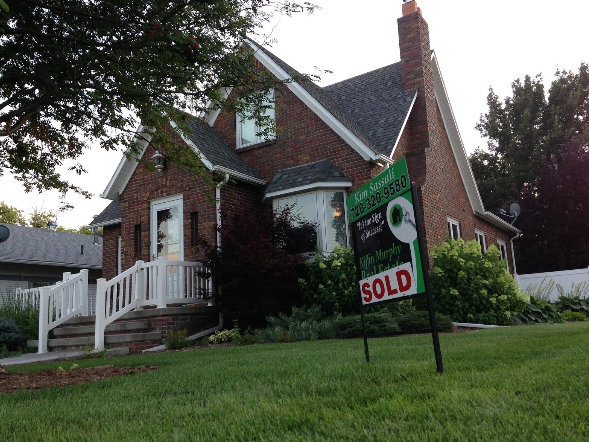 We all know what a curb appeal is: seeing a beautiful lawn, with nice flowers and some decorations and we imagine how it would be to live there. Making a curb appeal doesn't have to be a difficult job or a big investment. You can do some simple alterations and enjoy your new look of the house. Curb appeal can boost your chances for a good sale, whether you are taking pictures of your house for an online sale, or walk-ins. 
1. Take care of your lawn
Lawn care is a big part of your curb appeal because it is the first thing that you notice when looking for a new house. Having a nice yard with beautiful green grass and some flowers can do wonders for your curb appeal. Taking care of your lawn doesn't have to take a lot of time. If you regularly mow your grass, rake the leaves and pull out weeds, it won't become a huge project. Keep your grass well-watered to avoid brown spots. 
2. Plant flowers
Adding some fresh flowers and shrubs is an instant way to spruce up your curb appeal. If you have a garden and front lawn, you can plant flowers and shrubs, or even a tree to make it more interesting. If you don't have the time to take care of your flower beds and shrubs, you can place some planters on your deck, or hang them on windows. Small planters or containers that have only a couple of flowers are easy to maintain and water, and won't take up much of your time. Water plants and trim the bushes regularly to keep up the beauty of your curb appeal.
3. Clean up your lawn
Having junk in your yard and unnecessary things can really make your curb appeal falter. If it doesn't look good, remove it. You can sell stuff, repair it and use it again, give it away or recycle it. Remove the clutter and your lawn will look so much better. Try to find a place or build a shed to keep things that you sometimes need, like shovels and rakes, so they don't lie on the ground everywhere. 
4. Focus on your front door
The front door is the entrance to the house, so it should be on top of your priorities. An easy job like painting your front door can make it pop, and spruce up the whole look of the house. You can try using bright colors that accentuate your house. Clean the door, add new furnish or paint it. The doorknob is important too, and it can get dirty very quickly. Clean it and polish it, or if needed replace the doorknob if it's not working properly.
5. Add light
Light is important, we have to see where are we going, but it can also be a beautiful decoration for your house. The most important light is the one in front of your entrance door. Depending on the style your house was built in, you can choose hanging lanterns or disks that have a strong light. Use something fun and interesting to make your entrance pop with color. If you have a pathway to your door, you can light the sides of it with solar lanterns that give a nice glow when it gets dark. Hanging a string of light on your porch can add a romantic feel during summer nights.
6. Take care of your roof
A roof protects the house, and it's constantly exposed to harsh weather. Very hot sunlight in the summer, wind and rain in fall or snow in the winter can make your roof look very bad after some time. Extreme weather can break your roof or make some smaller damage. Fixing your roof can be difficult, especially if your house has several stories and it can be dangerous to reach it on your own. If that is the case, hiring a site inspection is the way to go. You will get help in assessing the damage and making the best plan to fix any roof problems you may have.
7. Add some décor
Adding some décor to your front lawn or house can tie all of your work together, and add some interesting details. You can invest in smaller fountains or garden sculptures. A new door knocker can be a fancy detail that will make your door stand out. Adding some string lights or a flower wreath on the porch can make your house look more comfortable. Adding to the curb appeal can be easily done with just a few ornaments or décor.
Curb appeal is very important, as it can make your chances for sale a lot better. If you add some interesting décor, it can make your listing pop out from the rest and make potential buyers very excited to see your house. Try some of this advice, and selling your house will become a breeze.