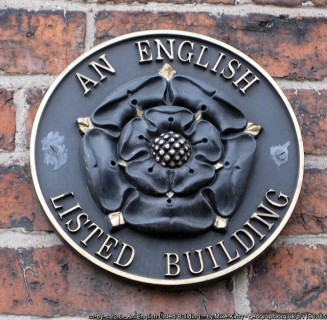 What are listed buildings?
Any building, monument or structure that is deemed to have architectural or historical significance in the UK is added to the Statutory List of Buildings of Special Architectural or Historic Interest.
In England and Wales this follows a system of three categories: Grade I, Grade II* and Grade II, with Grade I denoting buildings of 'exceptional interest', including the likes of The Palace of Westminster and York Minster (pictured). While just 2.5% of UK listed buildings are Grade I, many properties in Britain have Grade II Listed status, for structures deemed to be of 'special interest'. In fact, according the regulatory body Historic England: 'all buildings built before 1700 which survive in anything like their original condition are listed, as are most of those built between 1700 and 1840.'
What does that mean for my property?
You can find out if your property is listed by consulting your local authority planning department, or search online with Historic England's search function.
If your property is listed, there are advantages and disadvantages to owning one of these buildings. On the one hand you own a piece of history, and a house that is significant to the country's heritage. But on the other it can be a great responsibility, meaning certain restrictions when it comes to adding you own stamp to your home.
What are the restrictions?
There are no completely set rules, as most cases are judged individually. Most of the regulations on listed buildings are for the purposes conservation and preservation, which means minimalising any changes to listed properties which may not be in keeping with how the structure originally looked.
It is a criminal offence to make unauthorised alterations to a listed building. While some applications are accepted, many others are not, or may take a long time to go through the process, so it is well worth educating yourself before making any changes to your listed property (or committing to owning one in the first place).
How can I make changes to my listed building?
Always consult with experts and do your research before owning a listed building. If you already have one to which you want to make alterations, then you need to submit an application; you can do this either through your local authority or online at planningportal.gov.uk. You can find out more about whether you need planning permission, and how to apply for it here.
For alterations – particularly exterior ones – you may need to invest in specialist materials etc in order to keep any work done on property in keeping with the original features of the house, which can be both expensive and time consuming.
Overall, owning a listed building can be a lot of work, demanding more time, energy and finances than newer properties. However, if you are prepared to invest the required effort and educate yourself about the processes involved, then it can be a highly rewarding experience.
Where can I find out more?
https://lpoc.co.uk/ (Listed Property Owners Club)
https://www.historicengland.org.uk/advice/hpg/
http://www.historicbuilding.co.uk/