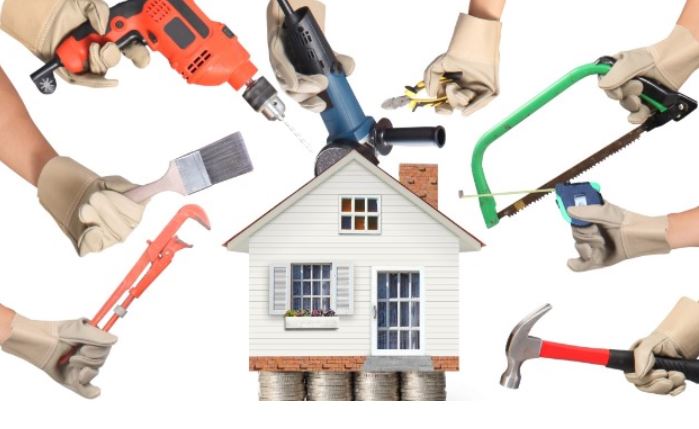 One of the trendy things these days is flaunting pictures of your home on Instagram, Facebook, and other social media sites. This has grabbed a lot of people's attention and has driven many into an endless cycle of desire.
The naked truth is you must not be Elon Musk-rich before you can refurbish your house to everybody's taste. The simple things in this life are the most beautiful. There are simple tips on how to improve and add value to your home without spending so much money. Surprisingly, many are not even aware of this very simple fact. Want to add value to your home this year and wow your friends or just flaunt your catchy space on Facebook or Instagram? Read on!
Consider Repainting 
It's time you repainted some areas of the house! New paint has a way of improving the outlook of even old buildings. It doesn't matter if your house is 20, 15, or 2 years old, repainting it gives it an entirely new appearance. One key area you should always target is the ceilings. Why because ceilings are one of the focal points of the interiors of a building, good ceilings can supercharge the value of your home!
Install new and more modern doors 
The entry of your house says a lot about your house. The same way readers judge a book by its cover most of the time is the same way visitors judge your house by the exterior door. If you want to improve your house, it's time you installed a new exterior door. You can find many fanciful door ideas online. But, beyond being fanciful, your door should be burglar-proof.
Upgrade the furniture 
Sick and tired of your furniture but low on money? Try upgrading your furniture rather than replace them. Through the upgrade, you could turn old ugly furniture into a well-crafted piece. Plus, a beautiful piece of furniture can put an elegant touch on your home.
Improve your TV room
A jungle of cords could give your space an ugly look. There are many stylish ways to make dangling cords disappear. You could run them behind a wall, a piece of furniture, or try using a TV Mount. You could also install a TV cord hiding kit in the wall. Whatever works for you, stick with it. One benefit of making cords disappear is they can transform your room giving it an elegant look.
Replace doorknobs 
Don't have enough money to replace old doors? Try replacing doorknobs instead! A new doorknob can give doors a fresh new look. There are many modern decorative doorknobs in the market, take a stroll. You could also try replacing your cabinets' old doorknobs, it can give your kitchen a new look!  
Try fresh flowers 
Flowers are nature's gift to us. A floral theme can be used to complement any interior design. You can impress visitors by beautifying your home with fresh flowers too. There are many beautiful flower ideas you could find on the net, just surf the net for inspiration.
Make updates to your lighting 
Lighting brightens the house! Replace light fixtures in key areas of the house. Key areas include guest rooms, TV rooms, or even outside the building! Key areas may also include dark areas in the house. Remember, good lighting can turbocharge the value of your house!
Replace old tiles 
Old tiles give rooms an old look. Broken tiles can dampen the outlook of any room. Add value to your house by replacing them with creative tiling designs. Remember, good tiling can improve a house look and reflect all the beautiful colours in the room too.
Install ceiling fans 
Ceiling fans are one of those traditional inventions that won't just go away. Not any time soon. A beautiful ceiling fan can enhance the outlook of your room. It's one of the first things visitors notice when they come visiting. It could also add value to your home. What more? A ceiling fan provides cool air and improves air quality.
Design a household remedy kit 
Count this as a home and wellbeing makeover for your household. A household remedy kit is like a first aid box, but its contents are made from natural sources. It covers common complaints. Common complaints ranging from anxiety, pain (muscle pains, chronic pains, etc.), sleep disorder, nausea, etc. Your family members and visitors may find it quite useful. You can get wonderful organic products for your kit from reliable online sources such as JoyOrganics. 
How to go about it
Adding value to your home is not a day job. It takes time but it's worth it in the long run. There are no hard and fast rules when it comes to improving your home. Here are ways to make a giant leap forward in adding value to your house.
Plan 
What type of changes do you want to see in your home? Draft out a plan and ways to go about it. Good planning will help you come up with beautiful creative ideas.
Research 
The research will give you an idea of the cost. It will expand your knowledge and build your skills. When it comes to improving your home, and adding value to it, research will help narrow your scope down and make you realize not everything fits.
Start small 
The beauty of starting small is that it doesn't put you under much pressure. It also gives you time to birth new ideas. Deciding to transform your home in just one day is futile and will overwhelm you.  You're not in a haste, neither are you in a competition, therefore relax. Great changes almost always begin from taking small steps in the right direction.
Final take
We hope you've learned one or two things from the little information presented in this article. What's holding you back? It's about time you started improving your home and adding value to it. The world is fast-changing, don't be left behind!
Ref number: THSI-2319