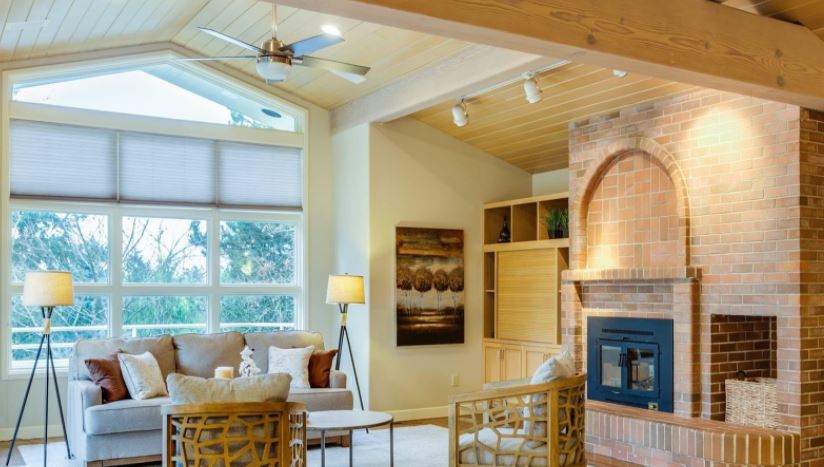 The ability to be able to balance the lighting in your home should be considered an art since what may work for one room, might not work for another. The perfect lighting can add the final finishing touches to your room, whether it's a grand hallway finished with a sparkling chandelier or a cosy living area with a carefully placed floor lamp.
Sometimes, the way a room is lit can completely change the feel of the space, so it's important to carefully consider the type of lighting you're looking for and the ambience you would like it to create. We have listed some of the best ways to create ambience with your lighting, which may come in useful if you've recently finished decorating, or are looking to sell your home and want to present it in its best light to potential buyers.
Considers the purpose of the space
Before selecting your type of lighting, consider what the purpose of each space is. How much lighting is needed in order to make this area functional? Are there areas of the room that require more, or less lighting? Would it be beneficial to be able to change light levels depending on the activity? 
A great example of this is in the kitchen, perhaps consider adding lighting underneath your cabinets and focused task lighting around the areas you're likely to be cooking, but opt for dimmer lights around the dining area. Check out these tips on creating a lighting plan for more inspiration.
Layer your lighting
Just like you'd layer your cushions, rugs and other soft furnishings; layering lighting is a really effective way of creating ambience, don't rely on overhead lights alone. Try placing a table or floor lamps in focal areas of your room to ensure lighting is evenly distributed throughout the space. This can be particularly effective in older homes where spotlights are less common, and so light distribution can be uneven.
Go green
With all this new lighting, it's important to ensure you're not harming the environment or your electricity bills! Opt for energy-saving bulbs, and ensure the bulbs you choose to have a high energy efficiency rating. Today's buyers are looking for homes that can be run in an eco and budget-friendly manner! It's also worth noting that energy-saving light bulbs can last up to 12 times longer than your traditional fluorescent bulb, so not only are you saving money in energy costs, but you won't have to worry about replacing them for a long time!
Incorporate exterior lighting
Outdoor lighting not only highlights your outdoor space, but can also add a glow to the inside of your home, and act as an extension of your living space. Aside from spotlighting the areas, you spend the most time outdoors, consider adding uplighting to any foliage to highlight the size of your space. Highlighting your outdoor space as well as the inside encourages another tick in the box for potential buyers – which will ultimately help your home to sell much faster.
Indulge in candlelight 
Candles add the final puzzle piece when creating a relaxing atmosphere. They add soft light and can instantly make a room feel cosy and welcoming. Opting for a scent to match the season helps to make a space feel cosy, and placing the candles on a metallic tray or close to a mirror creates a focal point and reflects the light even further. Placing candles around the house during viewings will help potential buys to picture the house as their own, and will make it feel more homely and inviting.
Let in natural light!
Often overlooked, or purposefully blocked out, natural light can fill a room creating a beautiful illusion of a much bigger space. Unfortunately, there are very few ways of changing how much natural light your room gets throughout the day, but what you can do is ensure as many of the sun's rays are flooding in as possible by opening curtains, blinds and moving large pieces of furniture that block the light. If you're selling your home, try to arrange bookings during the sunniest hours of the day to ensure potential buyers see your home at its brightest.
These small changes to your existing lighting will help you on your way to creating the perfect ambience in your home. The correct lamps and fixtures will perfectly highlight all of the best features in your home, and if you're looking to sell, these small changes won't go unnoticed by your buyers.
Ref number: THSI-2192